Happy Sunday!
Every Sunday I partner up with some of my favorite blogging friends and we do our weekly Sunday Swoon… baby/kid products we're LOVING this week!
As you know, I'm ALL about the fashion for my little girl Victoria.
And believe me, Victoria loves the fashion just as much back! 🙂
Today I'm excited to dish about Momo Baby Shoes!
They offer an incredible selection of shoes for your little girl and/or little boy.
Why buy at Momo Baby?
Rubber Soled Sandals – Not only are these flexible rubber-soled sandals trendy, but they are beneficial too. These sandals are made from quality genuine leather with a fan shaped toe box to allow your child's foot to breathe and move freely. For added ease, these sandals feature a Velcro adjustable strap to make these shoes as simple as can be to put on and take off.
Rubber Soled Sneakers – If you are searching for durable quality leather sneakers, look no further. Our double Velcro strapped sneakers have a rubber sole, with a deep tread pattern to increase slip resistance while maintaining flexibility for a natural shift of your child's foot. These shoes also feature a lightweight, breathable construction to allow your child's feet to remain bacteria free and comfortable.
Victoria's shoes of choice were the Momo Baby Mary Jane Leather Shoes – Zebra Hearts Pink.

The human foot is one of the most complicated parts of our body. We have carefully designed our shoes to protect your child's feet, while incorporating many beneficial attributes to promote quality foot quality. Momo Baby Leather Shoes with Flexible Rubber Sole feature high quality genuine leather with fashionable looks and excellent durability. Leather upper/leather lining/rubber sole. Genuine leather lining enhances breathability and removable, anti-bacterial, breathable insoles keep feet comfy and dry. Momo Baby's entire line of footwear has been awarded the American Podiatric Medical Association's prestigious Seal of Acceptance which recognizes products which have been found beneficial and significant value to foot health.
Here's my Victoria, rocking her Momo Baby Shoes…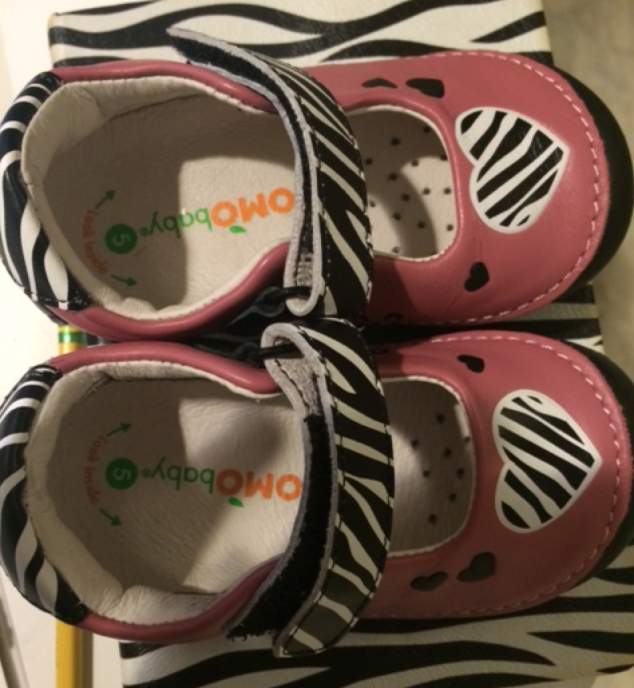 Absolutely love them!
The best part for me, they STAY ON her feet!
Definitely worth checking out!!
Sunday SWOON! 🙂