Thanksgiving is a holiday that I have always loved. It's a special time to give back and to truly give thanks for your blessings. My mother and father always made a point to make sure me, my sister and my 2 brothers took time throughout the month of November to make sure we gave thanks to the people in our life that made it special. I'll never forget writing notes to my teachers the week before Thanksgiving, thanking them for their time and their love to teach. As you can guess, my parents were teachers and thought it was a nice thing to do for our teachers. I used to love doing it because I really felt like it gave them a true thanks. I have never done this with my own kids, but it's something I would love to do. They are blessed with some amazing teachers.
But with Thanksgiving, it's about giving thanks.
Since I really want to teach my children the blessing of giving thanks and being thankful, I've been trying to think of some special things that we could do at home to really drive home the point.
I went on Pinterest and found some beautiful ways to create Thankful Trees at home with the kids. I love teaching my children that each night, we need to give thanks for something in our lives. I really want this to leave an impression on them and allow them to see the blessings of life.
Here are 5 beautiful Thankful Trees for Thanksgiving:

Projects for Preschoolers // Better Homes and Gardens

Our Goodwin Journey // Adventures in Decorating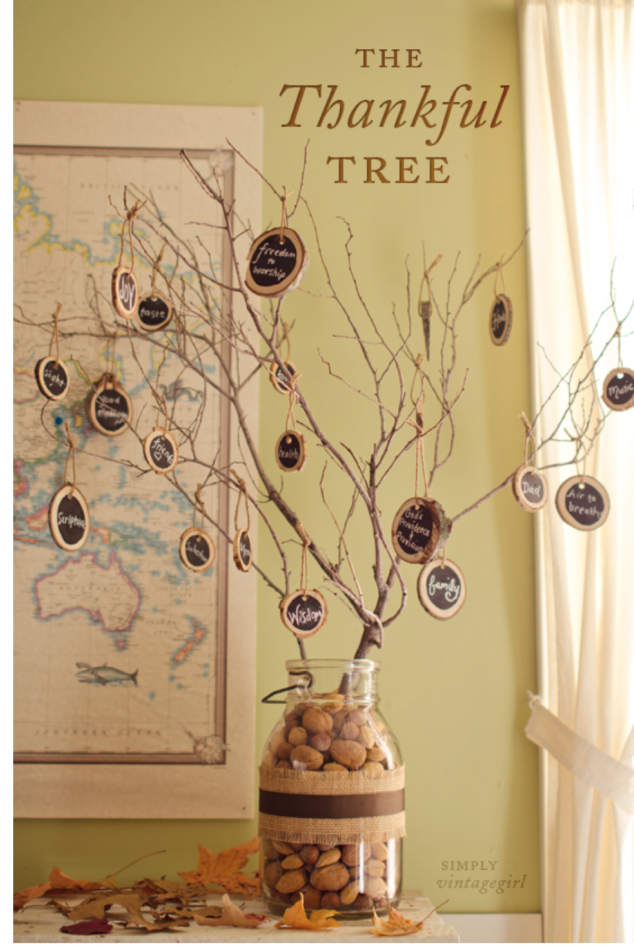 Simply Vintage Girl