101 Romantic Winter Date Night Ideas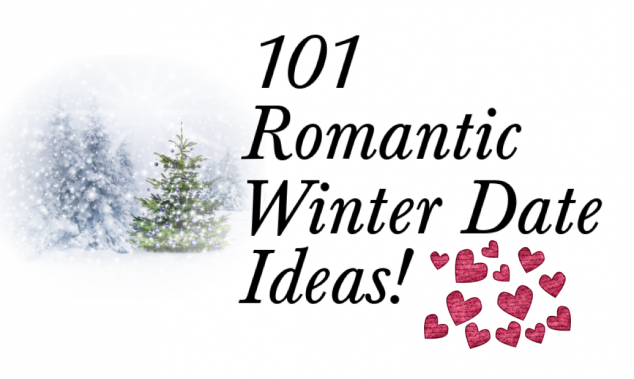 My husband is my best friend.
This October marked 17 years since we've been together! 17 years!
I love to do anything and everything with him. As we've gotten older and added 5 kids to our crew, it's gotten tougher and tougher to find the time to head out and just BE.
I'm committing to myself and to him that in 2015, we will do dates whenever we can (pending my parents for babysitting!).
It's the winter right now, and will be chilly for the next few months, so I wanted to come up with some ideas for us.
I came up with 101 Romantic Winter Date Night Ideas… not all of them will be romantic to everyone, but it's the kind of list that you can peruse and see what works best for you.
Happy Holidays with a little ROMANCE! 🙂
101 Romantic Winter Date Night Ideas:
Movie Night at the Theatre
Cook together – each taking turns with parts of the recipe
Head to the gym together for the fitness lovers (use the gym daycare of find a babysitter)
Ice Skating – Head to a local rink
Find an Indoor Waterpark
Plant an indoor garden together
Go see a play at a local theatre
Paint a room in your house that you've been meaning to re-do – Have fun and if you feel so inclined, a paint fight! 😉
Shopping for something new for you and for him
Scrabble
Head to a brewery or vineyard
Night sledding
Picnic on the living room floor – candles and all
Nighttime sledding
Head to an indoor tennis court if you love to play
Put together a puzzle
Book reading
Coffee house night – find a romantic one
Sit outside and watch the sunset – it's cold, so SIT CLOSE!
Cooking class together
Yoga – very sensual! 🙂
Morning breakfast together once the kids go to school
Day trip to a special location nearby – for us it would be Newport or Cape Cod
Find a band you both like and see if they're playing anytime soon or nearby. If not, head to a local bar who plays music.
Dancing lessons
Hockey Game
Shop for some new home décor
Bowling!
House hunting
Visit a local pet shop or animal shelter to play with the animals (maybe get one, too!)
Day Spa together
Ski Trip
Roller blading – we used to do this all the time!
Indoor Roller Skating
Dust off that XBOX and play games
Couple massages
Run a 5K, 10K, 1/2 marathon, marathon together – there are some fun winter ones!
Volunteer together somewhere special
Find a fun arcade
Head to a sports bar
Indoor mini golfing
If you're REALLY into it, whisk each other away for the weekend to somewhere HOT
Play basketball together (or teach her how to play)
Walk the beach in the winter, it's not bathing suit weather, but it's calming
Monopoly
Recreate your very first date
Dance in the kitchen when the kids are in bed
Head to a flea or farmer's market
Sit by the fire
Truth or Dare
Learn to play an instrument together
Head to the Ballet
Redo your bedroom together – new sheets, new arrangement of furniture, hang photos, etc
When it's raining or snowing, run outside and kiss!
Watch some Holiday Movies – weekend marathon
Walk around the mall hand in hand
Have a fondue night
Find a Play at a local theatre to attend
Make chocolate chip cookies from scratch together
Head to the indoor batting cages
Go-cart racing!
Romantic Dinner at a 5-star restaurant
Head to a car dealer and test drive cars you've been dying to check out for you and your family
Learn a new language together – take classes
Enjoy a hot tub together and unwind
Sit and watch your wedding video together
Make a family tree
Spend the night at a local B&B
Art classes – make pottery or paint a canvas
Head to a local museum
Fitness class together
Make your own sundaes
Trip down memory lane together – visit your schools, childhood homes, etc
Find a place where you can do a dinner boat or a dinner train!
Make your own sushi
Lay in your backyard and look up at the stars
Head to a local bookstore and peruse around
Find a local art exhibit
Bubble bath
Night without technology
Visit your best friends
Hot Cocoa night (forget the wine and beer!)
Create something for your kids and surprise them – blanket fort, pillow fortress, LEGO cave, etc!
Make a cake and celebrate
Dress up all fancy and head out to dinner, it doesn't matter if it's just for the fun of it
Create a vision board of goals and dreams you both have for your lives ahead
Clean out and organize the garage, your basement or your attic
Go to church together
Make breakfast and eat it in bed
Make your own candles
Make your own beer
Go to a planetarium
Visit a local nursery – try local foods, etc
Hibachi night
Create a scavanger hunt for each other of clues that only the 2 of you would know and understand
Margartia night and make tacos
Take a karate class
Plan a BIG vacation together – research and look online
Head to the casino
Make breakfast together in the morning