31 December Days, 31 Books. Today, let's capture the heartwarming spirit of Christmas in the Morning…
Reading books around the holidays is always a special way to settle in, settle down, settle up the day. Each of 31 Days in December, I will be recommending a picture book to read to/with your kids of any age. Remember that the older kids love to settle in with you, with a book, too. It recreates memories and creates new memories.
Each book I recommend is one I've read over and over and over again with my kids and/or now with my grandkids. I guarantee the magical.
Christmas Day in the Morning ~ by Pearl S. Buck and illustrated by Mark Buehner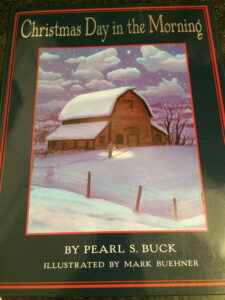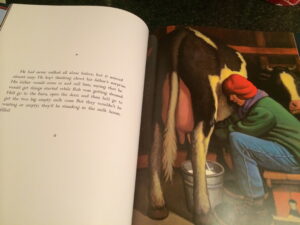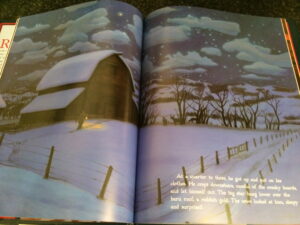 Christmas Day in the Morning, a story originally published in 1955, now appears as a picture book with beautiful illustrations that bring Pearl S. Buck's story to life – a heartwarming story about a 15-year old farm boy who wants to give something very special to his father for Christmas. Money is scarce, but farm chores are not, so why not awaken earlier than his father, at a quarter to three, sneak to the barn and milk the cows on Christmas morning before his father calls him to help with the milking. This gift of love is the very best gift of all.
A wonderful December stop with your kids is your local library or bookstore… or maybe a place to give the very spirit of Christmas in the Morning.

****************************************************************************
Sharon Couto graduated from Rhode Island College with a degree in Education/English and holds a Master's Degree in K-12 Reading/Education from Boston University. Sharon was a high school English Teacher & Reading Specialist for 30 years. She has 4 adult children, 4 in-law children and 11 beautiful grandchildren. Promoting Literacy is Sharon's mission.
Reading aloud to your kids & grandkids is a wonderful and proven way to improve vocabulary and increase reading comprehension and thinking skills by connecting directly with a book… its words, its story, its message, its magic. The more books in early childhood, the greater the chances of reading success. Enjoy!