31 December Days, 31 Books. Today, let's join The Snow Parade…
Reading books around the holidays is always a special way to settle in, settle down, settle up the day. Each of 31 Days in December, I will be recommending a picture book to read to/with your kids of any age. Remember that the older kids love to settle in with you, with a book, too. It re-creates memories and creates new memories.
Each book I recommend is one I've read over and over and over again with my kids and/or now with my grandkids. I guarantee the magical.
The Snow Parade ~ by Barbara Brenner and pictures by Mary Tara O'Keefe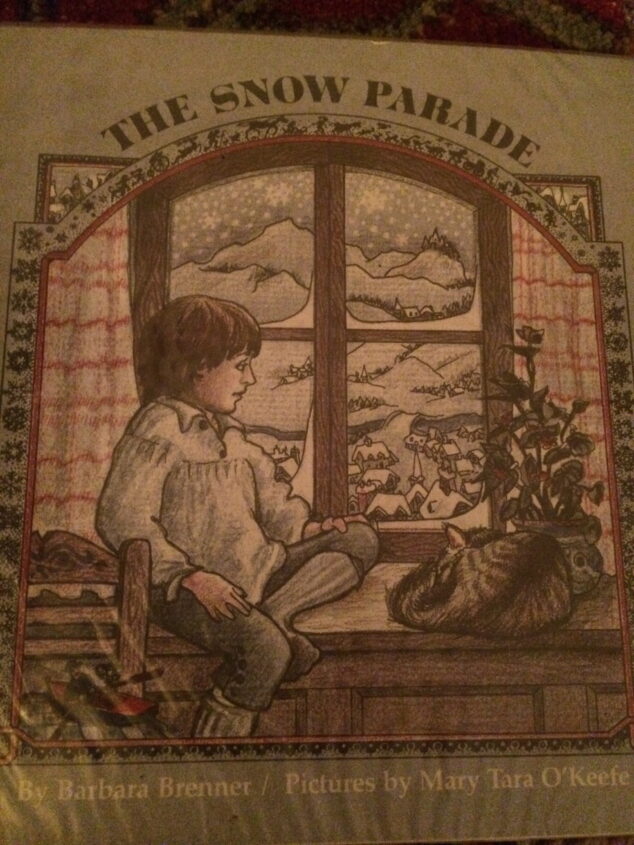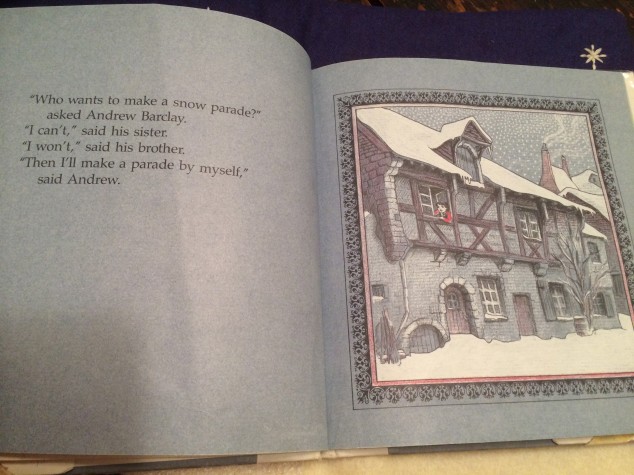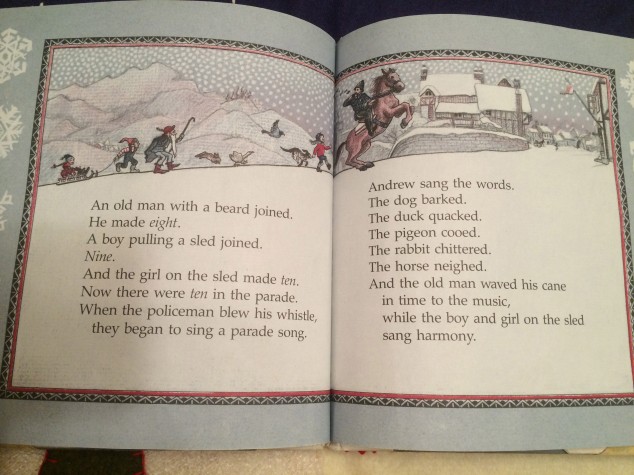 The Snow Parade is a delightful counting-tale of a little boy named Andrew Barclay who marches off to make his own parade in the snow when no-one in his family wants to join the fun. As Andrew begins his parade, wearing his new red boots, he is one of one parade marcher; but soon, Andrew is joined by a dog – then a duck, a rabbit and a pigeon. Intricately whimsical illustrations (including snowflakes in the margins that reflect the numbers of marchers on the page) create the mood of great delight as Andrew marches along, collecting eight, nine, ten and soon five hundred and more marchers – the entire town – in The Snow Parade. The Snow Parade is a definite "read-it-again" book.
A wonderful December stop with your kids is your local library or bookstore or neighborhood… maybe forming your own Snow Parade!

****************************************************************************
Sharon Couto graduated from Rhode Island College with a degree in Education/English and holds a Master's Degree in K-12 Reading/Education from Boston University. Sharon was a high school English Teacher & Reading Specialist for 30 years. She has 4 adult children, 4 in-law children and 11 beautiful grandchildren. Promoting Literacy is Sharon's mission.
Reading aloud to your kids & grandkids is a wonderful and proven way to improve vocabulary and increase reading comprehension and thinking skills by connecting directly with a book… its words, its story, its message, its magic. The more books in early childhood, the greater the chances of reading success. Enjoy!