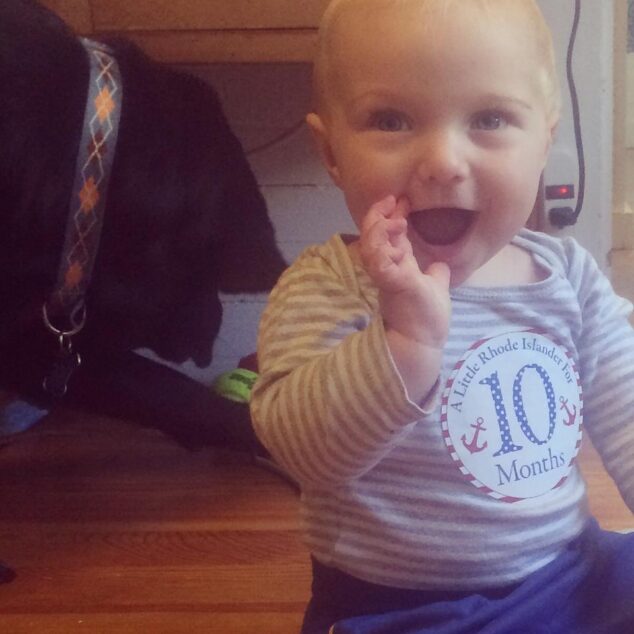 Dear Baby Brian,
You are 10 months old! Yes, you actually turned 10 months old a few days ago, so I'm a little late posting this… but I have been composing it in my mind for many days! Yet again, it was so fun to watch you grow this month. You hit so many new milestones.
The two front teeth that were just starting to cut through last month have completely arrived. Teething seemed to go a bit smoother for you with these teeth than your first two, so hopefully that trend continues as you get more teeth.
You continued to army crawl for most of this month, then right before you turned 10 months old you finally started to do an actual crawl! You still army crawl, but you're starting to do a real crawl more and more. You also learned how to get yourself to a seated position from a crawl this month, which is really cute to see!
Seemingly overnight this month you started pulling yourself up on everything and standing like a big boy. Now you can hold on to things with one hand and balance yourself. Maybe you'll be taking your first few steps in the near future!?
I can't wait to celebrate your first Christmas with you! This month we went to a tree farm to pick out a real tree, and you "helped" me decorate it when Daddy hauled it in the house. Mostly, you just like to grab at the ornaments now and try to rip them off the tree!
This month you also took your first trip to NYC to see The Rockettes at Radio City Music Hall, you celebrated your first Thanksgiving and attended your first Grand Illumination ceremony in our town of Bristol, and met Santa for the first time (you were not a fan)!
It was a great month! I love you so, so very much, Baby Brian, and it is just the best thing in the world to be your mom.
Love always,
Mama