Are you a soup person? I am! I'm obsessed with this White Bean Kale Sausage Soup from Sheri McShane who is a contributor for MomGenerations.com! Sheri has the blog: When the Kids Go to Bed. and she does a phenomenal job creating recipes! This White Bean Kale Sausage Soup is one I love and so excited to share with you today!
White Bean Kale Sausage Soup
I'm not sure how it is where you are, but it's like an arctic freeze here in New England. It's even 14 degrees in Atlanta! That's just crazy! The one thing that absolutely warms me up on a bitter cold day is a good soup. I usually make my go to chicken soup, but I wanted something with a little spice today and I just so happened to have a pound of kale sitting in my fridge. Kale soup it is! I didn't have any traditional chorizo so I opted for some spicy Italian turkey sausage and it worked perfectly, not to mention it's a healthier option. This White Bean Kale Sausage Soup is PACKED with nutrients. Kale is a power food in itself, but adding the cannellini beans gives it even more fiber and protein. Oh, and it's super easy!
Ingredients for White Bean Kale Sausage Soup
Ingredients:
1 lb kale
1 lb spicy Italian turkey sausage
1 medium yellow onion (diced)
16 oz. cannellini beans
6 cups low sodium chicken stock
salt & pepper
Step by Step White Bean Kale Sausage Soup
Put a tablespoon of olive oil into a large pan and start cooking your diced onion.
Add in the sausage. I prefer taking it out of the casing first, but you don't have to.
Once the sausage is browned add half of your chicken stock and bring to a simmer.
Start adding in your kale a bit at a time. As it wilts add more until it is all in the pot.
Add some salt and pepper and the rest of the chicken stock. Simmer for 15 minutes.
Add the beans and simmer for 10-15 more minutes.
You won't be disappointed. This yummy, warm White Bean Kale Sausage Soup you will eat right up. And if you don't like spicy you can switch out the spicy sausage for sweet. Either way, it's delicious!!
Keep warm!
ABOUT SHERI MCSHANE: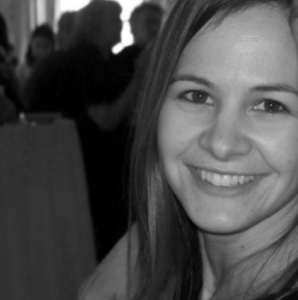 Hello All. My name is Sheri. I am a working mother of 3 pretty darn fabulous little boys. I'm trying very hard to handle the stresses of working, being a mother, being a wife, keeping house, and finding the time to just laugh and enjoy life. A few things you should know about me: I'm an iced-coffee addict, I love to organize, and I love my wine. I am also a master at fort-building and being the belly-eating monster. Fitness and healthy eating habits are important to me so you may hear a little about that too. Here you will read about my daily musings and of course my venting, wine glass in hand. Hope you find something you can relate to. Cheers.
If you're a crafty kind of person, come visit me over at The Crafty Collaborative. Here you will find a group of us ladies reviewing and test driving all the fabulous recipes and DIYs we find on Pinterest. We'll let you know if they're worth diving into.