If you celebrate Easter than you know that during LENT you have to give something up and you also can't eat meat on Fridays. It's something that is very sacred to our religion. Coming up with Lent Dinner Ideas can be tough because you really need to make sure that you're eating items that work for Lent and also taste good! My friend and contributor Sheri McShane from When The Kids Go To bed shared 10 of her favorite Lent Dinner Ideas with you today!
Lent Dinner Ideas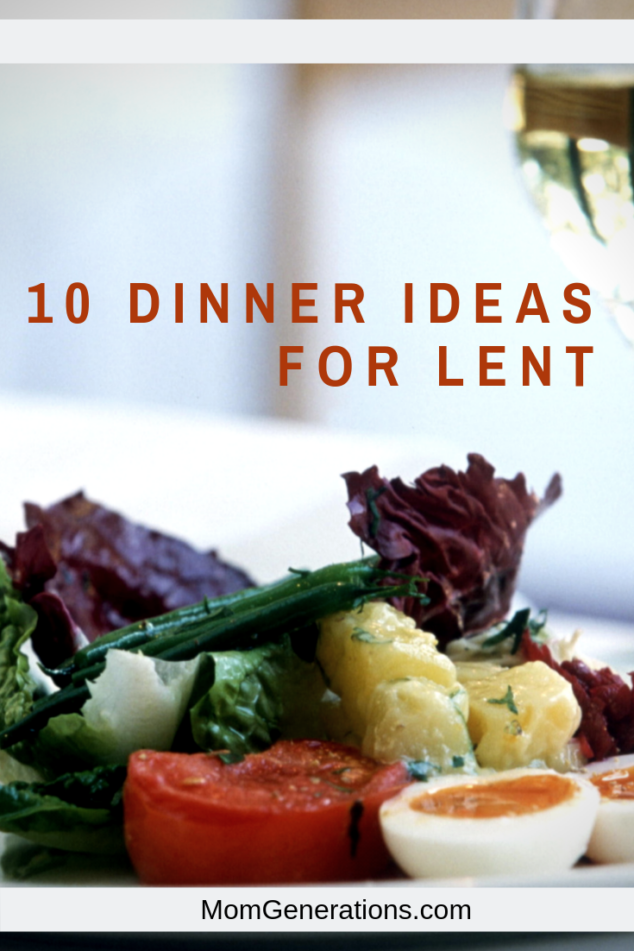 For those of you who celebrate lent and follow the "rules," here are 10 super easy meatless recipes for you. Swap out those dishes of deep-fried fish and chips with one of these easy and healthy alternatives. All of them can be done in under 30 minutes.
Here are 10 Lent Dinner Ideas0
Portabella "Cheese Steak": 4 large portabella caps sliced, sauté with sliced onion, a splash of Worcestershire sauce, and then add cheese.
Asian Grilled Mahi Mahi: Marinate (2 tbsp Dijon, 3 tbsp soy, 6 tbsp olive oil, 1 tsp minced garlic) Keeps a little marinade for dipping sauce. Grill or bake the fish.
Hoisin Shrimp: Sauté shrimp and toss into sauce (1/4 cup hoisin, 1 tbsp rice vinegar, 1 tbsp soy sauce). Top with some chopped scallions and sesame seeds.
Simply Baked Salmon: Coat with a little olive oil, sprinkle with salt & pepper and bake.
Veggie Stir-fry: 1 package of frozen stir-veggies and some stir-fry sauce. Serve with rice.
Pasta with sautéd Eggplant – Cook pasta. Sauté eggplant in olive oil, garlic, and salt & pepper. Add a small can of petite diced tomatoes. Toss together.
Veggie Burrito: Rice, black beans, and sautéd peppers and onions with burrito seasoning mix.
Pizza: Pizza is always a win.
Grilled Cheese: Just a regular grilled cheese or fancy it up with some tomato or arugula.
Seared Tuna Salad: Seared tuna steak on top of a bed of fresh greens.
Yummy – right? It's all about finding dishes that work and will be prefect for the religion aspect, too. This is something that is important to me, too. I want to make sure what I prep is something that I can feel good about serving my family, too. And that it's MEATLESS when it needs to be! I hope you liked these Lent Dinner Ideas!
ABOUT SHERI MCSHANE:


Hello All. My name is Sheri. I am a working mother of 3 pretty darn fabulous little boys. I'm trying very hard to handle the stresses of working, being a mother, being a wife, keeping house, and finding the time to just laugh and enjoy life. A few things you should know about me: I'm an iced-coffee addict, I love to organize, and I love my wine. I am also a master at fort-building and being the belly-eating monster. Fitness and healthy eating habits are important to me so you may hear a little about that too. Here you will read about my daily musings and of course my venting, wine glass in hand. Hope you find something you can relate to. Cheers.
If you're a crafty kind of person, come visit me over at The Crafty Collaborative. Here you will find a group of us ladies reviewing and test driving all the fabulous recipes and DIYs we find on Pinterest. We'll let you know if they're worth diving into.