A couple of weeks ago my sons each had over a friend for a playdate. Oh, yes… 8 boys all within the ages of 6-10 years old. It was a gorgeous day in Rhode Island, probably about 70 degrees. All the "playdate" boys were coming home with my sons on the bus, so I spent the afternoon cleaning and just getting everything ready for this massive boy playdate. I'll be honest, I was even excited for it – I had the bikes ready, basketball full of air, football and soccer nets up, grass was mowed (thanks to my husband!), foam swords and arrows all ready and lined up. I was as prepped as I could be for the big playdate.
When the boys all came barreling into my kitchen from the bus, they informed me that they just wanted to go to the basement and play videos games.
WHAT?
ON THIS GORGEOUS DAY?
WHAT?
YOU WANT TO PLAY VIDEO GAMES?
WHAT?
Nope. No way. Not in my house.
Every day after school (when the weather permits) my sons have a routine. They hang their backpacks up, put their empty lunchboxes on the counter, show me what they have for homework and then they head outside and play. They play for about an hour or 2 with each other or with any neighborhood kids that happen to be around. They run. They climb. They hide. They jump. They race. They bike. They play football. They play basketball. They play baseball. They do just about everything outside. For me, it's awesome to see because they're having fun – just like I did when I was a kid.
So here we were with a boy playdate, obviously off routine here…but guess what I told the boys?
"You're going to GO OUTSIDE AND PLAY!"
Believe me, my sons love a video game or two (or three), but it's something me and my husband have been working on over the last few months — get them off the screens and outside to play! When we were kids, it was all we had! We didn't have video games or smartphones or computers.
Play… it's time to bring it back! The kind of play that keeps you outside for hours and left exhausted, but with fun stories and laughs and secrets to share and tell! I still remember playing outside with my sister and next door neighbors Betsy and Jessica. We created our own "Club House" and we would come up with these outlandish stories of how we were saving the world! We would jump rope and hopscotch and ride bikes endlessly up and down our street. We would have lemonade stands and pick flowers for the elderly neighbors. We would walk dogs and draw on the street in crayon. We were non-stop for hours, playing and laughing and just being kids.
I want that for my kids and I want my kids and our family to be around people and families and brands that feel the same way, too.
To run. To jump. To climb. To bike. To build. To ride. To skate. Or to just hang out. Outside.
CLIF Kid is reclaiming play and I love it. They are dedicating themselves to getting boys and girls back outside to push their boundaries, feed their adventures and nourish their bodies and minds. It doesn't matter if you're an urban family, suburban family or rural family, CLIF Kid is encouraging families to discover new frontiers in the great outdoors every day —parks, backyards and city sidewalks. It's so important for this kind of message to be spread and (most important) be put into play-action!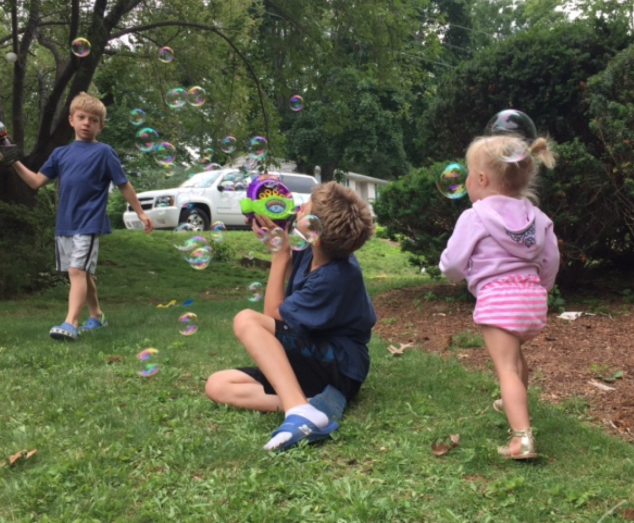 CLIF Kid knows it's essential to keep playing kids fueled, so CLIF Kid snacks are specifically crafted to nourish active kids so they can play on. CLIF Kid makes nutritious snacks for kids' growing bodies with no high fructose corn syrup, synthetic preservatives or artificial flavors. Your kids can play, fuel up and then just keep on playing!! They have so many yummy options, too! There's truly something for every child to love and delight in during play.
• Zbar CLIF Kid Zbar is an organic baked whole grain snack made with a nutritious blend of complex carbohydrates, three grams of fiber, and three grams of protein to maintain kids' energy.
• Zbar Protein CLIF Kid Zbar Protein is a nutritious and delicious snack made with organic whole grains and 5 grams of protein for kids' growing bodies.
• Zfruit CLIF Kid Zfruit is a tangy twisted fruit rope that is an excellent source of vitamin C and doesn't need to be washed, cored, seeded, cut or refrigerated before eating – making it easy for kids to eat organic fruit snacks anytime, anywhere.
• Zfruit + Veggie CLIF Kid Zfruit + Veggie is a tangy, chewy organic fruit and veggie snack that is an excellent source of vitamin C, a good source of fiber and makes snack time fun with its peelable twisted ropes.
CLIF Kid is here to help kids be kids. And it all starts with play.
COME OUT TO PLAY!
Disclosure: This is a sponsored posting with CafeMom and CLIF Kid. All opinions are 100% my own.