Shorts can be a mom's best friend or her worst nightmare.
For me, I've always had a love/hate relationship with shorts. I'm (barely) 5 feet tall, so any kind of "longer" short on me has always looked just RIDICULOUS! I've always had to go with the more "shorter" options because they work the best with my height, but since I'm 37 (ahem…) I don't want to look like that mom who is trying to be 16 years old.
I've come to realize throughout the years that it's ALL about what you wear on top with short short that balance out the bottom. I won't wear anything too tight or (God forbid) crop-top-ish with a pair of shorts. Oh, no. I've always gone for that more practical look on top with my shirts… polos, button-downs, loose tanks, etc. I'm excited to share with you today 5 different ways to wear shorts all sporting the same top. For me, I love finding those "uniform" or "go-to" type tops that I know will go with any pair of shorts that I wear/buy/own.
Are you ready for my 5 styles?
Remember – all same shirt… all different shorts.
Fashion advice – a denim shirt ALWAYS does the trick. This is a lighter blend denim shirt that I grabbed at Target a few weeks ago. I love it because it's not too hot to wear in the summer, but most importantly – with a darker wash, I can wear it with any of my shorts. And as you can see, my shorts are short… it's the only way I will wear them, but the denim shirt balances the look/style out perfectly.
I'm OBSESSED with shorts right now that have some color to them or a fabulous print! You can find shorts like this ANYWHERE right now!! From left to right… I got my shorts at – Old Navy, J.Crew Factory Outlet, J.Crew Factory Outlet, Macy's and T.J.Maxx.
I'm excited to share with you more ways to rock shorts this summer!!! I've teamed a bunch of my fashion-loving-blogging friends to show how we ALL wear shorts! Hopefully you'll get some ideas for your own summer wardrobe! 🙂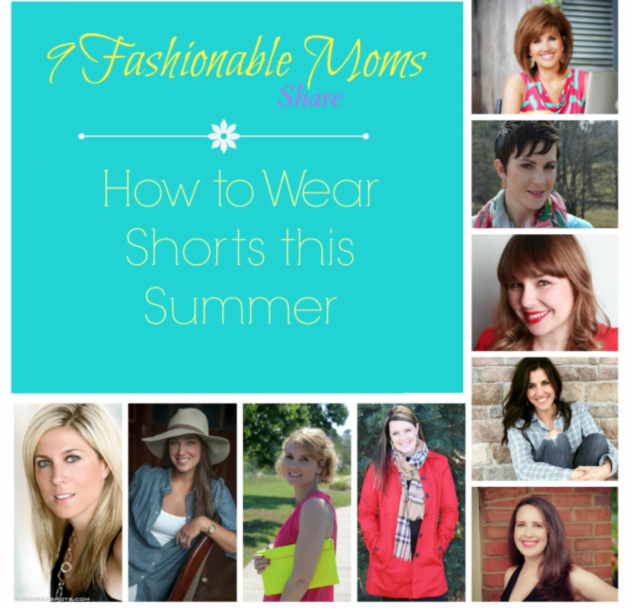 Andrea of Momma in Flip Flops // Ellen of That Chic Mom // Carly of Thirty Something Fashion // Julie of Mom Fabulous // Maria of Very Busy Mama // Shannon The Simple Moms // Cyndi of Walking in Grace & Beauty // Kristen of BonBonRose Girls
Enjoy those shorts MAMAS!