I'm all about easy beauty.
Easy. Seamless. Perfect beauty.
As a mom of 5 – and someone who loves all things beauty-related – I have consistently tried throughout the years to streamline my beauty routine as best as possible. I'm always on the hunt for new and unique ways to get more out of my beauty products… but I have to admit, I never thought to look at my baby products for ways to enhance my beauty routine.
Well, that is until now.
Last night I attended with my bestie Vera Sweeney, a fun and relaxing event in NYC hosted by JOHNSON'S®. The event offered mini pampering sessions and tutorials showcasing the versatility of JOHNSON'S® products and tips/tricks on how to incorporate them into your everyday routines all year long.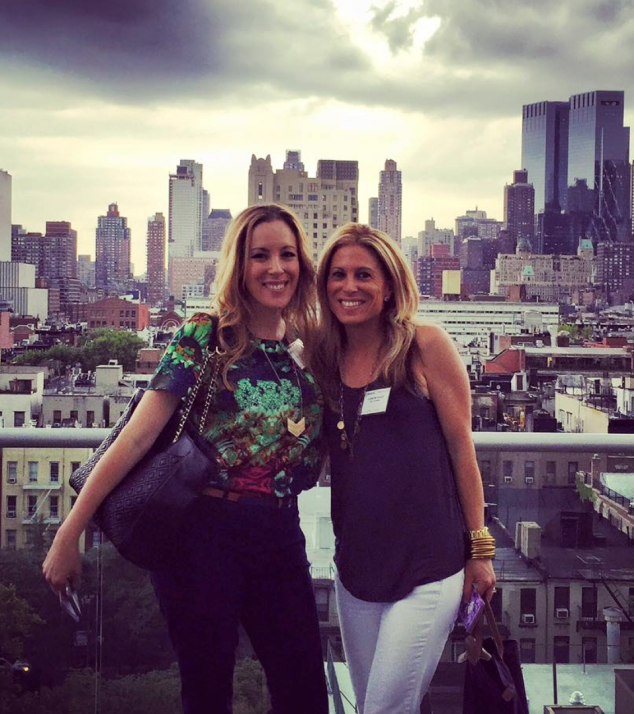 There were four on-site stations from each season of the year and each gave a fabulous way to enhance and use those baby products that you're using for the little ones on your life! It's funny, I've had JOHNSON'S Baby products in my house for almost 11 years. To me, they've only been for my babies – baby wash, shampoo, baby powder, oil gel, hand/face wipes, detangling spray, etc. Well – my eyes were opened wide last night – and I LOVED it!
Spring:
Attendees got manicures featuring JOHNSON'S® baby oil gel, JOHNSON'S® baby powder and JOHNSON'S® baby lotion.
Summer:
Attendees got to do an interactive sand-removal demo featuring JOHNSON'S® baby powder. Hair stylists also showcased haircare hacks and styles using JOHNSON'S® NO MORE TANGLES® detangling spray, JOHNSON'S® baby oil gel and JOHNSON'S® baby powder.
Fall:
Attendees had fun in the photo booth and shared photos online and got to showcase their fave JOHNSON'S products in the photos.
Winter:
Makeup artists showcased makeup tutorials and provided tips using JOHNSON'S® baby oil gel, JOHNSON'S® baby powder, JOHNSON'S® baby shampoo, JOHNSON'S® baby oil and JOHNSON'S® baby lotion.
The evening was a blast… there's not many opportunities where I get to just go and have fun and totally be pampered! JOHNSON'S set-up a wonderful feel in the room and really allowed the attendees to have some fun and really experience the products.
But for me… coming home was the real treat and getting to experience everything at home! I thought it would be fun to share some of my FAVE beauty tips with you from JOHNSON'S!
Love my girl helping me out!!
Disclosure: This is a sponsored posting with JOHNSON'S. All opinions are 100% my own.