Someone pinch me!
I still can't believe I'm actually going to be heading to the D23 EXPO – August 13th-16th!
Literally… someone needs to pinch me!
If you are the ultimate Disney Fan (UM, ME!)… then this is THE event you must attend – D23 EXPO.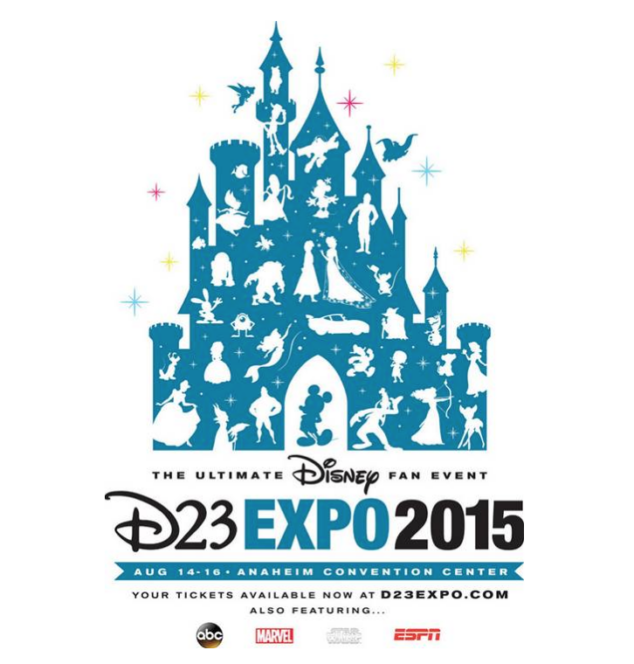 When I got the invitation in my inbox, I had to read it a few times because I truly couldn't process the amazing-ness of the invite in just one, two or three reads! It took me a few to actually get that I was being invited to GO on behalf of Disney!!
D23 Expo is the ultimate Disney Fan experience! I'm going to be attending with 24 incredible bloggers, all of which are being hosted by Disney. I can't wait to hear and see all the news coming from Disney and then being able to share it all on my blog with you! D23 EXPO brings together all the worlds of Disney under one roof filled with presentations, pavilions, experiences, concerts, sneak peeks, shopping and more. The event provides fans with unprecedented access to Disney films, television, music, products, games, theme parks and celebrities! Truly – I'm GIDDY! Just absolutely GIDDY! Right now I'm trying to decide and finalize on WHAT I'm GOING TO WEAR!!!
It's amazing because people literally come from all over the world to be a part of the D23 EXPO, which takes place every 2 years. This year D23 Expo will be held at the Anaheim Convention Center – August 14 – 16, 2015.
Since 2009, the bi-annual D23 EXPO has celebrated all the magic, wonder, and adventure of Disney at this remarkable gathering created especially for you, our most passionate and loyal fans. D23 EXPO presents three full days of "inside-the-magic" experiences you won't find anywhere else, including exclusive sneak peeks at upcoming films from The Walt Disney Studios, dazzling celebrity appearances, unforgettable presentations given by Disney luminaries, a look at what's coming from Disney Parks and Resorts and Walt Disney Imagineering, the Disney Legends ceremony, and the Treasures of the Walt Disney Archives exhibition, which spotlights crown jewels from Disney's timeless legacy.
The first thing my oldest son William asked me was, "Why is it called D23 Expo?"
It's a GREAT question!!
D23 is named after 'D for Disney' and '23' for the year Walt Disney opened his first studio in Hollywood. D23 is the official fan club for Disney and it's EASY to join!! There are different levels of membership, so make sure you check everything out to see what works best for you!!
If you're planning on attending or would like to, check out here for more information!
Make sure you follow along with my adventure out west at D23 EXPO!!
Follow me:
Twitter: @AudreyMcClellan
Instagram: @AudreyMcClellan
Facebook: MomGenerations
YouTube: MomGenerations
Periscope: @AudreyandVera
And – also – please make sure you're follow along with the hashtags for the event:
D23Expo.
WOOHOO!!!!!
I CANNOT WAIT!!!!!
Disclosure: This is a sponsored press trip. All opinions are 100% my own!