cabi clothing fits me like a glove. I love every single item of every single collection. Truly, as a mom fashion lover, I'm obsessed with the fit, the styles and the trends of all of the cabi clothing. If you've never been to a cabi Shopping Experience, you NEED to attend one. For me, it's not only just a shopping event, it's a true experience – laughing with your girlfriends, learning about new trends and connecting. As busy women, we all deserve a night "off" from time to time, and a cabi Shopping Experience (PARTY!) is the perfect night out!
I had the pleasure and honor to attend with cabi their amazing Scoop event in Orlando as they debuted their gorgeous Fall 2015 Collection. It was the most spectacular weekend for me. Fashion. Girlfriends. Laughter. Happiness.
cabi brought me to Scoop to work as their digital correspondent before their Fashion Show Broadcast and it was so much fun!! A couple of weeks ago, they sent me some top secret looks from their Fall 2015 Collection and asked me to pick out a look for the Scoop. I'm not kidding, it was VERY difficult to decide on ONE important look. I wasn't sure if I wanted to wear something totally fancy… something a little wild… or something that I would literally wear all the time in my "real" life.
I chose "real life."
Since I'm always on the go and working, I LIVE in denim, but I always love to "amp" it up on top with my blouses, blazers and accessories. I'm fashion-fanatic for easy-chic looks and that usually involves me in denim. I picked out 4 different pieces to "rock" and show-off at The Scoop and I was THRILLED with my choices!!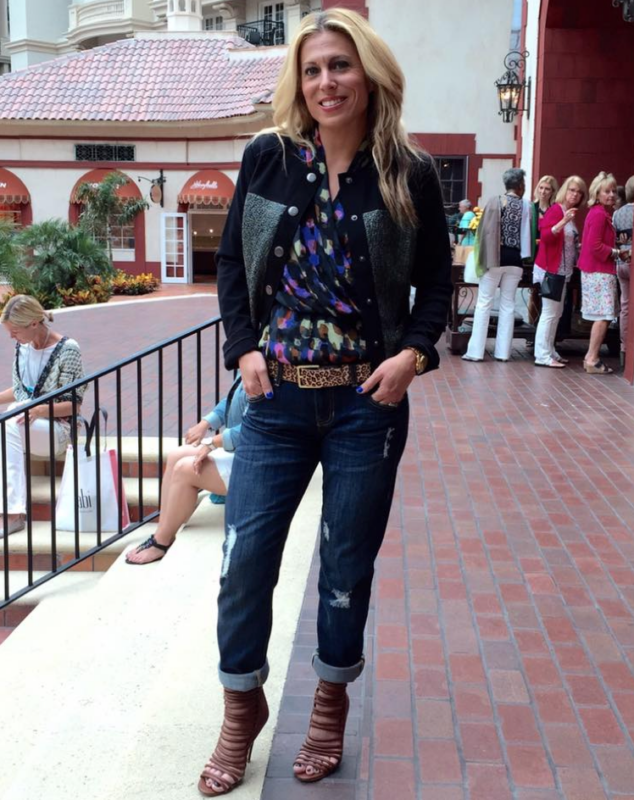 What I'm Wearing: Flaunt Wrap // Media Jacket // Dark Destruction Boyfriend Jean // Kipling Belt
I was stopped left and right from cabi stylists asking to touch my belt and my top to see what the fabric felt like, it was awesome to see the fashion love and loyalty from the ladies!!
Loving my look!!