Teachers are the anchors for our children when they're at school. Teachers change lives. Teachers inspire. Teachers motivate. Teachers bring love and passion to their classroom. My children have been blessed beyond blessed with incredible teachers. Each teacher we have had in our lives with our children has truly left a wonderful impact on them. It's been something that I love and cherish. I grew up the daughter of 2 teachers, so for me – it's truly personal. I know how hard my parents worked for their students and I'm so happy to say that my sons have been blessed the same way.
I'm beyond excited to share with you a wonderful program going on right now from one of my fave places – thredUP called Raise A Hand for Teachers.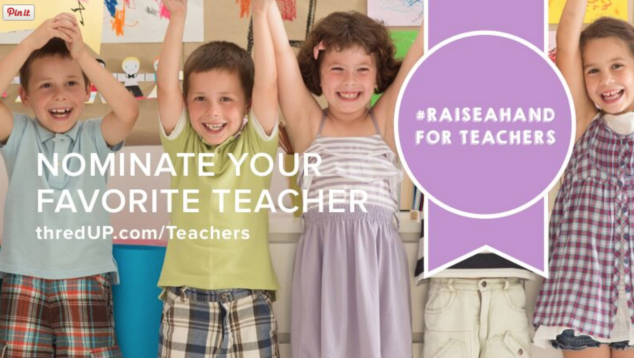 What's it all about?
It's ABSOLUTELY INCREDIBLE.
Fashion resale site thredUP.com has partnered with AdoptAClassroom.org to recognize and thank teachers for their hard work and the positive impact they make each day on our children's lives. Teachers are extremely generous with their time as well as their money. According to AdoptAClassroom.org, teachers spend an average of $500 of their own money each year to equip their classrooms. 70% of teachers have even purchased apparel items like jackets, socks and shoes for their students.
That's just an astounding stat and I know it's true because I see what the teachers have brought the classrooms for my sons and their classmates.
Books.
Crayons.
Paper.
Glue sticks.
Scissors.
Pencils.
Erasers.
Rulers.
You name it, they buy it.
I was especially touched this year when I saw that my son Henry's teacher bought all of the kids holiday school packages filled with supplies for a project. I was just so touched that she went out of HER way to buy everything with her own money. It meant a ton.
Starting TODAY through August 23rd, you can nominate a special teacher in your life. Take the time to nominate someone and truly make a difference for a magnificent teacher.
Three teachers will each win $2,500 for classroom supplies and $500 to thredUP!!
50 runner-up winners receive $100 to thredUP!!
Winners will be announced on Tuesday, September 8 (following Labor Day weekend).
BRAVO to thredUP for being part this amazing program!!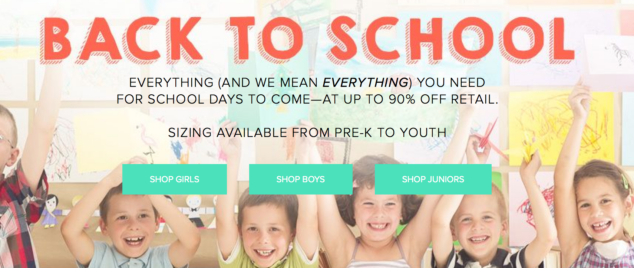 I love shopping at thredUP for my sons and my daughter for back-to-school time. It's such a wonderful destination for moms and dads to shop!! thredUP.com has all of my favorite kids brands, including GapKids, Janie and Jack, Lilly Pulitzer, Mini Boden, Zara Kids and more! thredUP's prices are always up to 90% off retail, so you don't have to wait for the back-to-school sales to start to save a ton of money.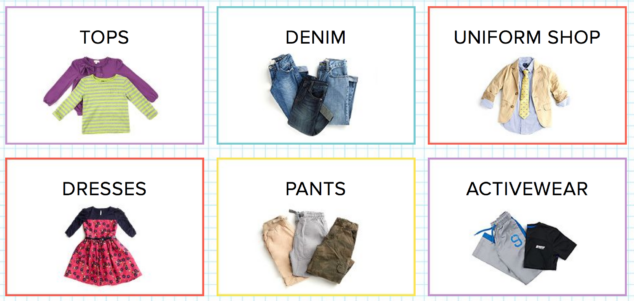 thredUP is truly a one-stop shop, with all of the top brands in one place at thredUP.com/Back-To-School or on the mobile app. Convenient, stress-free shopping!
Don't forget to nominate a teacher!!
Read the inspiring nominations and watch an adorable video of kids thanking teachers, plus find new survey data from AdoptAClassroom.org at thredUP.com/Teachers
Read the inspiring nominations and watch an adorable video of kids thanking teachers, plus find new survey data from AdoptAClassroom.org at thredUP.com/Teachers