Why Am I Doing Laundry at 3:27 am?
The short answer to this question is that I cannot sleep.
I've been awake for an hour or so. Barry is sound asleep, his breathing so rhythmic and soft and soothing, the way it has comforted me each night and early morning for almost 40 years. That's a lot of soothing.
I got out of bed a half hour ago, leaned my elbows on our upstairs bathroom windowsill and stared at the lights across the harbor as they twinkled in the summer mist of perhaps some rain moving in…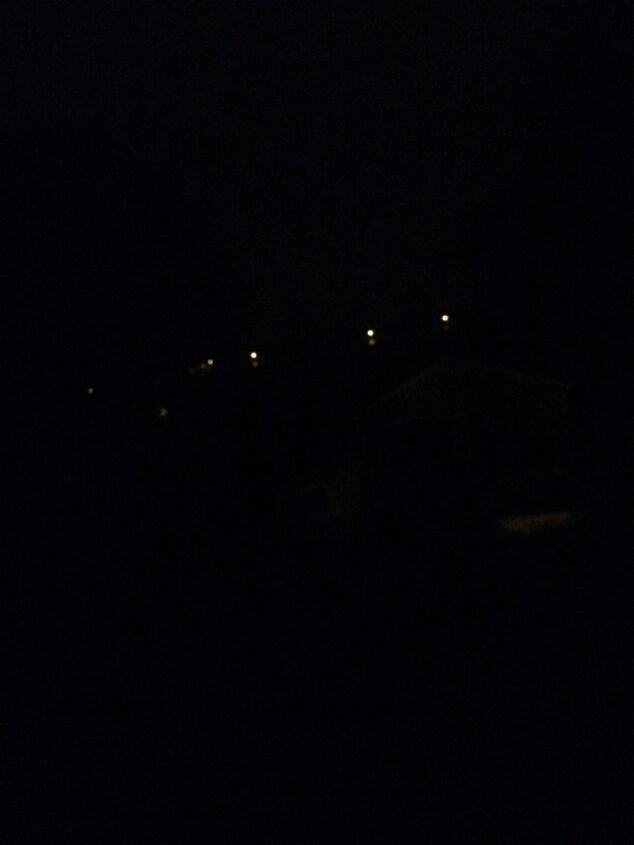 I haven't paid much attention to the weather forecast for today, but the lovely warmth and breeze of this morning, combining with the mist, reminds me of something from my childhood. I think it's a way, way, way back memory from when my Navy Dad was transferred from California to the East Coast and he wanted to get early starts on each day's travel. I remember my Mom moving gently around motel rooms as I was half asleep, my ready-to-turn-9-years-old self wanting to sleep and yet wanting to get on with the day, too. I knew as soon as I heard my Mom, there'd be a wake-up soon, and us kids would stumble to the car in the morning mist as my Dad was loading the back of our blue-and-white station wagon for another day's travel.
This is how I feel this morning. I want to sleep, but I want to get on with the day, too.
And just like with the upheaval of suitcases and scattered stuff in a motel room in some town or city while crossing the United States, this is the situation of my home while our renovations continue. There is stuff everywhere, pretty much like moving; and it's exciting and distressing all-at-the-same-time, like moving across the country at 9 years old – LOL!
But since I couldn't stare at those twinkling lights across the harbor 'til daylight, I decided to tiptoe downstairs to do my Mom's laundry… maybe 3 small loads. There is a laundry service where Rita lives, but she is very particular about her laundry, her clothing, her "delicates" – and I am more than happy to oblige her particularities and instructions. Truth be told, I've never dreaded the laundry chore; and for my Mom, it's just something that makes her happy when I do it.
So, as I said, I left my bathroom window spot and tiptoed downstairs. I love my very old house (circa 1800) all the time, but early morning is such perfection with its lovely shadows, light pouring in from the front porch light and wonderful designs and reflections. This alone makes getting up early a special treat…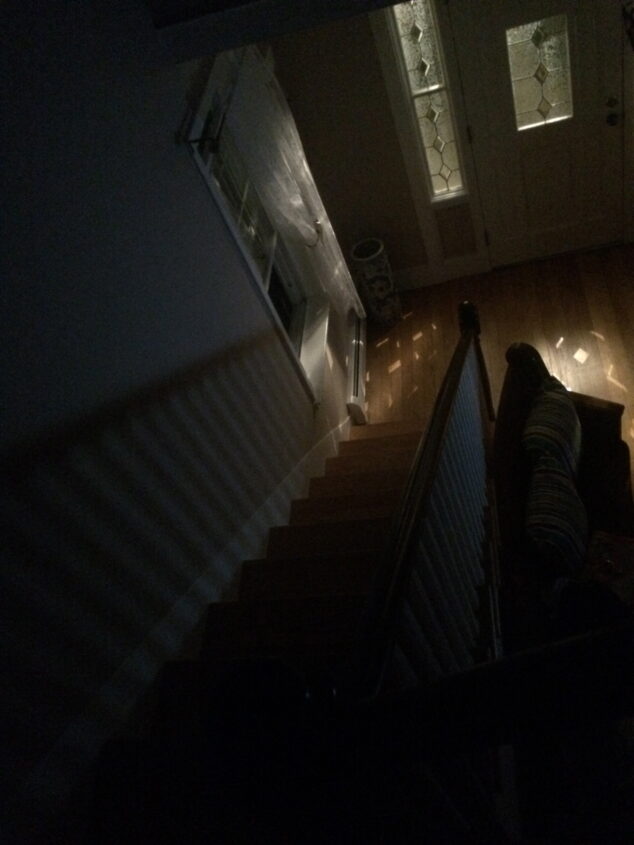 You'd think with renovations, we'd have our washer/drier upstairs, but in this old house of ours with its little twists and turns and charming little corners and narrow staircases and closets, we'd have found someplace for laundry stuff, but that's just not the case. Believe me, we studied every option, finally deciding with our contractor to build a tiny closet in our still very much upheaved home office as our still unfinished "Laundry Room"…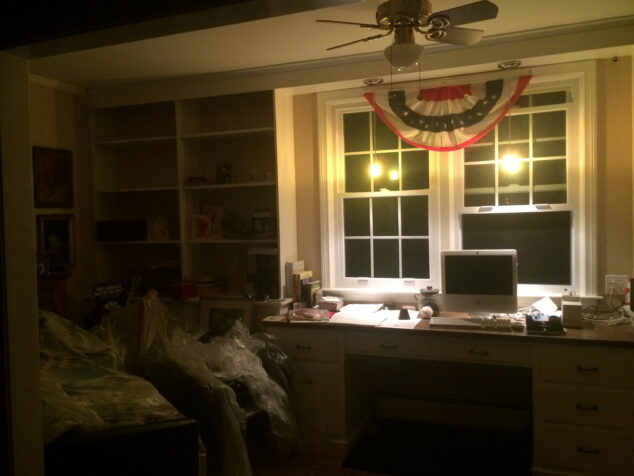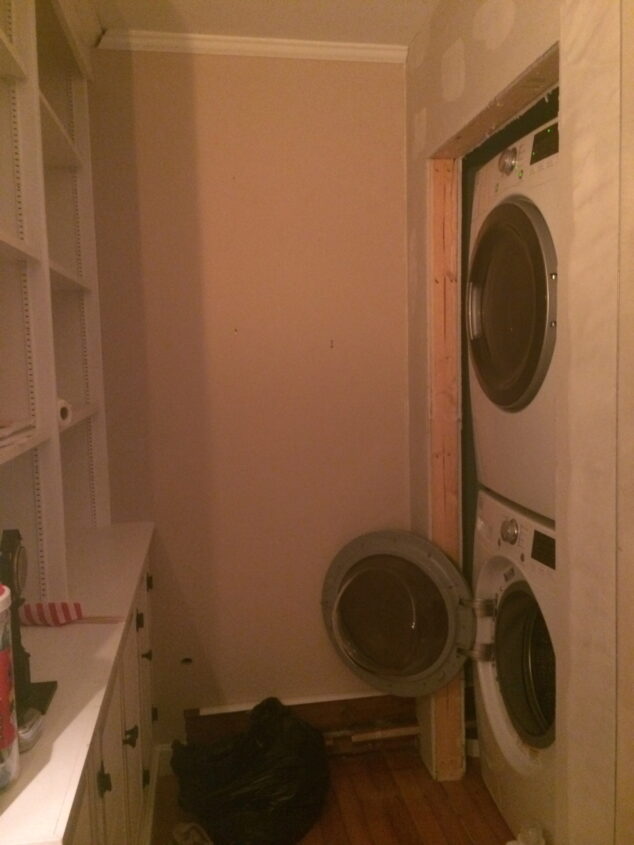 I must say that I LOVE the "Laundry Room" here. A little louvered door will be added and, of course, the trim and heating unit and all that will be finished – but I LOVE IT here. It's so tucked away behind a new, small wall that no-one even knows it's there behind my vintage typewriter, the one my Dad brought home for me when I was 12 years old because I loved to write…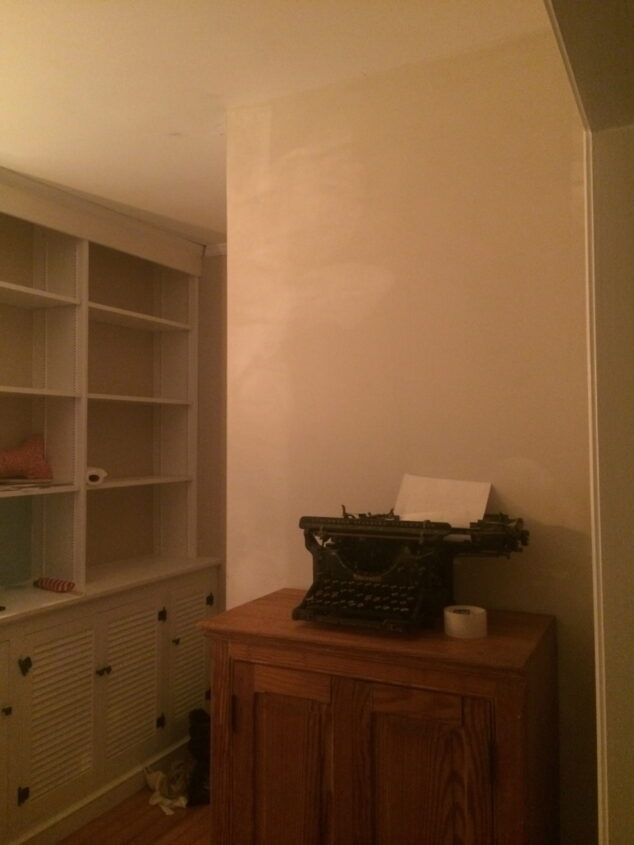 … and opposite many of our whimsical treasures that will some day be revealed again (post renovations, yes?) –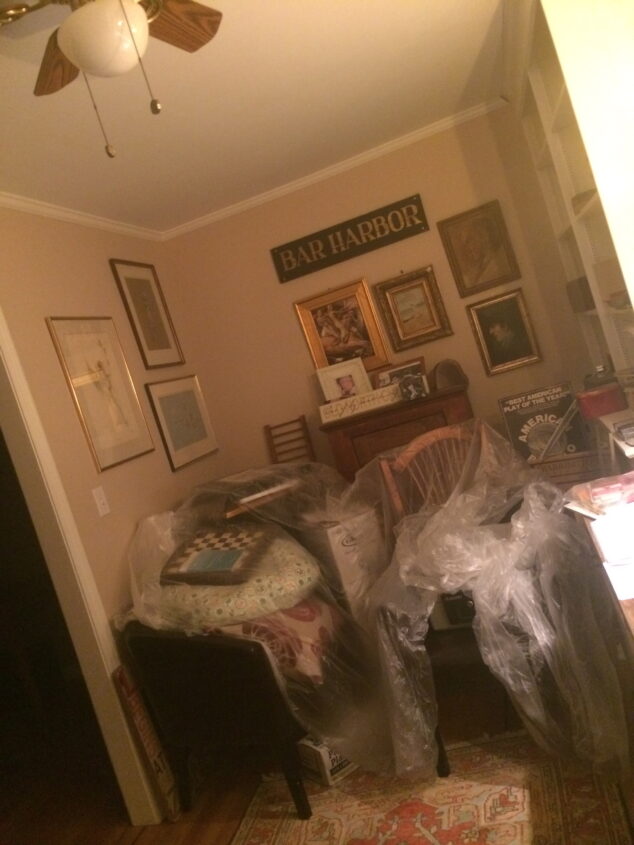 I made myself a cup of iced-coffee with our Keirug, which is set up in our living room (along with my lap top on a tiny vintage kitchen table) because we have no access due to lots of plastic doorways to our in-the-process-of-lots-of-work-but-hopefully-almost-completed kitchen –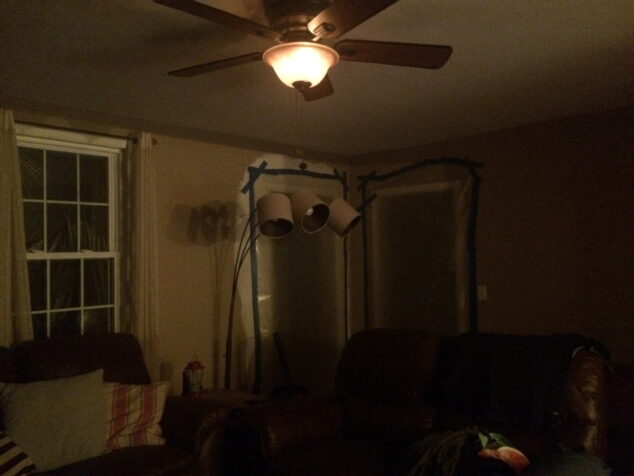 … and began my Mom's laundry.
And this post.
And here I am, still sitting here at 5:17 am.
My Mom's laundry is washed, dried and folded, just the way she likes it and this makes me very, very happy.
My town is beginning to wake up, too. Our house is on the town's main street and I can hear the swish of cars passing by, heading to wherever their drivers are steering them…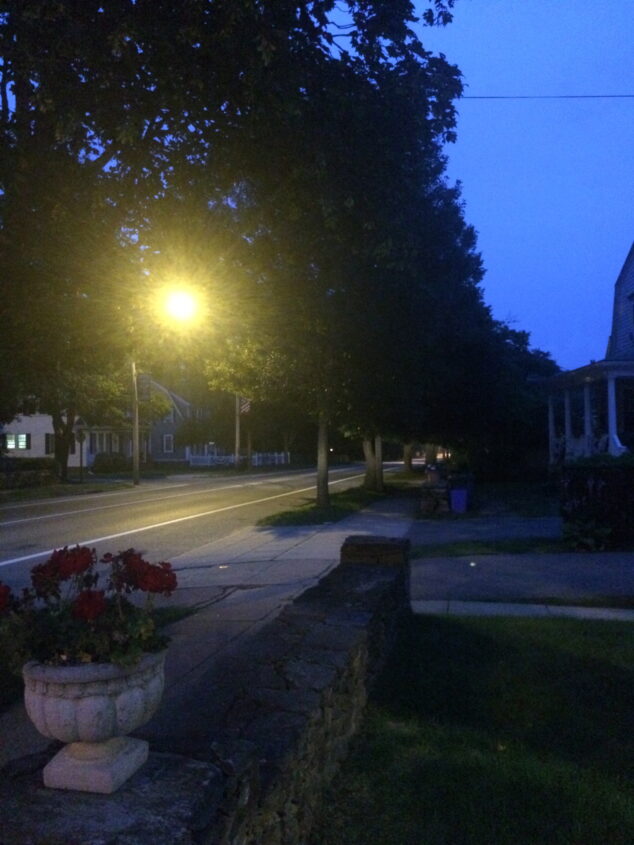 The lights across the harbor are dim now in the early morning fog, but still beckoning and happy to give their welcome. The geese are awake and squawking hello to a new day. And there may be some rain moving in…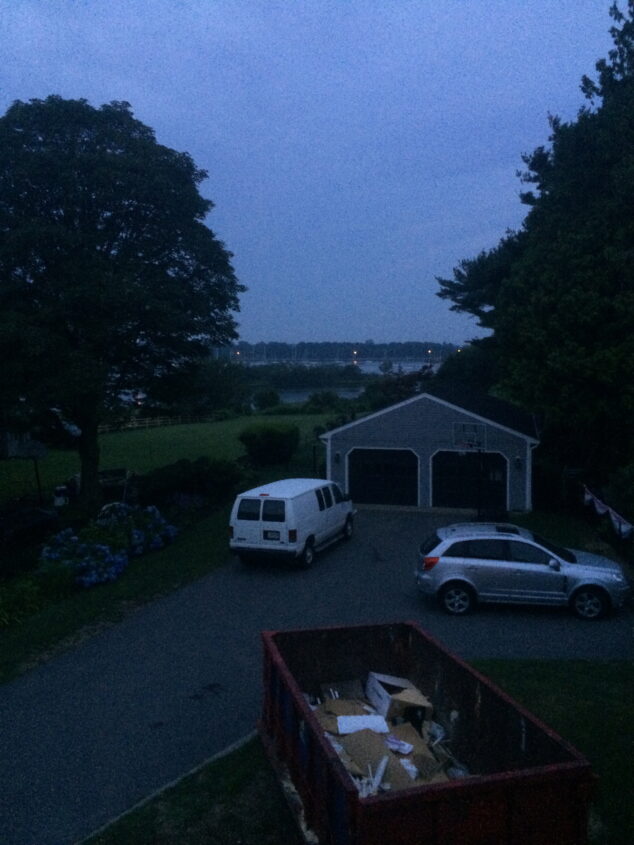 The morning paper has arrived.
Barry is awake and sitting opposite me. I can hear the gentle turning of the newspaper, our last vestige of another time, another era, a morning routine that our children and especially our grandchildren will most likely not experience – and that's OK because Life evolves in all kinds of ways.
Life is a marvelous thing as it turns its own pages every single morning. We are blessed to be part of these turned pages, these gifts.

So why was I doing laundry at 3:27 am?
I think I needed to see a new day come to life as I revisited the past just a bit.
Just because.
And it had nothing to do with not being able to sleep.
But lots to do with Morning and Laundry and Life.