This is a sponsored post with the ConAgra Foods® on their Child Hunger Ends Here #FacesBehindHunger campaign. All opinions are 100% my own.
I want to start off this posting by saying that I was beyond honored to have partnered with ConAgra Foods® on their Child Hunger Ends Here #FacesBehindHunger campaign. As a mother, wife, sister, daughter, aunt, friend and woman… I try every single day to do my part and make the world a better place. After being part of this incredible #FacesBehindHunger campaign, I am truly just awed at the true heroes among us. There and men and women – true heroes – that go out into the world, on their own, for no money… no recognition… just because they want to help. This truly, truly, truly was beyond incredible for me to see up close and so personally.
I traveled to Chicago last week to visit the Greater Chicago Food Depository to interview a true "Hunger Hero." The Food Depository, founded in 1979, makes a daily impact across Cook County with a network of 650 pantries, soup kitchens, shelters, mobile programs, children's programs, older adult programs and innovative responses that address the root causes of hunger. Last year, the Food Depository distributed 68 million pounds of shelf-stable food, fresh produce, dairy products and meat, the equivalent of 155,000 meals every day.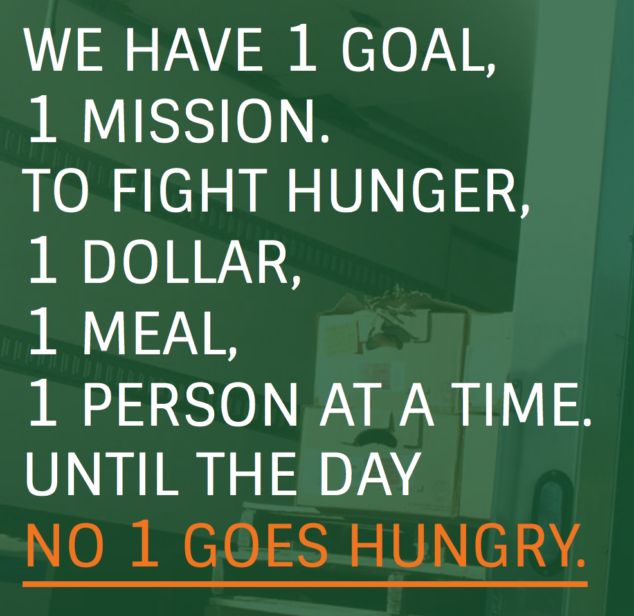 The goal of heading out to Chicago for me was to be help create awareness around food insecurity and child hunger in America. Hunger is around us every single day, it's something that needs to be addressed and put a spotlight on to truly make a difference. I actually got the chance to tour the full Greater Chicago Food Depository in the morning, which was eye-opening to me! I couldn't believe how big the facility was and just how much they donate every single day!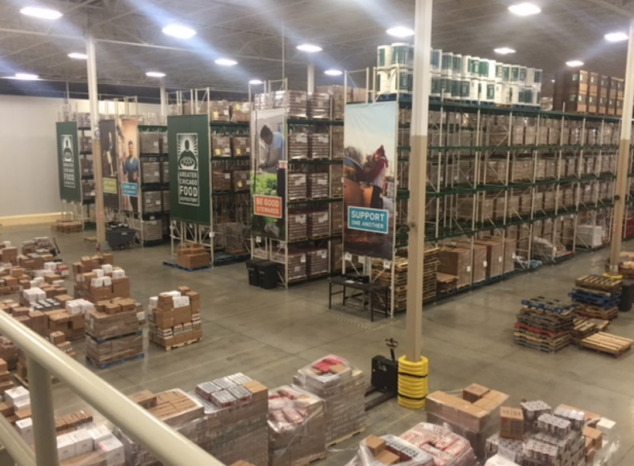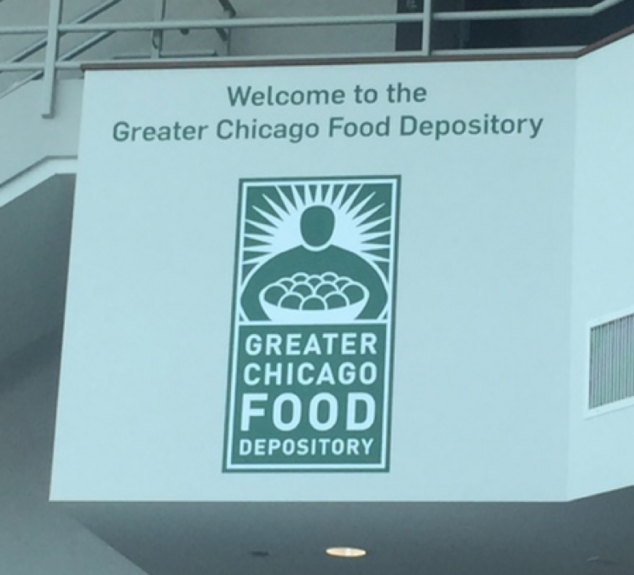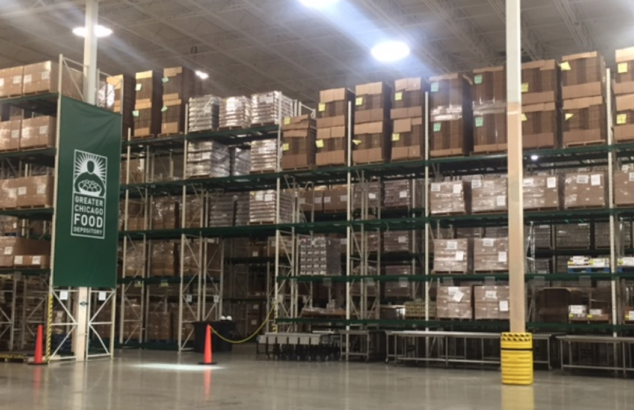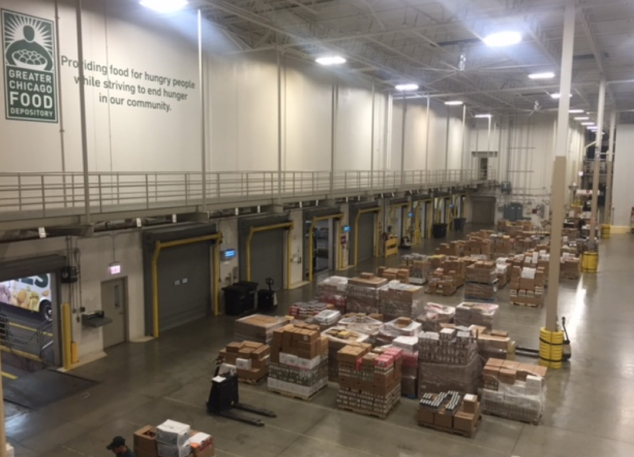 This quote on the wall of the Depository really spoke to me…

Getting this glimpse of childhood hunger in Chicago last week is something that will stay with me forever. But for me personally, meeting a true "Hunger Hero" in Gloria Raschka was just unbelievable to me. This woman makes an impact and difference in the lives of so many children and I really was honored to be able to interview her and shadow her on her Lunch Bus route (along with her intern Christian) throughout the afternoon in Chicago.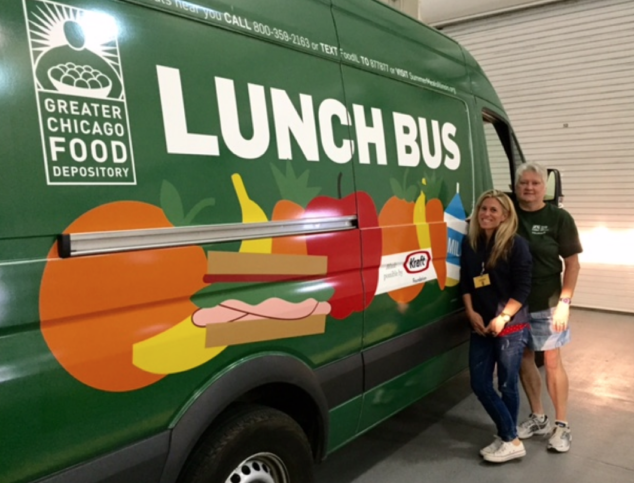 Before we headed out to deliver the lunches to the children, I had a chance to sit with Gloria and ask her some questions about her volunteering, her family and her passion for making a difference. Gloria was one of the most caring and genuine people I have ever met. You could see the passion in her eyes for volunteering. You could hear it in her voice. This was a woman who is a true hero. She goes out of her way every single day to make the lives of other people better. There's something just phenomenal about that… not to mention, she didn't think there was anything extra special about what she does. For me, that was the true "ah-ha" moment for me. She truly does this from the love in her heart.
Can you share a little background about your volunteer experience? When did you first start volunteering as a Lunch Bus driver?
Strictly as a bus driver with the Greater Chicago Food Depository about 5 years, but I've been with them here for about 7 years. When the airline I worked for shut down (she was the Operations Manager there), I had all this energy and time, so I was I looking for something to do. Being that this was in close proximity to my home, I saw that they had re-pack sessions and different things, so I started out do re-packs and re-sorts here. The next thing I know, I was asked to see if I might be interested in doing the Lunch Bus. I'm interested in just about anything and since it was kids, I was even more interested. In the past I was a lobbyist for the PTA, so kids and kids issues have been my life for a long, long, long time. Having 15 grandkids that are perfectly healthy and happy and fed, you get around the children and you see the disparity between them. That's why I said yes.
What are some of your responsibilities as a Lunch Bus driver?
It's a matter of getting the food there safely. My interpretation of it is assisting the interns, getting out there and conversing with the kids. You know, it's just that one-on-one that you have with them. The kids are so receptive and I think they like to see that someone cares about them. That's basically why I do it and why I keep coming back.
Where does the bus go?
We don't always have the same route each week. If there's a need for a driver somewhere else, I'll fill in that spot. It's pretty much mapped out. Once you get accustomed to a route, the kids recognize you and that makes it even more fulfilling. You see them coming down the street because they see the Lunch bus coming. There are 3 different routes – one covers the Northwest side of Chicago, one covers the Southwest side of Chicago and one that covers the South suburbs. They're all pre-set locations.
What types of foods are served?
This year we're doing cold meals with constitutes a protein, the grains, milk, fruit/vegetable (sometimes both). It's pretty substantial for the kids.
How many children does it serve?
It all depends. On average with all 3 Lunch Buses we are serving about 1,000 meals a day. It's a little less right now because some of the kids are back in school.
You've said that your grandchildren are your inspiration to volunteer – how do you inspire them with your volunteer work?
They absolutely know what I do. I just got back from spending a week at a Cancer Camp for kids. Which is very fulfilling because it's that one-on-one with the kids. All of my grandkids, the older ones – I've got a 25 year old granddaughter, who is in Virginia – over the course of the years that I've done this, they do soup kitchens, help out in food pantries. They do what they can with the encouragement from their parents. My kids have known my involvement with schools, PTA, mentoring in the library – they have always seen what I've done and they have automatically given back. For my birthday, I don't want presents – send money to the Cancer Camp or donate food to the Depository. I find it important to have had that influence for my own kids. I've brought some of my grandkids that are local here to help out. They've done the re-packs. They've been around it. I'm trying to start that cycle and it seems to be working. My little 5 year old from Wisconsin on vacation, he wanted to come in and see how it is in here. He sees it all. I was showing him the kids I could be taking the kids for lunch. With that kind of discussion they get it. That's important.
Have you ever been affected by hunger, either directly or indirectly?
I come from a family of 8 children and my dad was the only one back then who made money. So, yes. My mom had actually gotten sick when I was about 13, she passed away of cancer. I was the 2nd of the 8 kids, so yeah – my grandmas and grandpas came in to help out. You wouldn't know that we were affected by hunger by then. But now as I sit back and realize what I have for my kids and grandkids – yeah. I didn't realize my grandma would take an onion and ketchup and make great spaghetti out of it. As a kid I didn't realize it. I look at the kids that we serve and the different attitude about what they're getting and how they are receiving it. They APPRECIATE what you are giving to them. When you see that kind of stuff, it makes an impact.
In your efforts to fight child hunger, was there a moment or a story you'd be willing to share that you remember that emotionally impacted you the most?
I think probably one of my "ah-ha" moments was when I was driving in the South Suburbs. We were just about to be done with our lunch stops. We saw a young girl with a baby on her hip, a toddler in an umbrella stroller and 3 more kids with her. They were crossing a busy street just to get to the lunch bus. You stop and think to yourself, 'Where are the parents?' She was like a little mother hen. They got their lunches, she put them in a circle on the grass. She made sure all their stuff was opened. That made am impact on me. It made me realize why I need to keep doing this. Getting this food out to these kids is important.
In your opinion, what's one small thing that anyone can do to fight child hunger in their community?
Number #1, be aware – especially to the people around you. Everyday you could walk down the street and see someone who is homeless. You can see it on the news everyday, too. Stop ignoring them. It's out there. I don't know how anyone can walk around with blinders. Also, get involved. If you don't want to give money or do re-packs, do a food drive. All you need to do is put out a sign saying what you're doing and when you're collecting. The Depository will bring you all you need to do this – boxes, signs. They will even pick it up. I find it's the easiest way for people who are limited with time to be involved. Or donate. However you want to do it. There's also money. You can donate money, too. Even young kids can do it – college kids, high school kids. It's important for people to do.
After our interview, off we went on the Lunch Bus! Every stop was the same set-up. The Lunch Bus pulled up… Gloria would get out and start setting everything up with her intern. It was amazing to see that there were already kids lined up and ready for the Lunch Bus at some of the stops.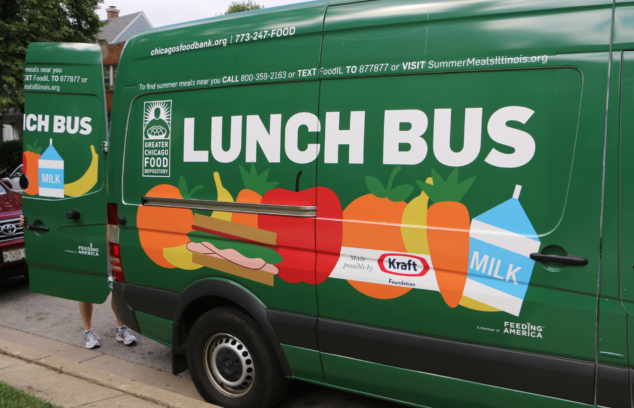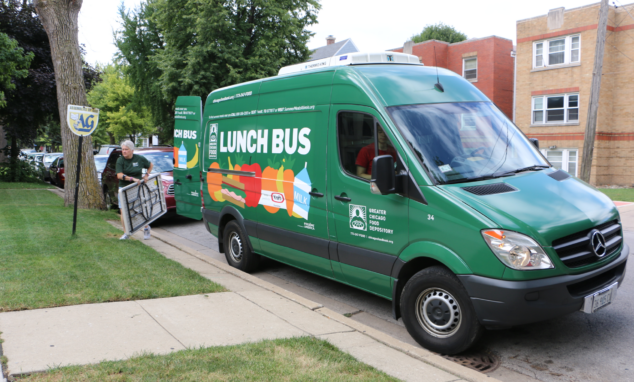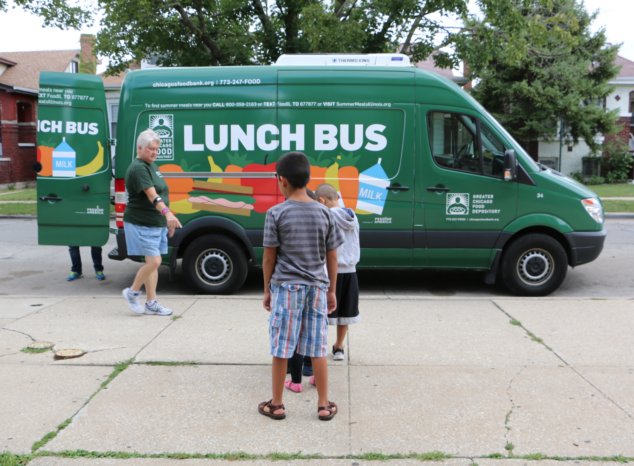 The cold lunches that were being served on the August 20th, along with cold milk.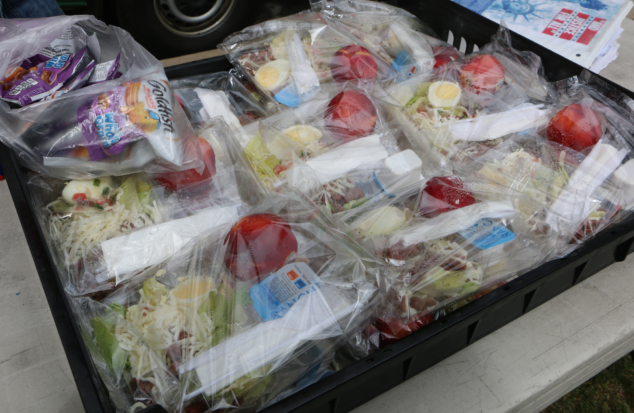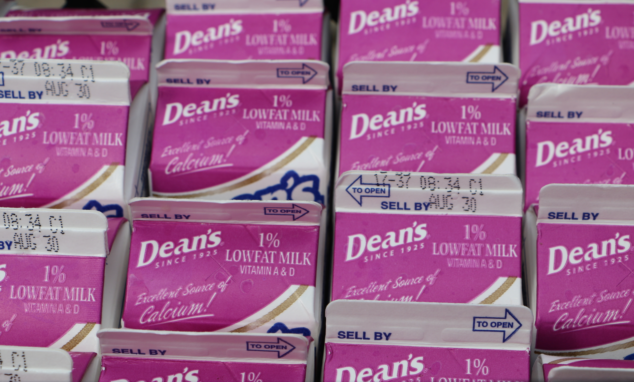 For me, it was amazing seeing how appreciative the children were at each stop with receiving their lunch. They said thank you. They smiled. They were truly appreciative.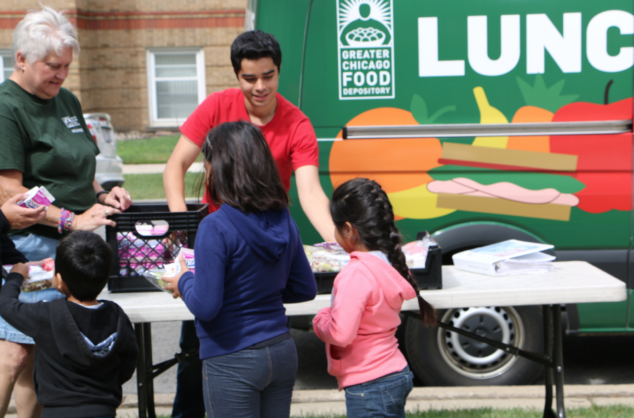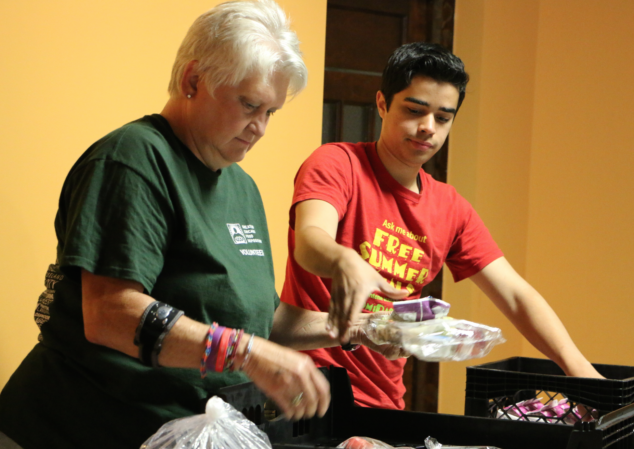 I honestly can't say enough about how impactful the Lunch Bus is for these children. But most of all, how amazing it was to see Gloria in action. The kids trust her. They kids feel safe around her. She's truly a remarkable woman and I loved being able to be part of her world for an afternoon.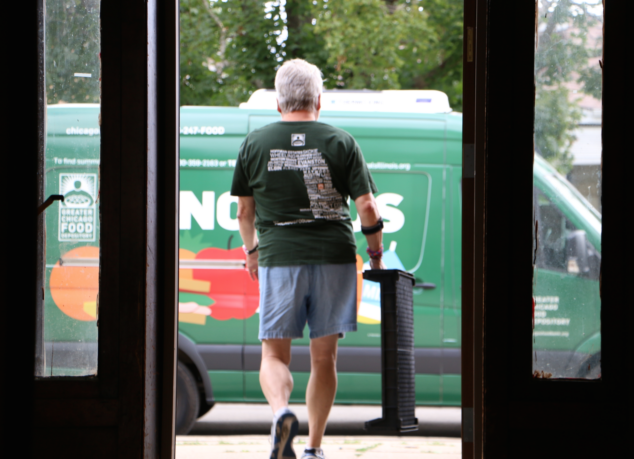 Please -take the time to get involved in the fight against child hunger and food insecurity in your own community. As Gloria said above, it can be in a variety of different ways. It's such a special thing to do and above all, you're helping the lives of children.