I'm not going to lie, with 5 children, one of the biggest questions I ask myself is, "How are we going to pay for college?" It's something that is important for me and my husband to start thinking about now because we know college is going to be here before we know it (even though I would love to freeze my kids in time!). My 4 sons are 7, 8, 9 and 10… heading into 2nd, 3rd, 4th and 5th grades this year. This means, oh, yes – for one year, they will ALL be in college together.
Much like my mother and father did for me and my siblings, loans will be an option that we definitely are going to have to take advantage of during the college years for our kids. With the rising cost of college tuition, I don't think federal loans, scholarships and grants are going to be enough for us.
I know we're not alone in thinking about how we're going to pay for college NOW with kids in elementary school. It's smart to go in fully armed with knowledge, options and information before you're in a tight spot and can't find a financial way out.
Believe me, there places to go and people to see who can help you and give you (and your family) great advice. One of those places is College Ave Student Loans.

When federal loans, scholarships and grants aren't enough, private loans are something families can consider to help fill that gap to pay for higher education costs. It's definitely an option for many families out there with kids entering college. College Ave Student Loans understands that each family's financial situation is different and unique with how to cover additional college costs – whether they look at paying out of pocket, using savings, trying to find a balance for college and saving for retirement, doing a mix of different payment options, using private loans, etc. Families really should and need to explore the best option (or options) for them available.
College Ave Student Loans never wants families to borrow more than they should, or to pay more than they need to for a loan. College Ave Student Loans offers a number of lending tools to help students and families make smart and informed lending decisions.

Check out their College Ave Student Loans calculator. It's designed to help students and their families understand the total cost of borrowing and ways to save. Plus, College Ave encourages decisions like making in-school payments and picking shorter loan terms by offering lower interest rates when customers make those choices (thus reducing the overall total cost of the loan).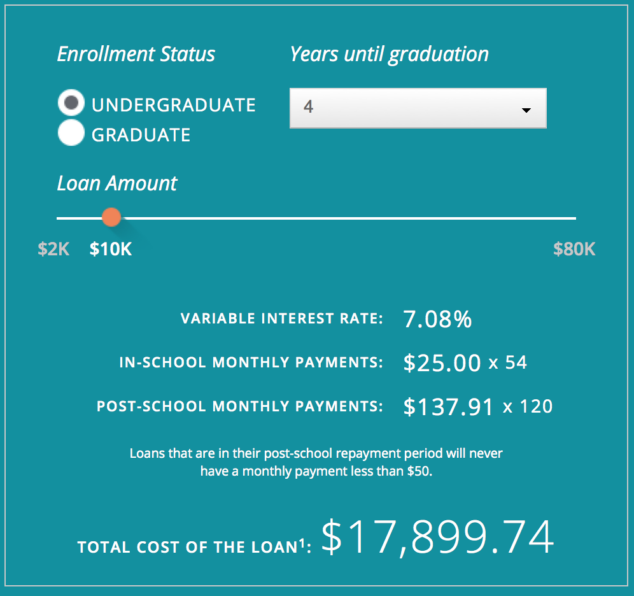 Such a great way to calculate and lay everything out neatly and tangibly to see what the numbers calculate out to be.
College Ave also offers a unique credit pre-qualification tool. With three simple pieces of information (name, DOB, address), students and their parents can use the tool to find out if their credit score qualifies for the loan, and what rates they can expect from us, all without filling out a full application or impacting their credit score.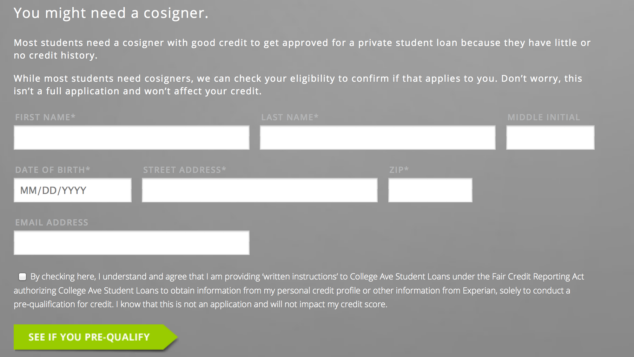 It's a great tool for students, who are learning about how credit scores affect the loan, and for parents who want insight into what they should expect from us.
I remember being a student and being so confused about loans and payments and rates… it was mind-boggling to me! I appreciate how College Ave is taking the time to educate, help and be proactive in making all of these decisions easier and more manageable for students and parents. College Ave conducted a survey and found that students are unsure how credit scores affect their loan and interest rates. This doesn't surprise me because I was the same way! Interest rates ARE confusing.
– Only 25 percent are comfortable understanding interest rates and payment plans.
– 59 percent do not understand how credit scores impact interest rates.
These are pretty staggering results and shows that help is needed. They also offer a mobile-friendly application and applicants who use the mobile-friendly application can expect a credit decision in less than three minutes! Not bad, huh!?
College Ave Student Loans is a great resource for students and parents out there. They specialize in student loans and are able to give their customers the attention they deserve and deliver loans that are simple, clear, and personalized for the individual. Also, I think it's VERY important to note that the CEO and Co-Founder Joe DePaulo, is a former Sallie Mae Executive – so he knows what he's talking about! 🙂
For more information, visit: https://www.collegeavestudentloans.com/.

Disclosure: This is a sponsored posting. All opinions are 100% my own.