Having an After School Routine will help your kids get more done while winding down from a hectic school day while avoiding a meltdown.
My 4 sons start school in exactly ONE week. They can't wait for school to start, they are genuinely excited about heading back into the classroom. They want to see their friends. They want to see what teachers they have for the year. They want to ride the bus. They want to have recess again. They literally just can't wait and I love seeing the excitement they're feeling right now.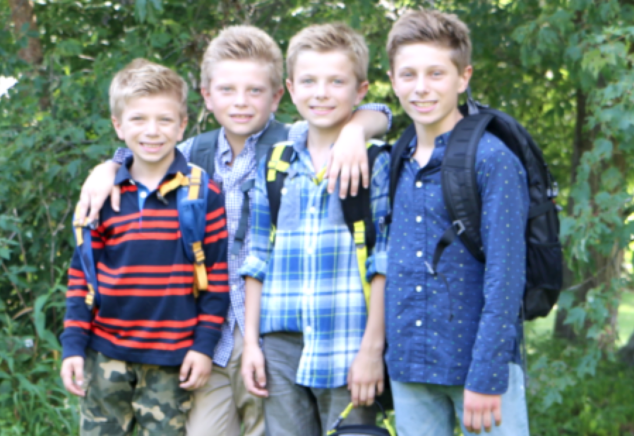 For me, as their mom… I'm getting all the "behind the scenes" stuff ready for school. Their "job" is to get excited and my "job" is to make sure everything is in place. I'm making sure backpacks are packed, lunch boxes are filled, milk money is packed, books and supplies all set to go, new clothes/shoes set and laid out to be worn. That's "my" job as they are getting ready to run outside and line up for the bus. I also make sure they're armed with PURELL for good hand hygiene throughout the year. There's one thing about the McClelland household, if I don't try and keep everything clean and healthy, we go down like dominoes in this house! I'm all about practicing good hand hygiene for snack time at school, lunch time at school and the second they get off the bus and head into the house!
School is school, but home is home. I can easily attach to their lunch boxes a PURELL mini-bottle in a jelly wrapper so they can use the sanitizer before snack/lunch time.
Related Article: My Healthy Morning Routine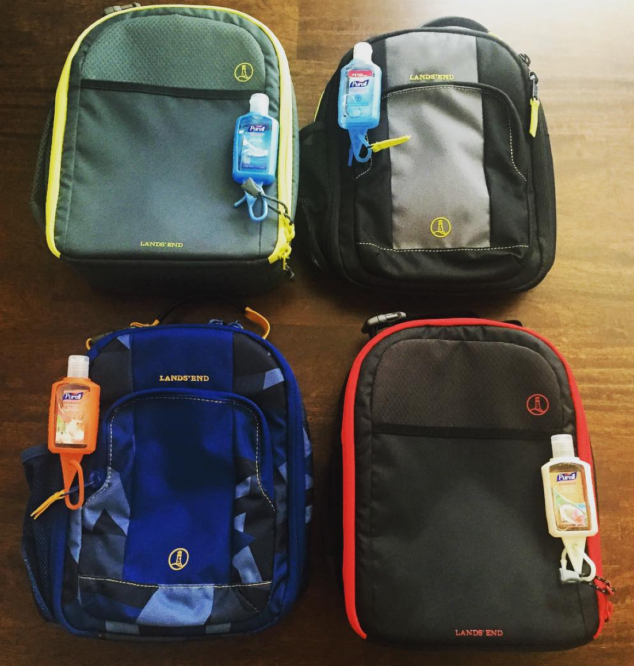 But it's after school that I really am able to be fully present for and make sure we're as organized and as neat as can be! With 4 boys in school, I need to make sure we have a set routine and that everyone follows it. If not, we're all off!
Here is a simple After School Routine – 3 Things Your Kids Should Do After School:
1. PURELL Hands.
The second the boys walk through the door, they sanitize. We have a PURELL dispenser hanging on the wall right next to the backpack hooks. Boys walk in, they sanitize. It's that easy. This way I know they are practicing good hand hygiene the second the walk in. It's become routine now, they just instinctively do it.
2. Organize Homework and Put Backpacks/Lunch Boxes Away.
Mid-way through the year last year, my husband put up backpack and lunch box hooks for each boy. They were coming home and just tossing their backpacks on the ground and then I would go fishing for homework or missing journals or water bottle containers later on throughout the night. We wanted them to be more in charge of their stuff. Now when the boys come home, homework is taken out and put on the counter. Backpacks find their hooks and lunch boxes are out away immediately. This way we're organized and everything is out away exactly where it's supposed to be.
3. Snack Time.
I always put out a few snack options on the counter for the boys when they walk through the door. I'll put out yogurt tubes, popcorn, crackers and some apple slices. This way the boys can eat as soon as they walk through the door and they can fuel up for their after-school activities. They swim 4 nights a week, so it's easier for me to just get nutritious snacks out ahead of time. And – of course – on Fridays, when I can… I'll surprise them with cookies! I wish I could say their homemade, but I'm not that good! 🙂
Easy things for kids to do when they arrive home from school. It keeps them (and YOU!) on a set routine!
As you know, I'm doing the PURELL 30-Day Challenge with Vera Sweeney and our families!!
We would love for you to join us in practicing good hand hygiene with YOUR family, too!!
Join us on Twitter and Instagram with the hashtags: #PURELL30 and #ShakeOnit
Disclosure: This is a sponsored posting with PURELL. All opinions are 100% my own.