August 31st marks the 1st Day of School for my sons! Believe it or not, they cannot wait for school to start! They can't wait to see their friends. They can't wait to see what teacher they have this year. They can't wait to see who they get to sit with at lunch. They're REALLY excited about the SCHOOL and I love that, it's going to make August 31st that much easier for everyone!
Since it's that time of year to get prepared and prepped for school, I've been ALL about the fashion! Since we live in Rhode Island, we have a true FALL season here. The weather starts to get chilly and it's definitely a time of year for layers. I've said it before on my blog and I'm going to say it again – I LOVE SHOPPING FOR MY KIDS for back to school time. I'm obsessed with finding the perfect styles and trends for everyone and really get a true joy out of stocking their wardrobes.
Lands' End is a shopping destination I have ALWAYS loved for my family, especially for back-to-school time. My sons have had Lands' End backpacks and lunch packs since they started school! Part of the fun for them is picking out the "perfect" backpack for the year. It's our tradition that they always get a new backpack with every new school season. To them – it's the ONLY school accessory that's important! I has the pleasure to partner with Lands' End on this awesome back-to-school post, featuring some of our favorite styles and trends from Lands' End. Let me just tell you, it was awesome picking out that perfect look for each of the boys. My sons all really do have different styles, so it's a blast adding in those pieces that fit them to a "T" size-wise and style-wise!
I'm excited to share with you what we picked and also show you how I'm able to mix and match different items between the boys, too!
First up… William! My William will be entering 5th grade this year. William's style is classic and preppy. He loves wearing denim and button downs and loafers.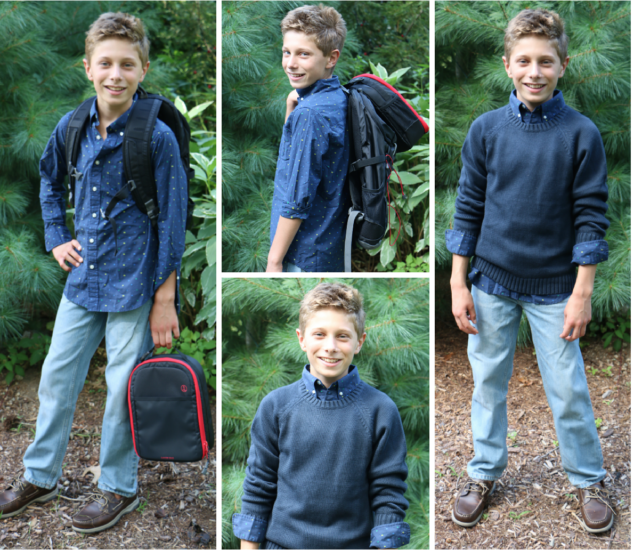 What William is wearing:
Long Sleeve Dobby Poplin Shirt
Classic Fit Iron Knee Jeans
Kids Slip On Shoes
Solid Classmate Soft Sided Lunchbox
Solid Featherlight Ultra Backpack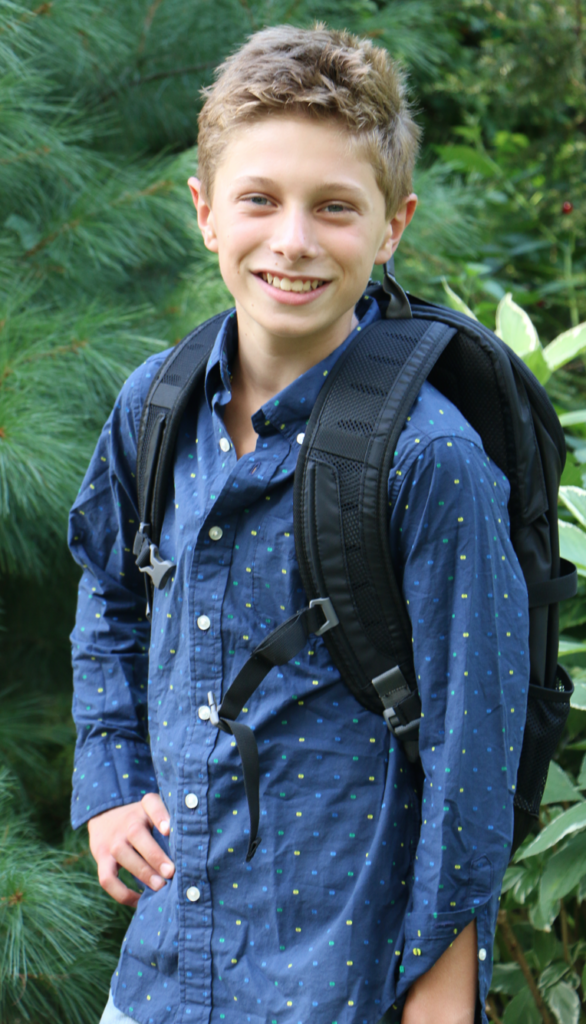 Next up… Alex! My Alex will be entering 4th grade this year. Alex's style is cool and relaxed. He loves fun colors and bold looks.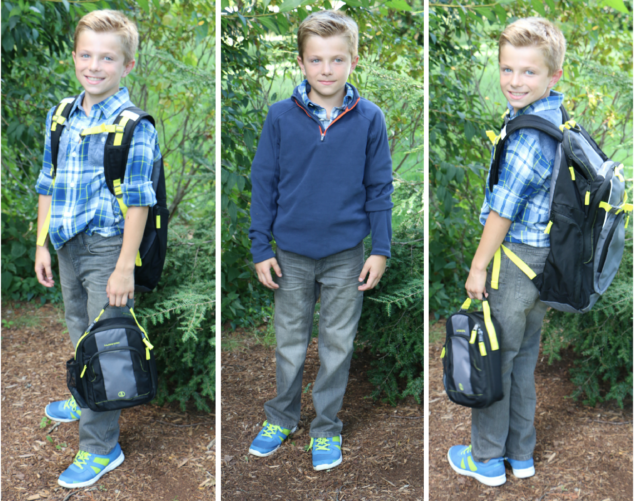 What Alex is wearing:
Boys Microfleece Half Zip Pullover
Boys Iron Knee Classic Fit Colored Jeans
Boys Long Sleeve Pattern Block Flannel Shirt
Kids Youth Sneakers
Solid Classmate Soft Sided Lunchbox
Solid Classmate Large Backpack
Next up… Benjamin! My Ben will be entering 3rd grade this year! Ben is my handsome little man who LOVES to wear dress-up and look (literally) "handsome!"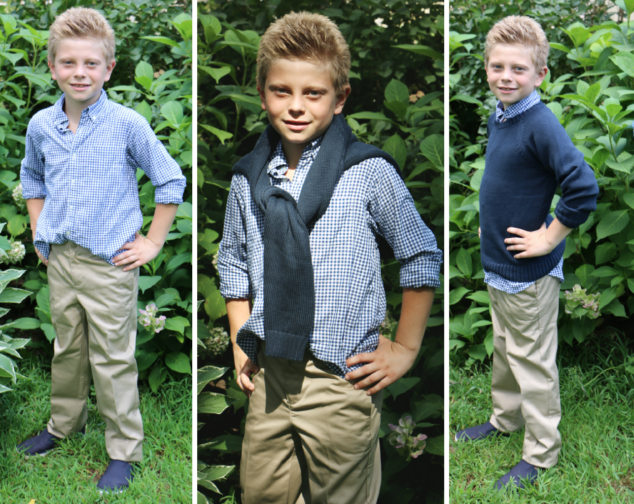 What Benjamin is wearing:
Boys Drifter Crew Sweater
Boys Long Sleeve Poplin Shirt
Boys Iron Knee Elastic Waist Blend Chino Pants
Solid Featherlight Large Backpack
Solid Classmate Soft Sided Lunchbox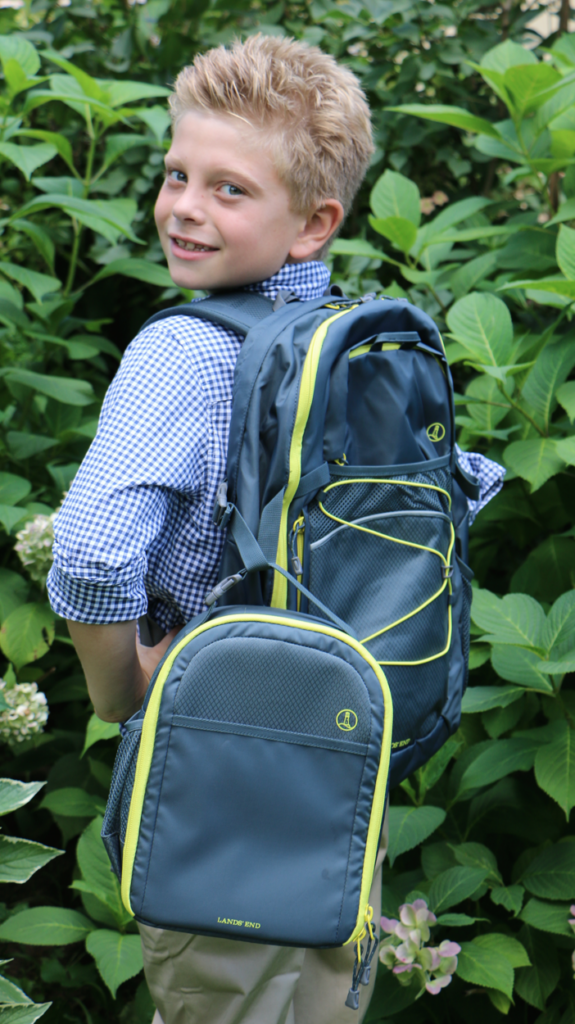 Last up… Henry! My Henry will be entering 2nd grade this year! Henry loves fun and bold styles, too! He's my little guy who will wear prints and mix and match!!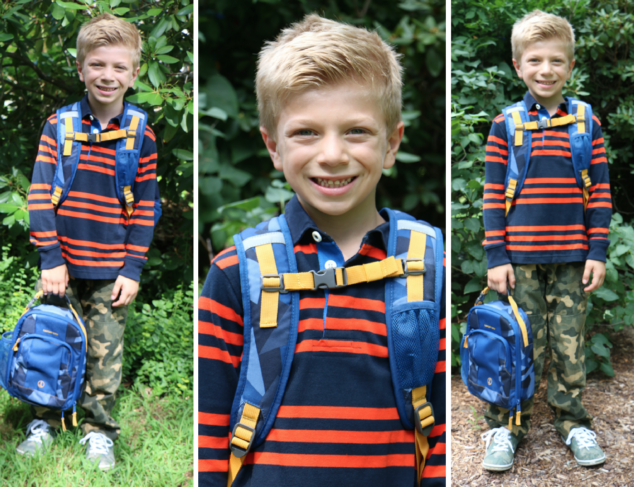 What Henry is wearing:
Boys Long Sleeve Stripe Rugby
Boys Tricot Performance Pants
Youth Casual Sneakers
Printed Classmate Medium Backpack
Classmate Soft Sided Lunch Box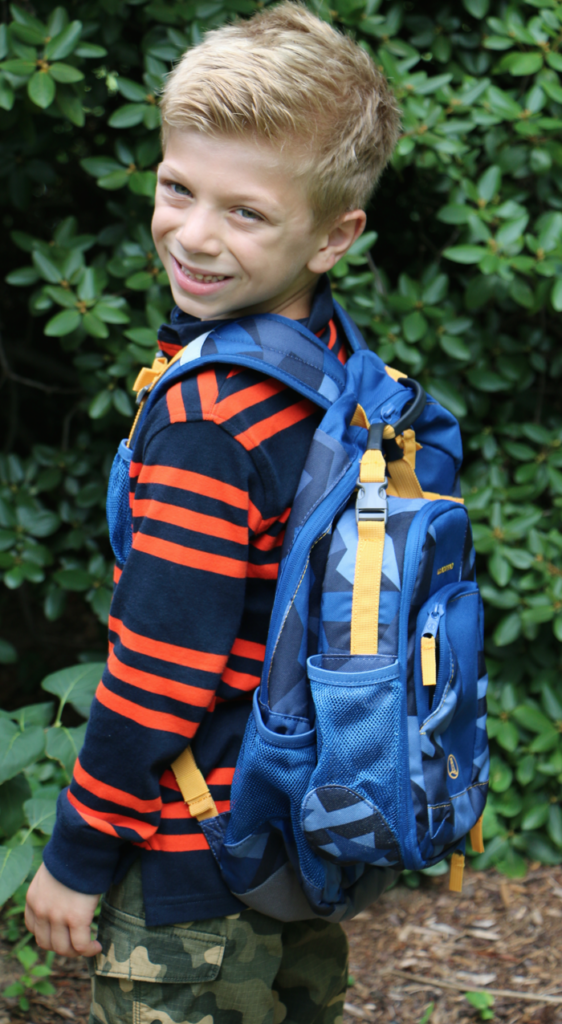 The styles for the boys are so handsome! What I love about Lands' End is the quality, too. Their items always stand up to the test of time and I love that about them! They truly are such a wonderful shopping destination for moms and dads for back-to-school time!
And don't miss out on their exceptional BACKPACKS!!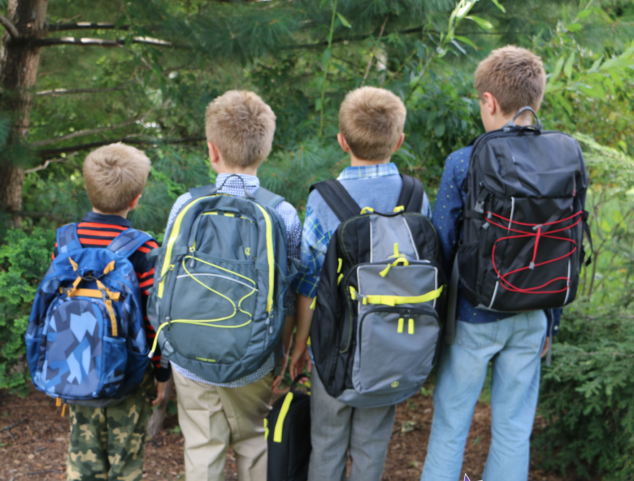 All lined up in order of age! 🙂 Love it… this is what our bus stop looks like!!
Check out all the latest styles at Lands' End.
*Sponsored posting with Lands' End. All opinions are 100% my own.