When I was a little girl, I watched Disney's 1950 animated Cinderella hundreds and hundreds of times. For me, it was the most magical story ever told. The movie truly gave me the passion for romance and fairy tales and happily ever afters… it made me, even at the young age of 8 years old, a believer. As an adult now, I can look back and say without hesitation… Cinderella was my first encounter and memory of true Disney magic. That 8 year old little girl, sitting there with a smile from ear to ear, dreaming of what my happily ever after would look like someday!
Cinderella was my magic start to all things Disney.
Throughout my life, Walt Disney and Pixar animated movies have impacted my life.
As I grew a bit older, I remember sitting through The Lion King and just being completely drawn into the movie. I went to the theater with my older cousin and I just sat there crying and laughing – all the emotions. I actually bought my son Ben a Simba stuffed animal while at the D23 Expo this year! I loved that movie so much and JUST introduced my sons to it last year. The Little Mermaid will always be another one of my favorite Disney movies because I was just drawn to Ariel so deeply because I was a swimmer. I connected with her wanting to explore new worlds, but still feeling the draw to be near her family that she loved and adored.
As I became a Mom, Disney has taken on a whole new level of magic for me. This is a true story… when my husband and I moved from NYC to Rhode Island with our 2 oldest sons back in 2005, my son William wouldn't sleep through the night for the life of him! He was 18 months old and we desperately needed the sleep because we had another baby, too. I started playing Finding Nemo for him on a little portable DVD player in his room every single night as I put him down. It was like magic. He would lay there and watch the movie until he fell asleep. It was his lullaby and it just worked like a charm. Every time I see Finding Nemo, it brings me back to the days when my William was a baby. It's funny because till this day, it's still one of his favorite movies of all time (which it should be because he's probably seen it 500+ times in his lifetime!). And then of course… Toy Story! With 5 children, you can imagine how many times we've watched the Toy Story movies. My son Benjamin made us call him BUZZ for a whole month when he was around 5 years old. It was hilarious! Toy Story is a classic and it's a movie that I could watch with the kids at any age and still, all of us would be drawn into the magic.
As you can imagine, when I was at D23 Expo and listening to John Lasseter lead the panel on Pixar and Walt Disney Animation Studios: The Upcoming Films, I was BEYOND excited to see what was coming. We're such a Disney loving family and I couldn't wait to see what I would be sharing with my family soon enough!
The list of movies is just incredible. As John Lasseter himself said, "We really have an unbelievable range of movies in production at our studios right now. The stories are dynamic, fresh and so much fun; the characters new and old are so appealing. I'm excited to share some of our long-held secrets for the first time at the D23 EXPO."
So what's coming:
1. THE GOOD DINOSAUR (#GoodDino) – November 25, 2015
In theaters on November 25, 2015, the film introduces audiences to Arlo, a sheltered Apatosaurus who finds himself far from home, and Spot, Arlo's unlikely human friend. "Arlo and Spot journey through a world that has been greatly inspired by the American Northwest," said Sohn. "It is epic in scope, soul-enriching and simultaneously beautiful and treacherous. In this world, we meet up with a very special family of T-Rexes, who help Arlo find a way through his personal fears and ultimately teach Arlo what he's truly made of."
This movie looks absolutely beautiful. I love how this is a beautiful story of a dinosaur coming into his own… from a scared "kid" to a confident, strong one. This is the kind of movie I can't wait to bring my sons to with our family.
2. ZOOTOPIA (#Zootopia) – March 4, 2016
International superstar Shakira is lending her Grammy®-winning voice to Gazelle, the biggest pop star in ZOOTOPIA, D23 EXPO fans learned via a taped message from Shakira today. Ginnifer Goodwin (ABC's "Once Upon a Time," "Something Borrowed," "Walk the Line"), the voice of the film's rookie rabbit officer Judy Hopps, saluted fans alongside Directors Byron Howard ("Tangled") and Rich Moore ("Wreck-It Ralph"), and Producer Clark Spencer ("Wreck-It Ralph"). Hilarious new scenes from the film were unveiled, plus a tease of the all-new original song, "Try Everything," written by singer-songwriter Sia and songwriting duo Stargate, and performed by Shakira.
What I'm most excited about when it comes to ZOOTOPIA is seeing this city for animals, designed by animals. I love movies like this… and I am OBSESSED with Jason Bateman (he plays Nick Wilde), so I am EXTRA excited to it. It's amazing to hear the planning and research that went into ZOOTOPIA, too… the directors and producer went to Kenya to really get a feel of how animals move in their natural habitat. The team wanted the characters to REALLY feel animals.
3. MOANA (#Moana) – November 23, 2016


Image provided by Disney
This movie. Oh, this movie… looks AMAZINGLY cool! The best part of this was seeing surprise guest – Dwayne Johnson, come out to the crowd. Dwayne Johnson lends his voice to the mighty demi-god Maui, and I was touched while hearing how touched he was to now be part of the Disney family. Moana is going to be a HUGE hit and truly a movie for the generations, but hearing how special it made Dwayne feel to be part of it… magic.
4. GIGANTIC (#Gigantic) – Slated for 2018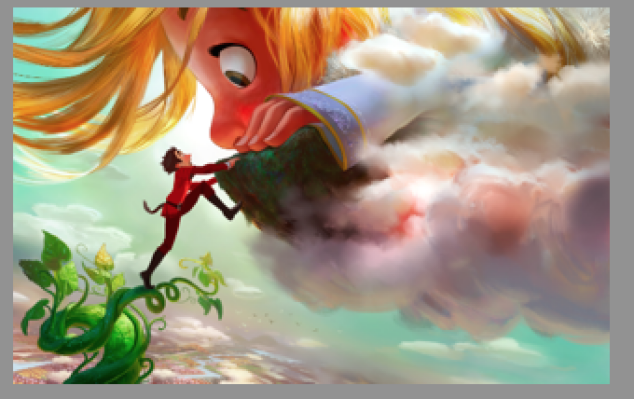 Image provided by Disney
I'm excited to see this because it's Disney's take on "Jack and the Beanstalk." The reason I love this movie is the universal lesson – How far would you go to follow your dreams?
But… there are 2 NEW films that really caught my love, attention and truly, my heart. The upcoming Finding Dory and Toy Story 4!
5. COCO
My sons LOVE anything that has to do with skeletons… hence, we have a life-sized one hanging in our kitchen YEAR ROUND!
This movie looks like it's something right up their alley!
Director Lee Unkrich ("Toy Story 3") and Producer Darla K. Anderson ("Toy Story 3") revealed the title of their upcoming film: Disney·Pixar's COCO is the celebration of a lifetime, where the discovery of a generations-old mystery leads to a most extraordinary and surprising family reunion.
It's fun and exciting and just about everyone in the audience was swaying back and forth to the music playing along with the exciting sneak peeks that were brought to us!
6. Riley's 1st Date –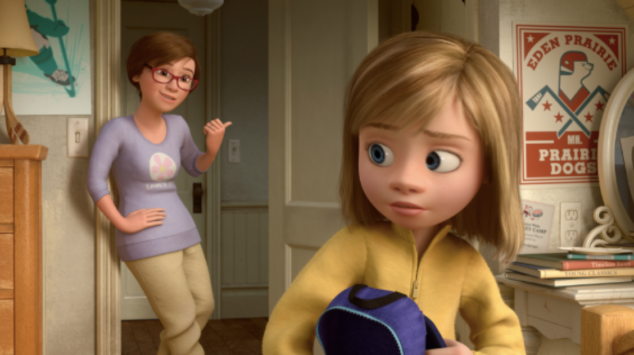 Image provided by Disney
Say HELLO to a short film inspired by Inside Out! If you couldn't get enough of Riley, you're in luck. This short is going to make you laugh out loud. I love that it was inspired by a dad's TRUE reaction to thinking about his daughter growing up and actually (gasp!) dating!
Director Josh Cooley, along with "Inside Out" filmmakers Pete Docter and Jonas Rivera ("Up"), introduced the short, which revisits Riley, now 12, who is hanging out with her parents at home when potential trouble comes knocking. Mom's and Dad's Emotions find themselves forced to deal with "Riley's First Date?" The short will be included as a bonus feature in the digital HD & Blu-ray releases of Disney·Pixar's "Inside Out," which will be available digitally Oct. 13 and on Blu-ray Nov. 3, 2015.
We got a premiere sneak peek of this short at D23 and it was FABULOUSNESS!!!!
OK, I loved this a MILLION ZILLION for a couple of reasons:
1. I now have a daughter.
2. I know my husband will be the SAME way.
3. I was obsessed with the movie Inside Out and I love how this extends it!
And now for the LAST TWO FILMS –
I sat with tears streaming down my cheeks as these 2 films were being discussed and wondering why I was having such a reaction to them. And then it hit me. These are 2 movies that helped shape the beginning of my motherhood. These characters and story lines have become part of my growth as a Mom and part of the fabric which has brought Disney magic to my OWN children.
Let me start with Finding Nemo!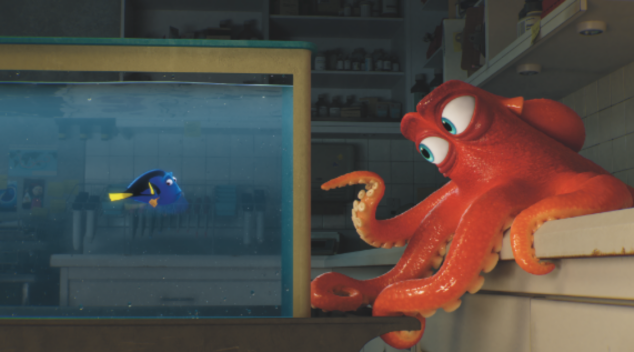 Image provided by Disney
We were lucky to see a sneak peek of Finding Dory and it was JUST as funny and JUST as powerful as what I remember Finding Nemo to be years and years ago. I'm not kidding, we don't PASS an orange fish without one of my kids saying, "Nemo!" It's become what "orange" fish are to them!
Finding Dory is all about well, DORY. The beauty of this story is that Dory still has a story to tell and we finally find it in this movie. I always LOVED Dory because she was "played" by the amazing Ellen DeGeneres, so for me… she was always my fave! To see that Dory is BACK front and center is perfect for me, especially now that I have a little girl to enjoy this movie with, too. But it's the CAST – the full CAST that is going to make this movie a ginormous hit!
Are you ready?
Ellen DeGeneres
Ed O'Neill
Ty Burrell
Kaitlin Olson
Albert Brooks
Eugene Levy
Diane Keaton
I mean, CAN YOU EVEN!!??
This is INCREDIBLE! And Ellen, Ed, Ty and Kaitlin were ALL at D23 Expo! It was one of those Hollywood PINCH ME MOMENTS!
Here's what Finding Dory will be about…
Oscar®-winning Director Andrew Stanton ("Finding Nemo," "WALL•E"), co-director Angus MacLane and Producer Lindsey Collins (co-producer "WALL•E") offered details at D23 Expo about the all-new story, which reunites Dory with friends Nemo and Marlin on a search for answers about her past. What can she remember? Who are her parents? And where did she learn to speak Whale? Said Stanton, "In FINDING DORY, we can expect to address the one emotionally open-ended issue that remained from the first movie: Where is Dory's family, and will this overly-optimistic fish with short-term memory loss ever be able to find them again? Her issue has also given us the opportunity to travel to very different locations, on land and sea, and meet a variety of new sea creatures that expand the world of Nemo, Marlin and Dory."
Seriously AMAZING.
And then, there's TOY STORY!
There. Will. Be. A. Toy Story 4.

Image provided by Disney
This, for me, is just INCREDIBLY AMAZING! I can't quite explain just how much of a HUGE splash Toy Story has been in my house throughout the years. We have lived it through and through – movies, toys, games, posters, stuffed animals, sheets and bedding, etc. Toy Story is a legend in the McClelland family!
To hear that there's a Toy Story 4 on the horizon – I can't even!
Pixar Animation Studios marks the 20th Anniversary of TOY STORY this year. John Lasseter said, "All the characters from 'Toy Story'—especially Woody and Buzz—are so close to us. They seem more like family members than just creations. Not only do we dearly love the characters, but we also love the world of 'Toy Story'—the world where toys come to life when people are not in the room has always been rich with many story possibilities."
We have to wait a bit for this movie to be released, but it WILL be out. For the millions of fans across the globe, I think we will all agree that the wait will be well worth it!!
As you can tell, this panel was OFF THE HOOK AMAZING and the news and announcements, well… MAGICAL!