Twitter Party Alert: #TravelTipZZZ With @ZZZQuil on August 6th 9PM EST
Are you ready!!??
We can't wait to co-host this party!!
Excited to announce that I am teaming up with Lady and the Blog and Mom Trends to host the #TravelTipZZZ Twitter Party for ZzzQuil!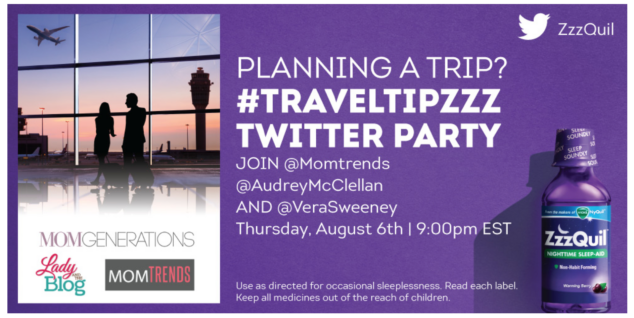 Mark your calendar!!
Brand: @ZzzQuil
Hosts: AudreyMcClellan, @MomTrends, @VeraSweeney
Hashtag: #TravelTipZZZ
Time: July 28th at 9PM EST
Prizes: $500 in gift cards!!
RSVP BELOW
Want a peek into our busy lives? I have something fun to share with you. Check out the three videos that we created for ZzzQuil giving them a peak into our everyday lives:
Mine video:
Vera's video:
Nicole's video:
Love to see you on the 6th!!
Please RSVP!!
* this is a sponsored post