Disclosure: This is a sponsored partnership with Merry Maids. All opinions are 100% my own.
School is back in session!
Gone are the summer days of sleeping late, no homework, snack bar lunches at the pool club, bedtime after 8PM and wearing swim suits all day long!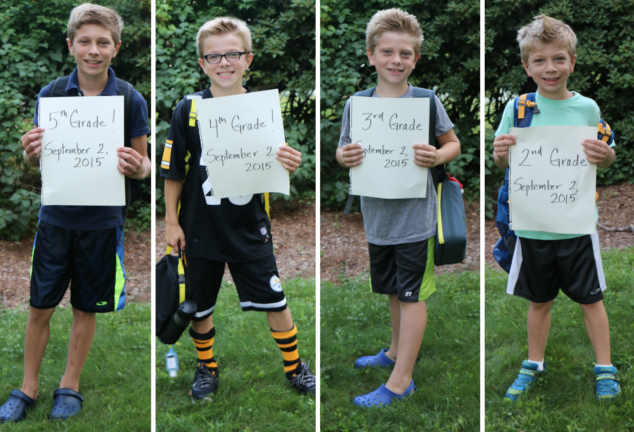 I'm going to be honest with you, I love having the kids back to school because it really helps put me and my family on a schedule. As much as I love the "ease" of summer, I love having organization and order and routines set for the next 180 school days. As you can imagine, it's not always easy getting the kids back into a school routine. With 5 kids, it's important for me and my husband to make sure we're working as a team with our family in getting everyone off and out the door for school in the morning with ease. We rely on some great parenting hacks that make the mornings and afternoons seamless.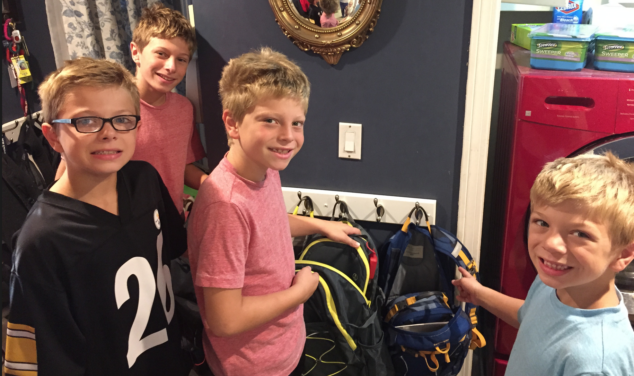 I've partnered with Merry Maids to share with you some of our favorite "Hack-to-School" tips to make this back to school time easier on everyone in the family. Since I know how important it is to have a clean and organized home, especially during this time of year, I'm SO very excited to be working with Merry Maids on this series because they are truly the experts!
Are you ready for some great "Hack-to-School" Tips!?
1. Backpack and Lunch pack designated area.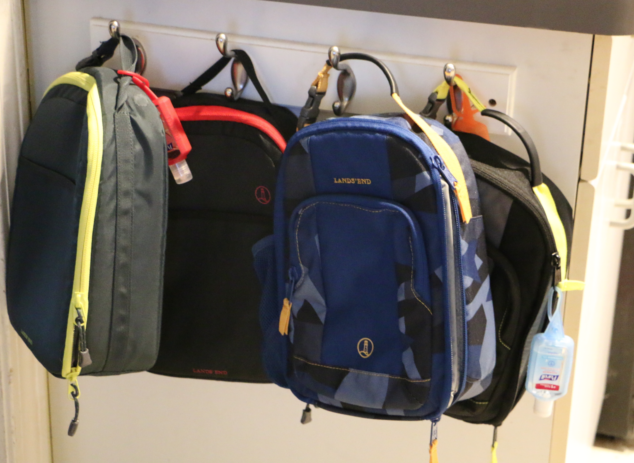 We started doing this last year and it has been amazing! When the boys get home from school, they have a designated area where they must put their backpacks and lunch packs. There's no tossing the backpacks on the living room floor. There's no laying the lunch packs on the kitchen counters. Every child has their own designated hook for their bags and are responsible for putting them away.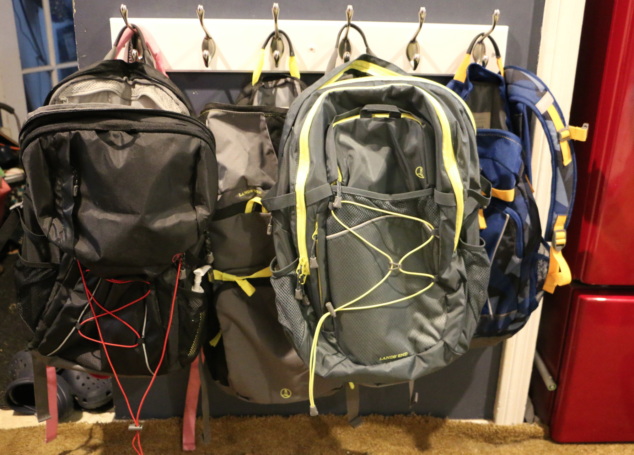 This cuts down on me and my husband taking the time to unpack and put everything away for the kids. Since we don't have the room to build or create cubbies in our entrance way for each child in our family, we thought hooks would be the next best thing for us. It works like a charm. Everything is neat, organized and off the floor and it makes the boys feel good taking on the responsibility of putting their own things away where they belong.
2. Lay it Out (the Night Before).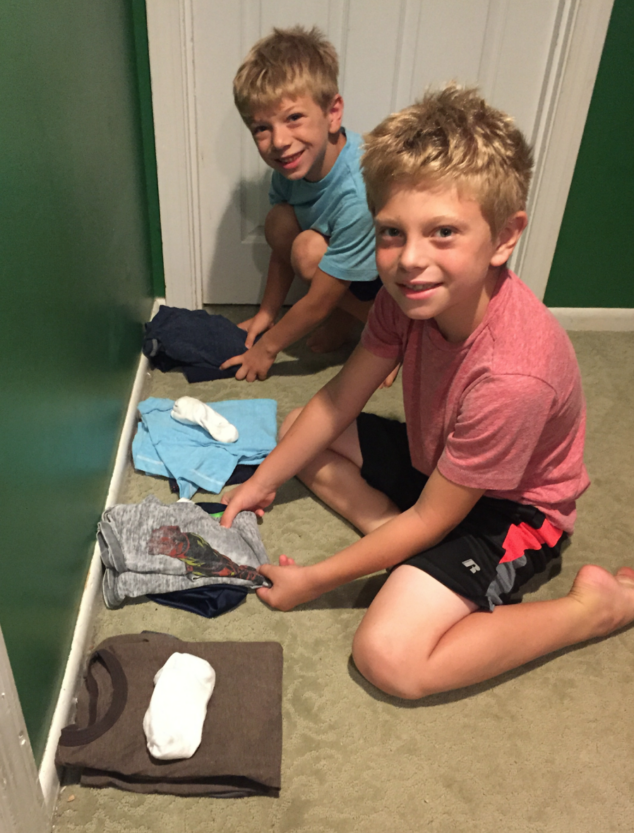 I love this hack for kids! My mother used to do this for me and my siblings when we were kids and I started doing this when my oldest son was in Kindergarten (5 years ago!). It's all about laying the clothes out the night before. This has cut down on so much time in the morning with the kids because there's no phrases like, "I can't find anything to wear!" I take each one of my sons the night before and have them pick out an outfit for the next day. We even pick out the socks, too! I then lay all the outfits out in a row for the 4 boys. It works like a charm for everyone.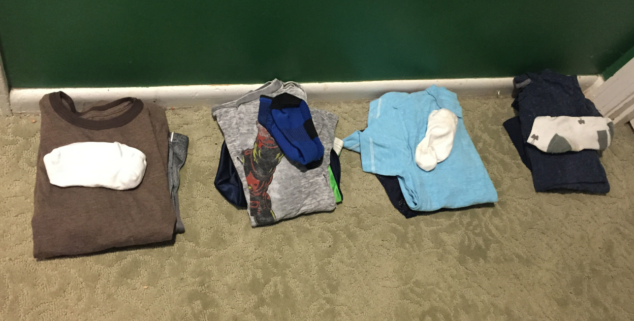 In the morning, they wake up – brush their teeth, style their hair – get dressed and head right downstairs to breakfast! Seamless morning! Merry Maids also shared with me another great way to do this, too. Empty one of your kid's dresser drawers before the school year starts. Compartmentalize the drawer with cut up cardboard pieces for five days of the week. Then work with your child to lay out five outfits and place in the drawer so they are ready to wear, saving time each morning. Either way you choose, this is such a wonderful way for school mornings to be quick and easy, even if your child wears a uniform. Just lay everything out neatly the night before. They just grab, dress and go!
3. Lunches packed the night before.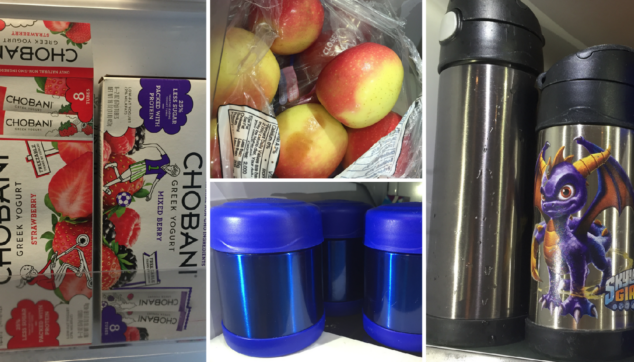 Last year all 4 of our sons were in school together for the very first time. It was the first time we were making 4 lunches in the morning. Each one of our sons loves different types of foods in their lunch. As much as we tried to just give them all the same food, they weren't eating it – so we had to make sure each son got what they really wanted to eat. It was taking me and my husband so much time in the morning because we were racing against breakfast for everyone, backpacks packed for everyone, bus stop timetables… too much! We started making their lunches at night and just having everything set to pop into their lunch bags in the morning. I can't tell you how amazing this has worked for us! Lunch packing for us in the morning is just that – just packing it up! At night after the kids go to bed, we actually have the time to pack everything up and make everything special for them. This has been a morning life and time saver for us!
4. Back to School laundry ease.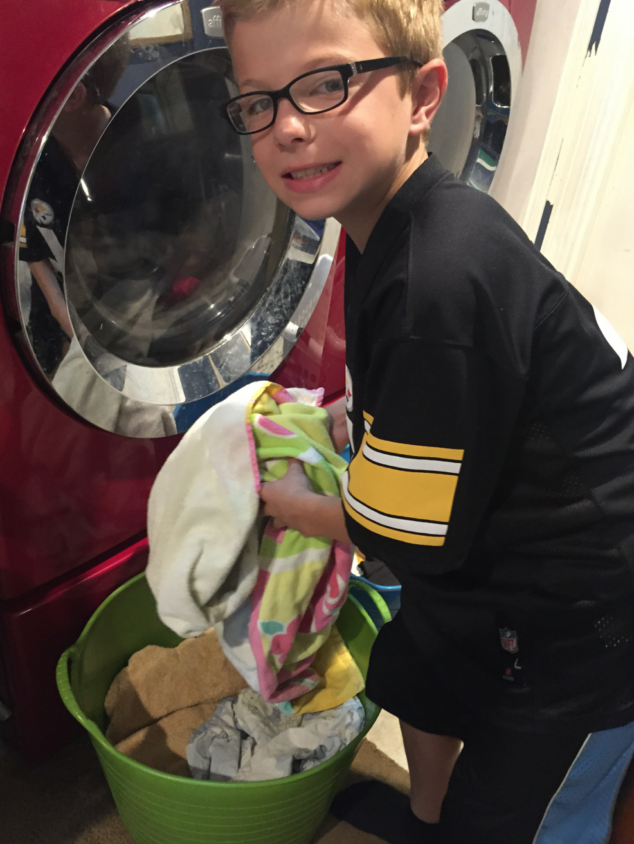 My children literally live in their bathing suits all summer, so my summer laundry is pretty easy – it's just bathing suits, towels and shorts/tees. As soon as school starts up, it's time for the laundry ti pile up again! It does take me a long time to do laundry because we have 7 people in our family! Merry Maids has an awesome Hack-to-School Laundry Tip that they shared with me and I started doing it last week… Mesh It Up: When dirty clothes pile up after school days and activities, have your kids place them in individually labeled mesh bags to sort clothes with ease. This is also a great solution for sorting socks when doing laundry, so they don't get swapped or lost and can be easily returned to their rightful feet. What I ended up doing was purchasing laundry baskets to help them sort. One is for tees and shorts, one is for socks and undergarments, one is for me and my husband (we don't require that much laundry!) and one is for Victoria.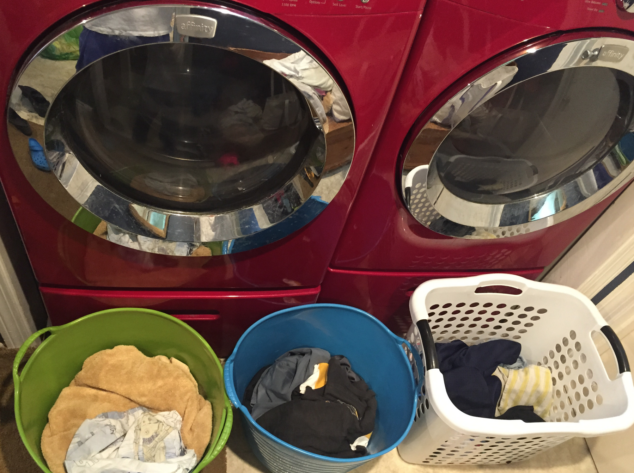 This was laundry sorting and then folding us super easy and quick! Not to mention – it's already sorted for putting away time, which is the part that takes me the longest to do! I love this hack! It's all sorted pre-laundry!
5. Chore Chart.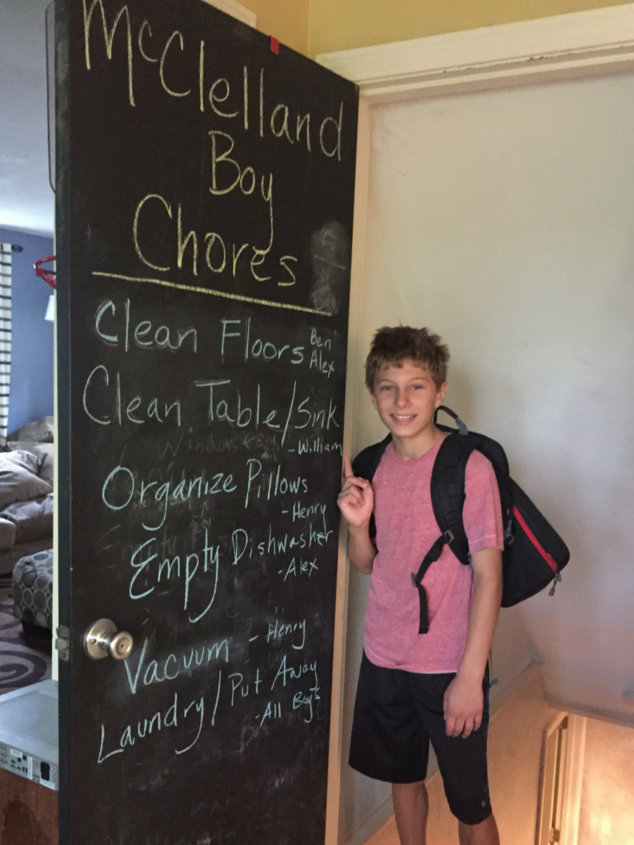 My sons just started having chores last year. They're 7, 8, 9 and 10… so they are absolutely old enough to be able to help out and do stuff around the house. The only problem was with my "chore assigning" was that I had to explain every single day what everyone was expected to do… and then hear the, "UGH! Mom!" So I did created a CHORE CHART/LIST on our basement door for everyone to see and everyone to always be in the "know" about in our family. I was trying to find the best way to display the chores, so my husband thought that using chalkboard paint on the basement door would be the best thing… and it was! It has done wonders for us! Everyone knows what to do each day and it has helped keep everyone on the same page!
Check out this GREAT Back to School Tips that Merry Maids has shared with me, too! This is a wonderful checklist to print and keep out for your family!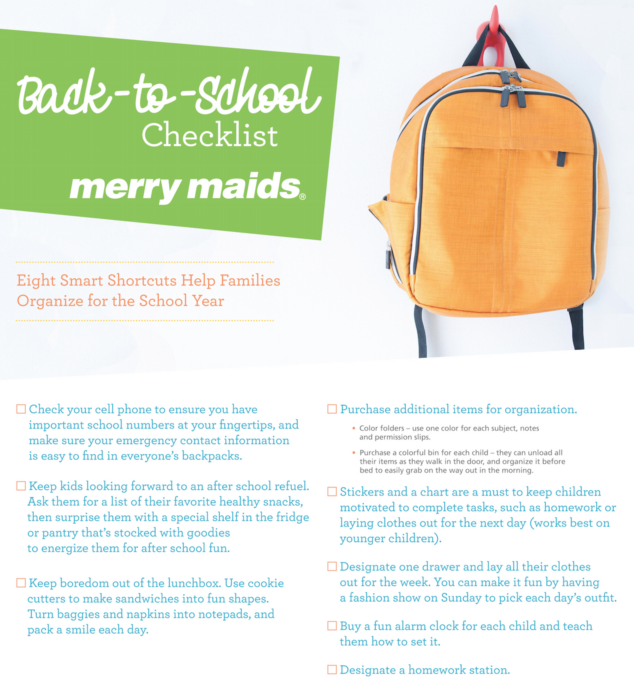 I'm ALSO excited to share with you this INCREDIBLE GIVEAWAY!!!!
GIVEAWAY:
I'm BEYOND excited to have this incredible Merry Maids GIVEAWAY for my readers!!
I shared with you some of my favorite "Hack-to-School" hacks with my kids.
How can you enter to win?? EASY!!!
Now tell me, what are some of your favorite "Hack-to-School" hacks that you do with your kids?? SHARE with me some of your favorite organizational hacks for a chance to win!!

—–> One grand prize winner will receive a free Merry Maids home cleaning provided there is a Merry Maids location close to their home up to $400.
I will choose the winner on September 19th, 2015 at 5PM (EST). The winner will have 48 hours to respond to my emails from (Audrey523 at mac dot com) that they have won!