I graduated from college 15 years ago! It's funny, I didn't go that far from home for college, I literally was only 12 miles away – but my mom and my dad did their very best to make it seem like it was "just" far enough away. As a matter of fact, they would make sure that my grandparents and close family friends would do the same. They would say, when you want to feel like home is only 2 minutes away, that can happen. Then they would joke, and when you want to feel like home is 200 miles away, that can happen, too! They always did their very best to make sure I had the best college experience ever.
The one thing they would send me every couple of weeks was a care package. I know it seems funny to say this, but all my friends would get care packages and I always used to feel left out. I must have mentioned to my mom and dad in passing during my freshman year because (all if a sudden!) care packages starting arriving for me at the post office. It meant a lot to me that my parents would take the time to creative a fun and unique package to mail me. I would look forward to that little blue card in my mailbox notifying me that a package had arrived!
My cousin just headed off to college this fall! She's excited. She's nervous. She's ready for the new adventure. I tried my best to impart on her some "college advice," but it's been so long and times have changed so much, I'm not sure how helpful I actually was to her. The one thing I know I CAN do is make her feel "at home" while she's away by sending her care packages. It's always so much fun to create care packages for people because it's something that they don't expect and always get excited to see what's inside!
This is what I do when I make my care packages:
1. Include an item that definitely speaks to FAMILY
2. Make sure fave foods are included – I know what she likes, so this is easy for me!
3. Make sure essentials are included – toothbrush, soap, elastic bands and (which I know is her favorite!) Schick® Hydro Silk® Razors!
4. Make sure school essentials are included – pens, notepads, crayons (to make her smile)
5. And ALWAYS (especially for the ladies) something chic and fabulous!
Basically, I want to make sure she smiles and feels loved, that's the most important thing to me! I like knowing she knows that someone took the time to think of her, create this special package and mail her way!
So my package to my cousin – here it is: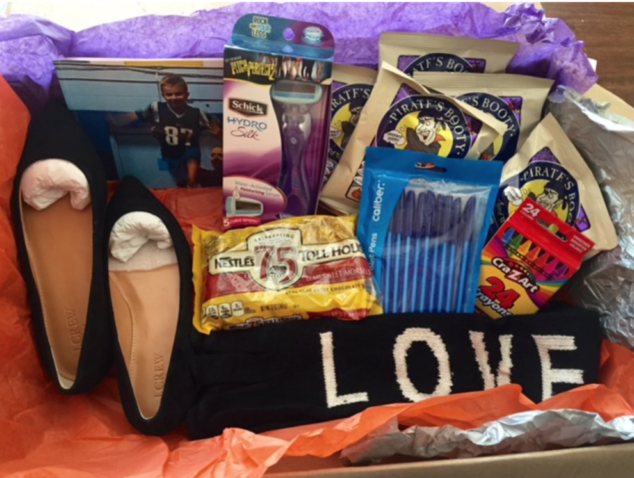 I included things that I know will make her laugh, smile and (maybe!) tear up!
– Chocolate Chips (HER FAVE!) I know this will make her smile! She will get a kick out of this! Late night snacking!
– LOVE gloves. It's going to start getting cold soon, so I want to make sure she has some fun and chic gloves!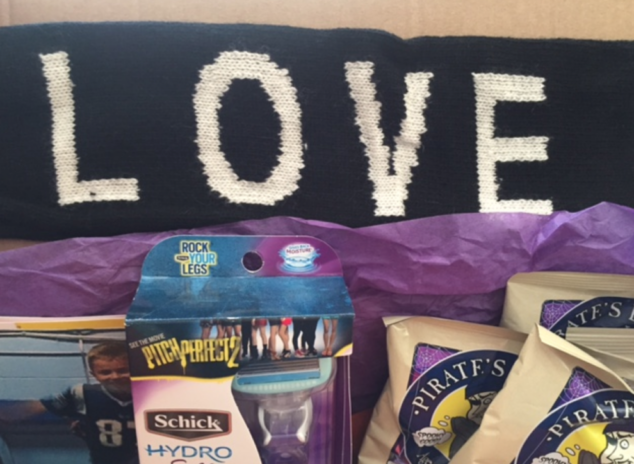 – Schick® Hydro Silk® Razor – her absolute FAVORITE! If you remember, I got this for her at Walmart earlier this week with my son Alex. This is her favorite razor, so I know she'll be happy. 5 curve sensing blades with unique skin guards that help give a close shave, while helping to protect skin from irritation (which can happen to me!). Also, there's water activated moisturizing serum infused with marine extracts that help hydrate your skin. True perfection for a shave!
– Black flats – I'm her fashionista cousin, so I love being able to grab her a pair of FABULOUS flats!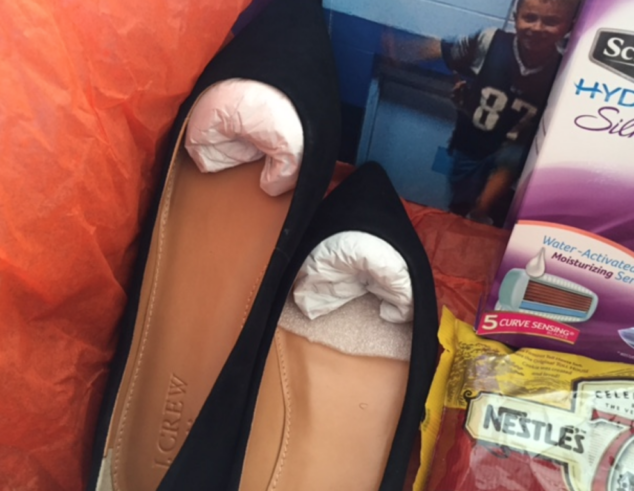 – Late night snacking – Easy bags of popcorn for her to have whenever she wants!
– Photobook – I put together a collection of photos of the kids for her I know this will make her smile!
– Pens and Crayons – FUN SCHOOL ESSENTIALS!
I hope she loves it!!
I just love giving her a feeling of love, family and togetherness… even though she's MANY miles away!!!
This is a sponsored conversation written by me on behalf of Schick®. The opinions and text are all mine.
N/A