As I've gotten (ahem — 37 years young) older, I've really started to see changes in my skin. I hate it, I really do. I want my skin to stay young and look young. It's tough seeing your skin start to wrinkle! I'm been trying to restore my skin with L'Oreal Revitalift because it's a great way to keep my skin looking and feeling it's very best. I'm all about doing what I can now to effect change later on in life.
L'Oreal RevitaLift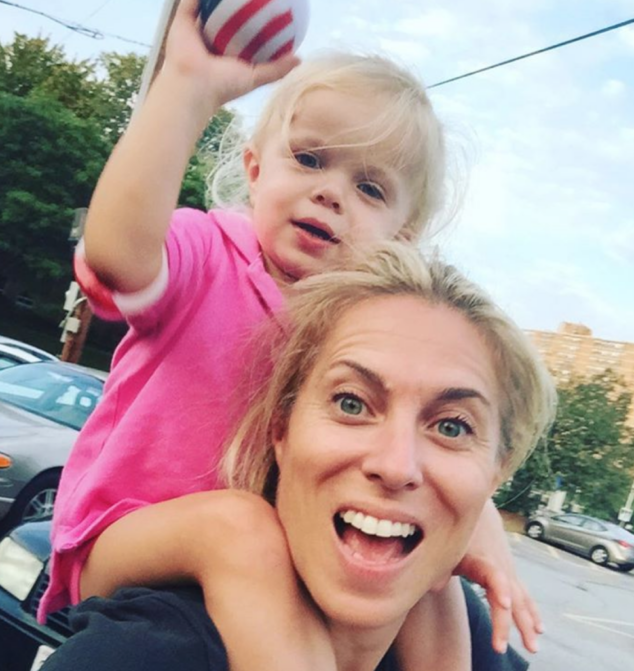 My skin started to change little by little. They were gradual at first… a wrinkle here, a wrinkle there, some sagging skin over here. However, since I hit maybe 35 years old, I've really started to see the bigger changes in my skin at this time in my life. I'm someone who will never undergo plastic surgery to change the look of my skin. It's a decision I hold firmly to and really feel passionate about for myself.
For me, it's all about trying to really do what I can with beauty products available for me and my skin's needs. There's nothing I love more than trying out a new product to rejuvenate and revitalize my skin. My skin has been with me since 1978, it's my story to tell the world, my story to share with my family and friends. My skin is who I am and taking care of it is something that I want to do for the rest of my life.
L'Oréal is a brand that I have always trusted when it comes to their beauty products and I'm beyond excited about their new L'Oreal RevitaLift products! Also, I was really excited to see that they have introduced a skincare website built around the insight that everyone's skin tells a story, and no two stories are the same.

I love it because we all age, there's no fountain of youth out there for us (that I know of!) and I love that L'Oréal wants to help consumers find the right solution for their unique skin concerns — www.lorealskinexpert.com gives easy-to-understand content from a L'Oréal's skincare expert to help decode ingredients, usage instructions and lifestyle tips for their skin. Whether you're looking to preserve your beauty or trying to prevent, conceal, reverse or rejuvenate your skin, L'Oréal will have something for you.
Pretty amazing, right? I love that they are doing what they can to help women with their skin to look fabulous and beautiful. It starts within and this is something that needs to be felt throughout.  For me, with my five kids in tow always, my skin story is about trying to just restore my skin as much as I can.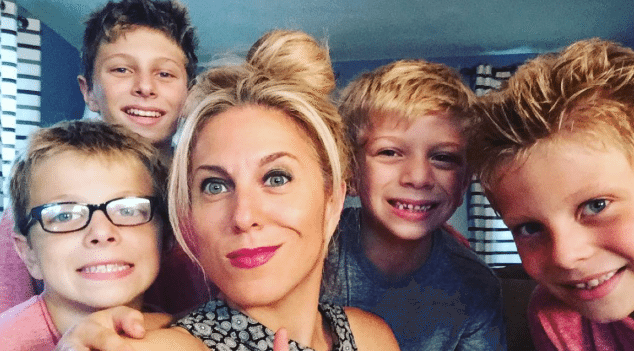 I'm not looking to "look" 20-years younger, I've completely earned all of my skin lines and wrinkles, but I do want to make sure I am being proactive in the restoration of my skin. It's funny, I think about eating healthy and working out regularly and making sure my children stay healthy… it's important to do the same for your skin!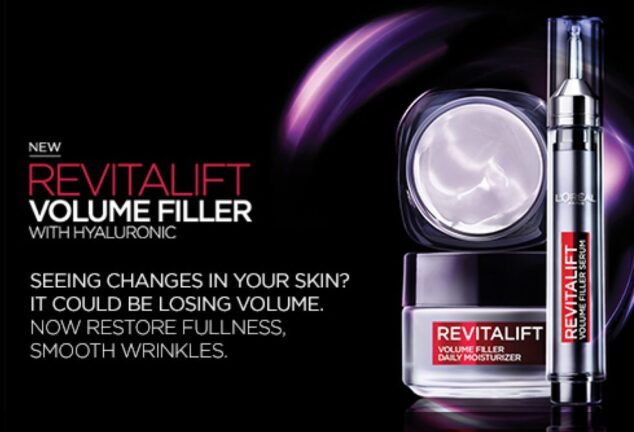 I was very excited to try out L'Oréal RevitaLift Volume Filler™. This is L'Oréal's very first daily volumizing skincare collection. This is what was the "ah-ha" moment for me when I was reading about L'Oréal's new products — if you're seeing changes in your skin (um, yes!) and seeing wrinkles in new places (um, yes!), then you could be losing volume in your skin as you age. I got to try out the Daily Re-Volumizing Moisturizer and the Daily Re-Volumizing Concentrated Serum.
L'Oréal RevitaLift Volume Filler™ restores your skin's natural fullness for a more youthful look. Since my "hot zones" are under-eye and cheek wrinkles, I was happy to see that L'Oreal RevitaLift Volume Filler™ is known to improve these areas. These products help bring the volume back! Your skin loses volume when levels of Hyaluronic Acid—a naturally occurring, hydrating substance within the skin—starts to decline. As volume is gradually lost, the effects of gravity become more apparent—skin loses fullness. With Volume Filler™, in just four weeks (yes, four weeks!!!) you start to see increased fullness in cheeks, a less hollowed look under the eye area and fine lines and wrinkles reduced.
I mean, it's just incredible. This is my fountain of youth!
Tell me, what is your skin story? Are you seeing fine lines and wrinkles? Are you looking to restore your skin? Are you feeling the effects of the aging process yet? I'd love to hear it and if you share with me, you'll have a chance to win a $100 Visa gift card!
Entry Instructions: CLOSED.
No duplicate comments.
You may receive (2) total entries by selecting from the following entry methods:
1. Leave a comment in response to the sweepstakes prompt on this post – **We are having issues internally with my comment section, please EMAIL me your entry. I will pass along to the team.**
2. Tweet (public message) about this promotion; including exactly the following unique term in your tweet message: "#SweepstakesEntry"; and leave the URL to that tweet in a comment on this post
3. Blog about this promotion, including a disclosure that you are receiving a sweepstakes entry in exchange for writing the blog post, and leave the URL to that post in a comment on this post
4. For those with no Twitter or blog, read the official rules to learn about an alternate form of entry.
This giveaway is open to US Residents age 18 or older (or nineteen (19) years of age or older in Alabama and Nebraska). Winners will be selected via random draw, and will be notified by e-mail. The notification email will come directly from BlogHer via the [email protected] email address. You will have 2 business days to respond; otherwise a new winner will be selected.
The Official Rules are available here.
This sweepstakes runs from 9/17/15 – 11/15/15.
Be sure to visit the L'Oréal Paris RevitaLift™ brand page on BlogHer.com where you can read other bloggers' posts!
Also check out:
L'Oreal Voluminous Power Mascara
Mom Morning Makeover in 5 Minutes
Disclosure: This post is part of a sponsored collaboration between L'Oréal Revitalift™ and SheKnows.