I'm all about taking fashion rules and chucking them out the window! Nobody wants to live with fashion rules… come on, right!!??
So today… in honor of that fashion mindset, I'm taking my white jeans out and having some fashion fun with black leather and cream wool.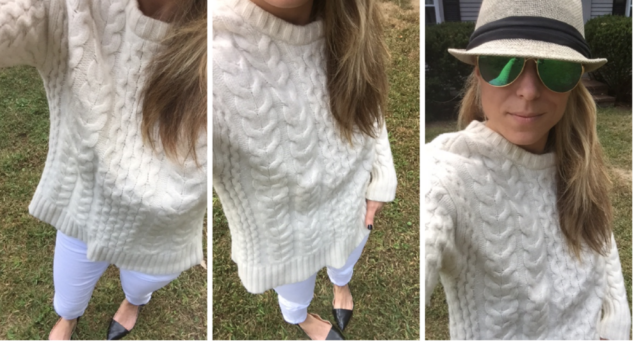 Oh, yes… I love wearing white on white in the summer – or – as you can see here, cream and white. Here's the only thing, I need Victoria to be napping and the boys to be at school when I'm wearing them together because within 3 seconds I'm dirty. This morning after an early meeting, I met my girlfriend for a late lunch and wore my fave duo. I love being able to cap it off with a leather flat. I feel like the look works and pulls together beautifully. And you guys know, I love my fedora hats! Couldn't resist!
My fashion advice to you today, BREAK THE RULES. Wear something that doesn't "belong" and wear it proud!
Outfit breakdown: J.Jill Sweater // Old Navy Jeans // J.Crew Flats // Fedora from Venice Beach, CA