I love having my house smell yummy and delicious! It's funny – when I lived in NYC right after college in a tiny, studio apartment – the ONE thing I would invest in was candles. I loved coming home from work, making dinner and lighting a candle that just smelled wonderful. It brought me relaxation, happiness and joy… just from a simple yummy smelling candle.
Fast forward (almost) 15 years! Life gets so busy and crazy with the 5 kids and working full time and keeping up with my husband's schedule, that I'm lucky I remember where I put my keys! Recently Glade sent me 5 of their New Large Candles to try out and I'm telling you right now, I'm OBSESSED with them! I'm just OBSESSED! It's important to keep them out of reach from my Victoria, so that's the one thing I extra make sure, but I have been lighting these amazing candles when I'm home working and in the evening… and I'm telling you, they are amazing. I forgot how much joy a delicious, fragrant candle could bring me.

So far, I've only burnt the Cashmere Woods (INCREDIBLE!!) and the Apple Cinnamon (which just screams FALL!), but they are heavenly. Especially with the Apple Cinnamon… it smells like I've been baking all afternoon, it's just delish to walk into!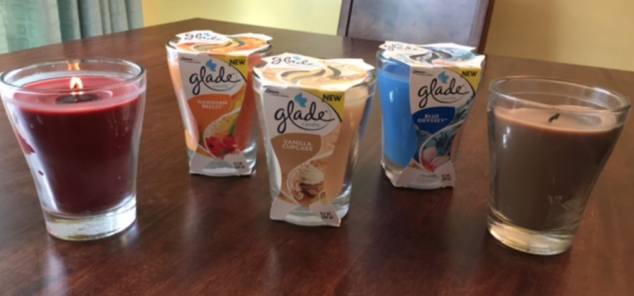 (As you can see, the Apple Cinnamon is my choice this afternoon!)
The Glade Large Candle are designed to quickly fill expansive living spaces with uplifting fragrances, perfect to help you and your guests feel invigorated, happy, relaxed, warm or cozy. I'm telling you, these are the perfect gifts, too for a housewarming party or for the holidays!
The 5 scents available are:
· Blue Odyssey™: Channel your inner surfer and head into the tide alongside refreshing marine notes. Catch a glimpse of an endless blue sky before aromatic, floral waves crash into you, leaving you feeling rejuvenated and limitless. Feel Invigorated. Feel Glade®
· Vanilla Cupcake: Tie on your cutest apron and join scents of cozy vanilla and sugary amber in the kitchen for one spoon-licking good time. Floral notes of peony excitedly pass out the freshly baked sweet treats, leaving you with a smile on your face and frosting on your fingers. Feel Happy. Feel Glade®
· Hawaiian Breeze®: Aloha, instant vacay. When cool ocean winds meet the scent of fragrant tropical fruits, pineapple and plumeria, you won't even have to leave the neighborhood to get lost in paradise. Feel Relaxed. Feel Glade®
· Apple Cinnamon: Home is the one place you can keep it real and keep it cozy. The scent of crisp McIntosh apples, cinnamon and nutmeg fill your home with the welcoming impression of spiced mulled cider, and feelings of genuine warmth and comfort. Feel Warm Inside. Feel Glade®
· Cashmere Woods®: No matter how busy life gets, time curled up on the couch is always time well spent. Let the rustic scent of a romantic fall day provide the perfect excuse to stay in and snuggle up in wooded bliss. Feel Cozy. Feel Glade®.
The beauty, too – without even lighting the candle you can get a wonderful smell of the Glade Large candles.
I've had the Vanilla Cupcake on the bookshelves in our living room and you would think I've had it burning in there. It adds such a sweet scent to the living room space and I love it!
Check out Glade for additional information and also for some safety precautions, too.