These Easy to follow Healthy Habits For Kids will help keep your kids – and you – well and feeling their best all year long!
It's officially BACK TO SCHOOL time! 🙂
I'm all about teaching my kids healthy habits at home, it's the only way to cut down on germs and sicknesses that could spread throughout our family. I'm not kidding, if someone gets sick in our house – we all go down like dominoes! I need to do everything I can to make sure we don't let THAT happen! With a family of 7, you can ONLY imagine how crazy it gets when one person gets sick… I literally become fearful!
It goes beyond just keeping my kids form getting sick, it's also instilling healthy habits in our home, too. I want to make sure I'm giving my children the healthiest habits possible. It's not always easy to keep everyone on a routine, but it is possible to keep on track with my family for healthy lifestyle choices.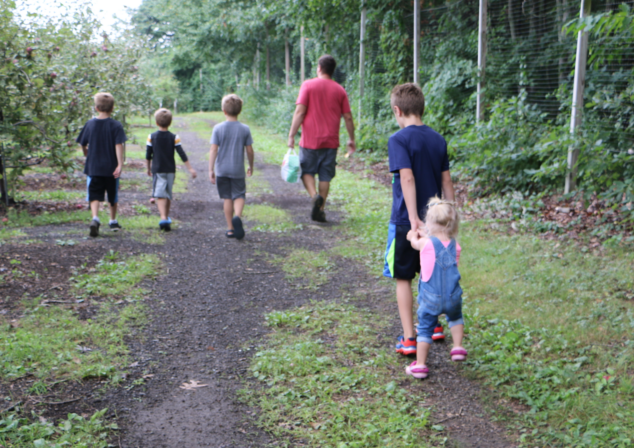 Related Article: My Healthy Morning Routine
I have 10 Healthy Habits that I practice at home I'm excited to share:
Shoes off the second the kids get home from school. I don't want the germs on the bottom of shoes to be tracked throughout the house.
I always make sure the boys use PURELL the second they walk in the door. I want their hands sterilized before anyone touches food with their hands.
I always make the kids change into "after-school" clothes. I want the clothes they've been in school all day in the wash immediately.
Healthy snacks at home for the kids when they come home from school – fruit, veggies, crackers.
Outside play – keep the kids active and healthy by playing outside with each other and friends.
Involving my kids in food shopping – make sure they understand the healthy choices of good lunch/dinner foods, snack foods and breakfast items.
Limit TV, video game and computer time.

30 minutes of reading every night. This is important to keep them active when it comes to reading, but also a great way to decompress from the day.
Bedtime at 8:30PM every single night.
Keep things positive at home. I try to do this with the boys all the time. Positive attitudes go a LONG way!!
As you know, I'm doing the PURELL 30-Day Challenge with Vera Sweeney and our families!!
We would love for you to join us in practicing good hand hygiene with YOUR family, too!!