Getting five kids ready for school every day is quite a feat – but I do it five days a week with these Back To School Hacks that you can use all year long!
Disclosure: This is a sponsored posting with Merry Maids. All opinions are 100% my own.
We are 2 weeks into school.
So far, so good!
The boys love their teachers, love their friends, love their classes and love their bus route. Everything is a-okay for the 2015-2016 school season! As their mom, I couldn't be happier with the way things are going right now for them.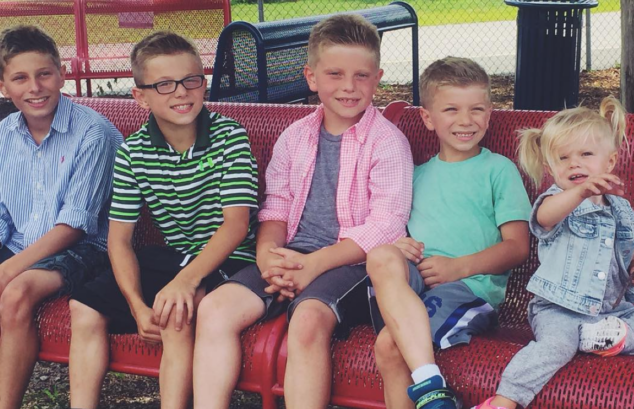 I made a Back-to-School vow to myself this year that I would keep myself and our family organized and streamlined as much as possible. I don't want chaotic mornings. I don't want rushing around like crazy. I don't want missing folders and books and lunches. I know these things happen, but I want to help prevent these things as much as I possibly can. I've always felt that chaotic mornings can lead to chaotic days, so I really try hard to make the mornings as easy and as effortless as possible for all of us.
I have partnered with Merry Maids this Back-to-School season to share with you some of my favorite and ever-so-helpful hacks for the morning and afternoon. Merry Maids helps keep your house clean and organized, so they were perfect for me to partner with for the back-to-school season!
I thought it would be fun to create a video showcasing what I do with my family every night before the back-to-school craze happens in the morning. Since Sunday nights are usually the nights where I really need to get everyone back on the ball, I had my husband shoot this video last night showing a true "real day/night in the life" of back-to-school hacks in motion!
What do you think? What hack would be the easiest for you to bring into your routine?
Check out this GREAT Merry Maids Back-to-School Checklist, too!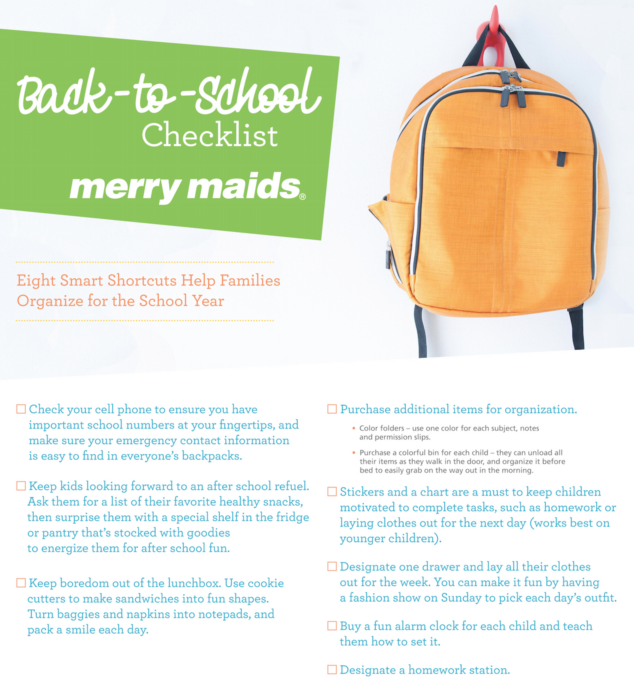 Also, Merry Maids shared with me 2 additional hacks which I think are awesome to incorporate into your routine, too.
1. Brown Bag It: I love how getting the kids involved is a big portion of this hack! Organize your refrigerator into easy-to-grab compartments of small bins filled with mom-approved snacks prepared for the week. Involve your kids in the process by coming up with healthy, fun lunch menus and list them out on a kitchen chalkboard. Allow your kids to help quickly pack their lunch in the morning by getting one item from each bin.
2. Label It: This is an incredible idea to do! Label colored, kid-designed folders for each child to organize their permission slips, announcements or notes from school. You can check the folder after dinner, make sure notes are addressed and ensure the slips don't end up at the bottom of the backpack. Take organization a step further by placing personalized bins by the doorway for kids to place backpacks, jackets and other items after school. Before bedtime, have them put away things they won't need the next day.
YOU DON'T WANT TO MISS THIS!!!
** —–> One grand prize winner will receive a free Merry Maids home cleaning provided there is a Merry Maids location close to their home up to $400.**
AMAZING, right!!!??
Enter HERE!!!!!!!!