When I was a little girl I had tons of baby dolls. I would share them with my younger sister and we would play "house" for hours. It's funny, playing with those babies so long ago, that's when I first realized I wanted to be a mommy (and to many kids!). I loved it so very, very much.
As you all know, with 4 sons… my house was pretty filled to the brim with cars, trains, trucks, dinosaurs, soldiers, little footballs/baseballs/soccer balls. Let me put it this way, if there was a boy toy to be found and created, we had it. I was used to this kind of toy life for the boys.
Did I always dream of maybe having a little girl to play dolls with and enjoy? Yes… but I just never thought it was going to be in the cards for me.
And then life had other plans for me. We had our 5th baby, a GIRL in 2013!! All of a sudden – a whole new world of clothing, toys, and accessories opened up to me.
Top of that list!? Baby dolls! Finally… I would have baby dolls around the house.
Corolle Dolls is a brand that is iconic for their beautiful, special and premium quality baby dolls. Corolle provides the most premium dolls designed in France to be the perfect look, size, feel and scent for little ones to love and cherish. I am simply dazzled by them. Now that Victoria is 2 1/2 years old, she's 100000% into playing with dolls… I waited a long time for this, so I'm soaking it all up.
Corolle Dolls sent us a special box for our Victoria. The boys couldn't wait to open it with her and see what was inside… but it was her reaction and then the WHOLE family coming together for this perfect moment. A moment that meant the world to us, all of us.
As you can tell, it was a family affair!
Corolle makes a child's imagination and instinct for parenthood come alive. Every Corolle doll is designed with great care, love and affection because they know that a doll is more than a toy; it is a cherished part of a child's growing up: A doll encourages a child to explore different roles through caring for and sharing hopes, dreams and experiences with an always-understanding friend and playmate. Children develop a strong emotional bond with their dolls, Corolle dolls are durable to withstand all the loving and hugs their beauty and charm inspire. All of which helps to explain why, since its founding, Corolle has received global recognition for design and play excellence, winning scores of awards. The Corolle collection stays young and fresh every year with the introduction of new dolls, updated fashions, accessories and more, resulting in a history that is rich in accomplishments. They will continue to make dolls that inspire magical childhood memories that will last for a lifetime.
I say this up close and personal a couple of days later with my little girl putting her babies (as she told me) "down for a nappie."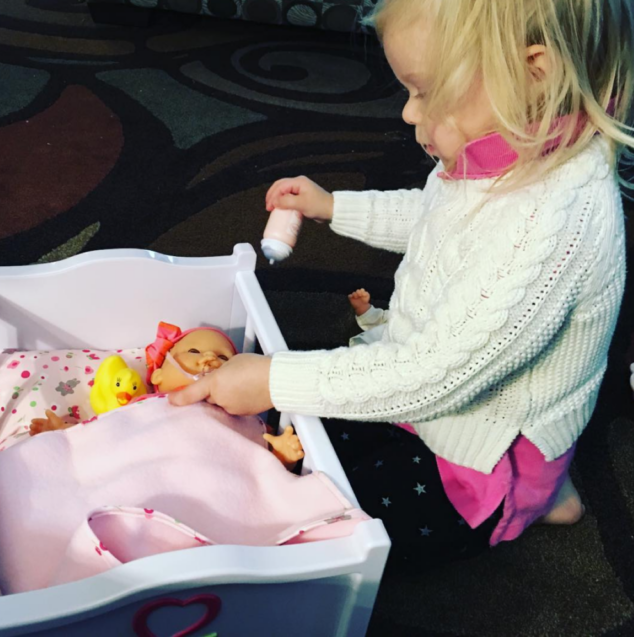 Thank you Corolle!
XO
Disclosure: We were sent the items for review. All opinions are 100% my own.