You guys know we're kind of into football in the McClelland household. We live it. We breath it. It's ALL that's on throughout the weekend and (sometimes) weeknight days, too. My sons and husband are gigantic Steelers fans. I'm a gigantic Patriots fan. As you can imagine, we have some football fun around the house!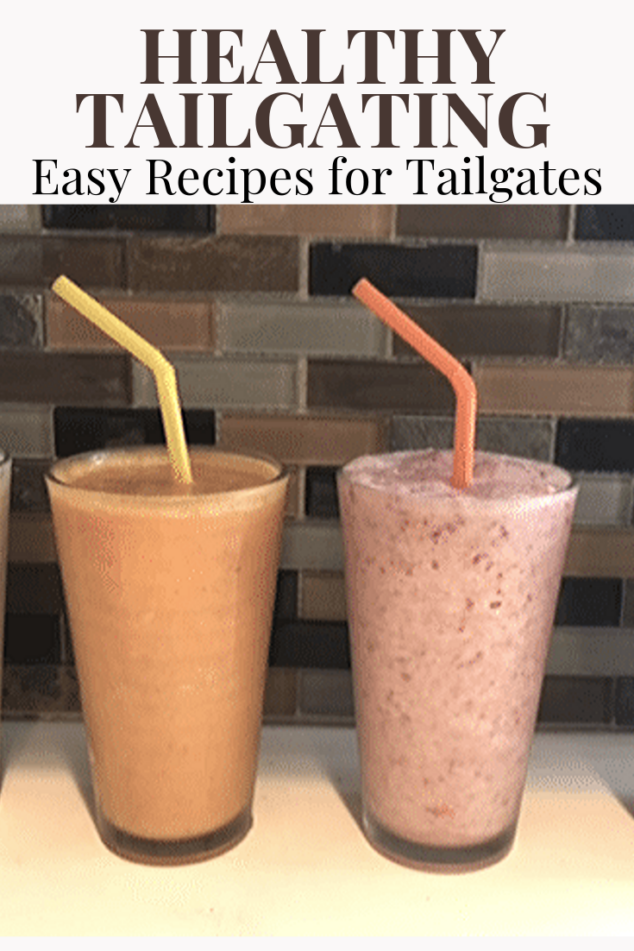 Throughout the season for us it's all about tailgating (when we get to a game!) and (mostly) homegating. We love to have a spread out and truly be able to enjoy some delish and easy treats before and during the game. There's something about prepping for football games that is REALLY fun for me and my family. We actually plan out a little menu of sorts and create some food/drinks creations on our own. The boys ALWAYS want to have sweet snacks for game night. They're not into the nachos and wings and pizza kind of food, they want sweet treats!
I've gotten smart in my (ahem) old age and have been able to come up with some yummy sweet treats for them that are healthy! Truly… why does tailgating and homegating need to be unhealthy? A healthy tailgate and homegate is the best way to be, especially with the kids!!
As you guys know, I partnered with MilkWise this season. MilkWise is a new, innovative milk that was specifically designed for milk lovers who aren't getting what they desire from their current milk of beverage choice. MilkWise is a delicious, refreshing milk beverage with less sugar, fewer calories and more calcium than traditional milk. It's a proprietary blend of water, lowfat milk, sugar and other ingredients blended together to optimize the taste. The 3 flavors that MilkWise offers are: 1. Original 2. Vanilla 3. Reduced Sugar Vanilla. I'll be totally honest here, Vanilla seems to be the biggest hit in our house!! I'm really enjoying the delish and yummy value in MilkWise for me and my family.
So it got me thinking… sweet treats for game day, but healthy. SMOOTHIES!! I thought it would be fun to create different smoothies using MilkWise for us to enjoy and indulge for the games!! Everyone has a different "sweet tooth" in our house, so I needed to get creative. The best part about smoothies is that they fill you up and they are so much fun and enjoyable for everyone!!
4 Smoothies created with MilkWise Original and MilkWise Vanilla…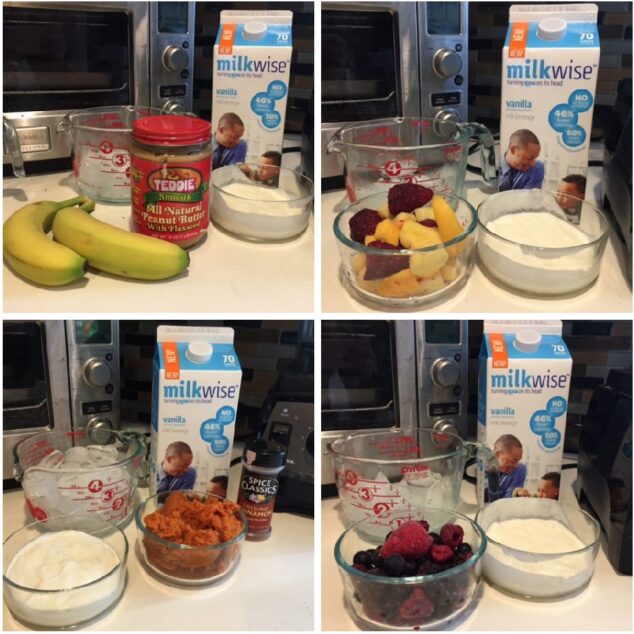 1. Pumpkin Spice
2. Berry/Banana Mix (strawberries, blueberries, raspberries and bananas)
3. Peanut Butter/Banana
4. Pineapple/Peach/Strawberry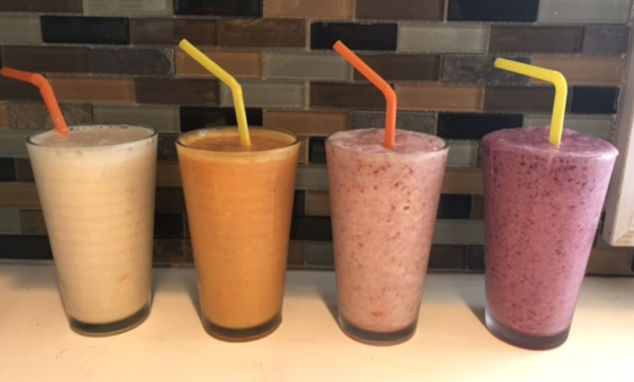 These are a touchdown for our family!!
Easy.
Delicious.
Healthy.
Disclosure: I am in a partnership with MilkWise. All opinions are 100% my own.