There's nothing like a cruise!
We went on our very first family cruise a few years ago and it was the most amazing vacation ever. What I loved about cruising was that we ALL had fun. There was something for us to do every single day and night… not to mention, we're HUGE water people, so being on the water was so peaceful and so beautiful for us.
I'm telling you – that cruise left an impression on me. I think it's about time we plan another one for all of us… Victoria included!! She wasn't born yet when we went on our last cruise, so that's a good reason to plan and book another one ASAP!!
October is National Plan a Cruise Month, so if you're like me – you're going to want to be planning a cruise RIGHT NOW, too! Let's celebrate the fun! The cruise industry is celebrating by launching #CruiseSmile, a simple and exciting chance to win one of 31 cruise vacations from 23 different cruise lines awarded each day – which started October 1 and goes 2 more days (including today)!! To enter to win, you simply upload your "cruise smile" selfie at www.CruiseSmile.org and share the entry with friends.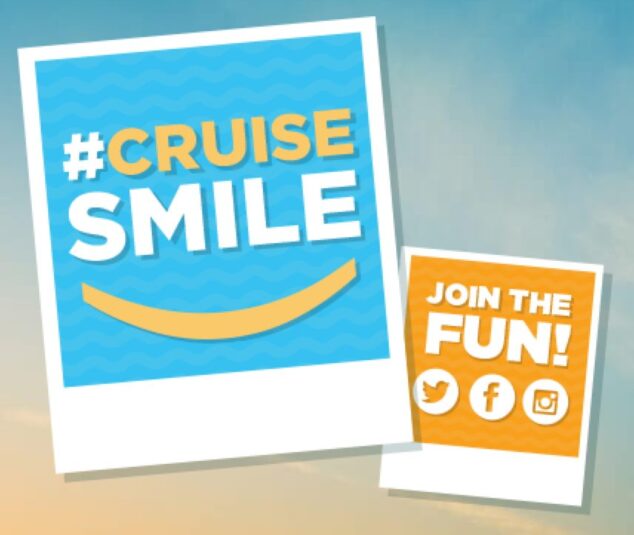 Throughout the month, there have been amazing brands participating…
AmaWaterways // American Cruise Lines // Avalon Waterways // Carnival Cruise Line // Celebrity Cruises // CroisiEurope River Cruises America // Crystal Cruises // Cunard // Disney Cruise Line // Holland America Line // MSC Cruises // Norwegian Cruise Line // Oceania Cruises // Paul Gauguin Cruises // Pearl Seas Cruises // PONANT // Princess Cruises // Regent Seven Seas Cruises // Royal Caribbean International // Seabourn // Tauck // Uniworld Boutique River Cruise Collection // Windstar Cruises
Incredible, right!!??
Well… let's talk OCTOBER 30th!!
Are you ready to see what CRUISE IS BEING GIVEN AWAY TODAY???

Fall in love with cruising on #MSCDivina!
7-night Eastern/Western Caribbean Cruise on the ultra-modern MSC Divina, one of the line's newest ships, sailing year-round from Miami to the Caribbean.
AMAZING!!!!!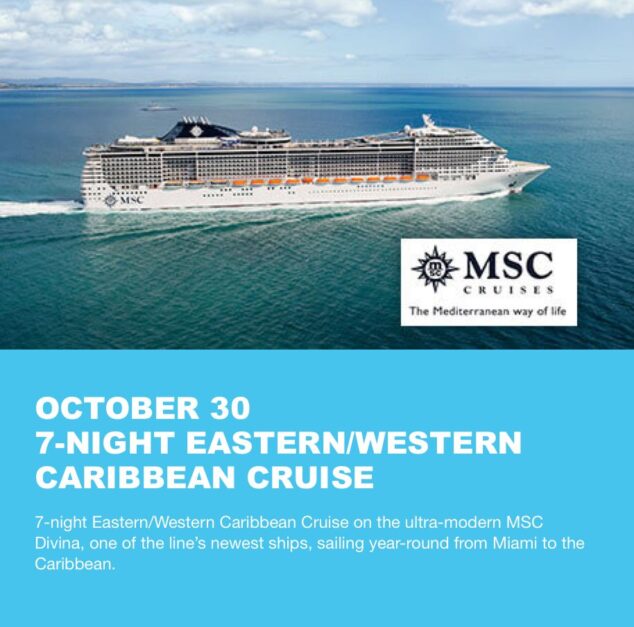 Inspired by the divine award-winning actress Sophia Loren, MSC Divina brings you all the elegance and glamour of the golden age. Experience every modern comfort available along with a variety of sports, leisure facilities and a world-class entertainment mecca, including Kids and Teen Clubs. Sailing the Caribbean, MSC Divina will take you on a journey to some of the most exotic and desired destinations in the Caribbean visiting Aruba, St. Thomas, Panama, Bahamas, Turks & Caicos and many more.
Dining is just as delightful on board MSC Divina. Savor the authentic slow-food delicacies of the Eataly Restaurant. Discover the exclusive ship-within-a-ship known as the MSC Yacht Club. Relish in the VIP experience of butler service, rooms donned with specially-commissioned works of art and be amazed by the beautiful Sophia Loren Royal Suite, nestled brilliantly on Deck 16.
Designed with the help of Sophia Loren herself, there are stunning photographs of her most memorable roles and even a replica of her dressing table so guests can prepare themselves to shine like a star.
A vast array of professional massage and wellness treatments await in the exotic MSC Aurea Spa where we bring the sensuous Zen and relaxation of Bali to you. Also, enjoy the sun-soaked adults-only Top 18 with its premium deck space, stunning sea views, dedicated spa service and bar menu with complimentary fruit skewers.
Spacious and elegant; every element of the ship is designed with you in mind and with the utmost attention to detail. From MSC Divina's real stone piazza to the opulent Casino Veneziano and the Broadway-size Pantheon Theatre, the onboard experience is incredible. Feel like a star on our Swarovski crystal staircases or find inner calm in the gorgeous Infinity Pool, which extends seamlessly out to sea and the horizon beyond.
I don't know about you, but I need this kind of relaxation for 7-nights on the MSC Divina! Absolutely stunning.
Check out more about the MSC Divina:
Facebook: www.facebook.com/msc.cruises.usa
Twitter: @MSCCruisesUSA
Instagram: @msccruisesofficial
Enter to win this sweeps!!

Enter your #CruiseSmile selfie at www.cruisesmile.org or by tagging a photo on Twitter or Instagram with #CruiseSmile and #Sweepstakes and you could be the winner of a 7-night Caribbean cruise on #MSCDivina.
Are you ready to get your cruise on!!??
Check out: www.CruiseSmile.org for more info!!!
Disclosure: This is a sponsored posting. All opinions are 100% my own.