It's all about the BUN today.
My hair has been unruly and just out of control lately with the unexpected humidity in New England. I thought it was supposed to be cool! 😉
My outfit today was completely styled around my hair (don't laugh!).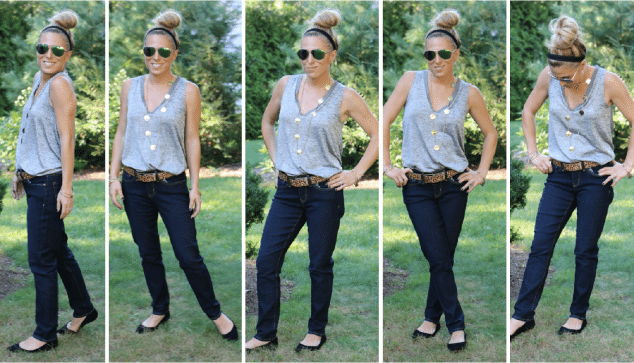 Literally.
I popped up a bun, added a hairband and then tossed on jeans, flats, tank and necklaces. This is a dirty hair kinda day mixed with an easy style kind of day, too.
With it still being so hot, I'm able to mix my jeans with my tanks – something I don't do much throughout the summer with the heat. I love these jeans by Signature by Levi Strauss & Co. because they are so comfortable and so cozy. I love the dark wash about them, too! I don't have many jeans that are dark washed and these are just amazing!!
I get so many people asking me about my leopard belt, too – it's cabi!! It's my favorite belt of the season and I literally wear it almost every single day, no joke! I love being able to have my look dressed up a bit with the simple addition of my belt. It's simple. It's trendy. It's perfection.
And my my top!? It's ZARA! I got it for $19.99 this summer. It's super comfy… here's the ONLY thing, if I sweat in it, you can see the sweat like a blinding neon light! That's the only SNAFU!
Hope you guys like the daily look!
Outfit Breakdown:
Top – ZARA
Belt – cabi
Jeans – Signature by Levi Strauss & Co.
Flats – Tory Burch
Necklace – JCPenney