How to Style Fall Boots
"I'm so glad I live in a world where there are Octobers."
~Anne of Green Gables
October – for me – kicks off FALL! Living in New England, it's when everything around me starts to happen – the leaves change, the weather gets chillier, the nights get darker quicker – it's just the perfect time of year for me. It's always right about this time, too – when I look in my closet and ask myself, "What do I need this season!?" For me, it's all about the BOOTS. Fall boots are my favorite. There are so many styles and trends and options this season… it's just perfection for a fashionista like me!
How to Style Fall Boots
As you all know, I'm kind of obsessed with Rack Room Shoes (not only for me, but for my whole family!). Rack Room Shoes offers on-trend footwear for the whole family through a wide selection of nationally recognized and private brands of great shoes for men, women and children. It's fabulous because I can get the shoes I need – for anyone – right there. As someone who loves fashion, I personally love that I'm getting the season's latest trends and styles. Fall footwear trends are a ton of fun this season, there truly is something for everyone at from Rack Room Shoes.
So what are some of the hot trends?
We're talking chunkier heels, mixed media, patents, zipper details, fringe, pointy toes, textured fabrics and natural stacked heels. Trends always fascinate me because they really do impact so many, many shoppers when it comes to their overall purchases.
How to Style Fall Boots
I had the amazing opportunity to hear from Alyson Stanley, a buyer at Rack Room Shoes about trends, how Rack Room Shoes discovers trends and what's hot right now!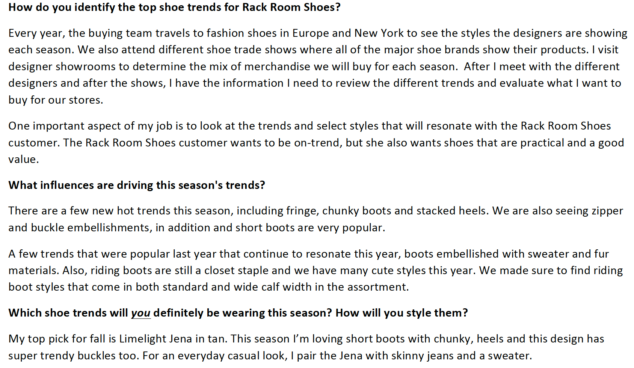 I love it!! Alyson is right on… shoppers want the latest trends, but value is so important!! I took Alyson's advice to heart while I picked out 5 different fall boots from Rack Room Shoes. I went out of my fashion comfort zone on a couple, but I just wanted to have some fashion fun this season with my boots! Are you ready to see what I picked and how I styled them all? Alyson – you were a HUGE help to me on this one!!
How to Style Fall Boots
First up – Limelight Kendra.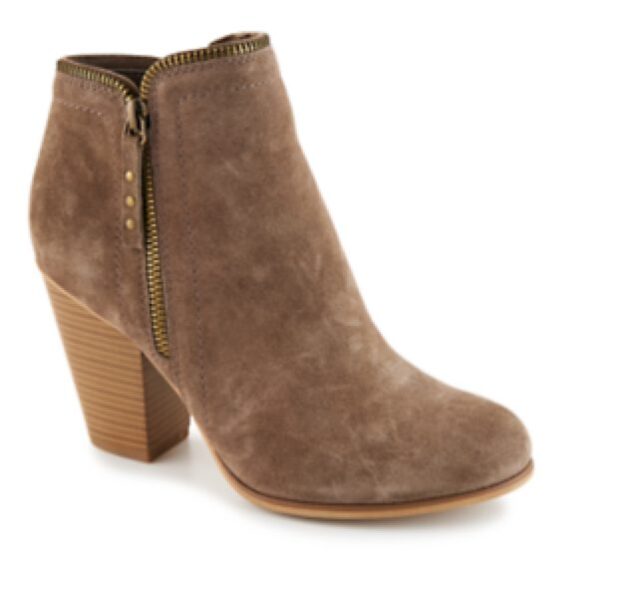 I am completely obsessed with this bootie. It is (for me) the PERFECT Fall Bootie essential. The chunky heel does it for me. It's absolutely everything!! You can dress this bootie up and you can dress it down. It's super comfy and cozy… I literally wore it all around NYC last week!! It has an elegant silhouette and sumptuous suede construction, and it looks like pure luxury. Pair it with just about anything!
2 looks to show you with the Limelight Kendra… I dressed it up with a gorgeous floral dress to make it look super chic and trendy! The shoe definitely makes the dress!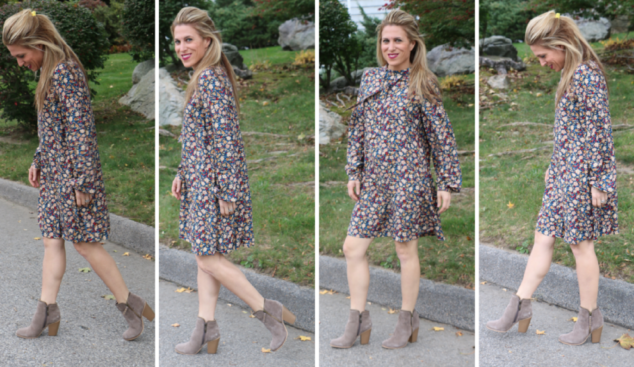 I opted for a dressed down look with skinny cords, gray turtleneck and cozy blanket scarf! I can't get enough of this look! I wore this to my son's school last week and EVERY teacher stopped me and asked about the bootie. It's such a statement bootie – trendy, classic and comfy (win, win, win!).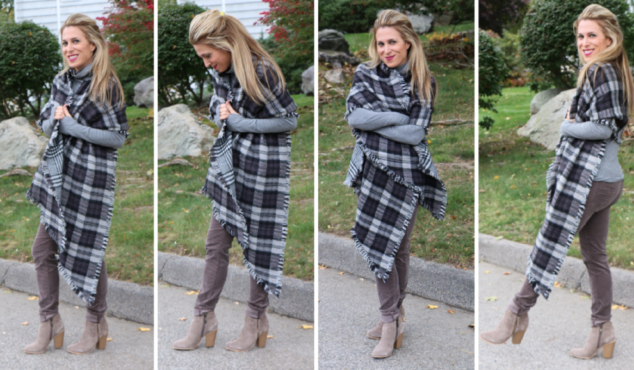 Next up – Franco Fortini Stamford Riding Boot.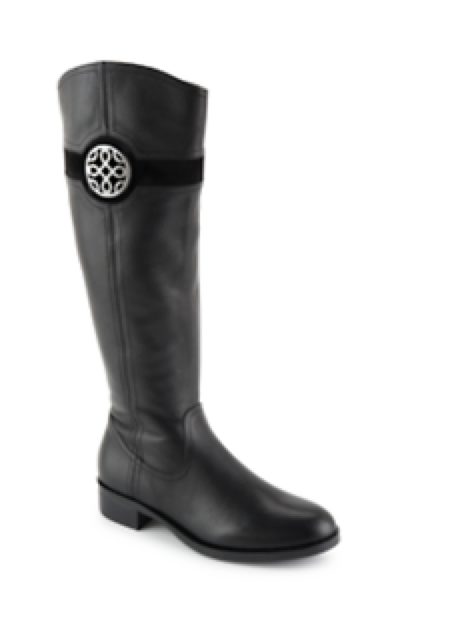 Here's the thing with fall boots, you ALWAYS need a fabulous pair of black (or brown) riding boots. It's just a must have for every woman! I LOVE the Franco Fortini Stamford boots because they are classic, sophisticated and elegant. They truly are the most versatile boot you're going to have this season! With the riding boot, you're getting that equestrian-inspired feel, but it's all about what you're wearing with them. I wanted to have a little fun and show 2 different ways to rock these boots!
A little black dress. Oh, yes… just as this boot is a must-have, so is a little black dress. I wanted to show how this simple, yet classic look could be worn effortlessly. Just toss on and go! I just love a gorgeous monochromatic look!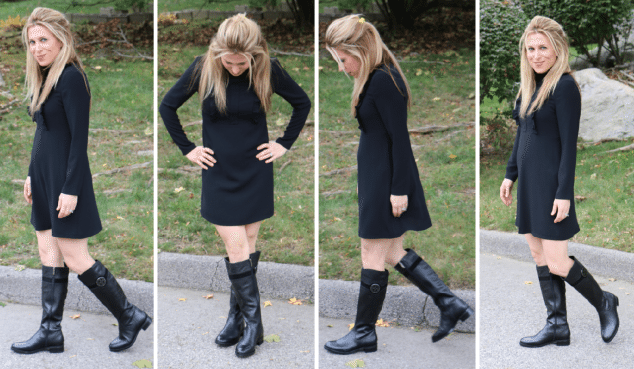 And yes, I'm a denim girl! I love, love, love denim. I love pairing these boots with a skinny jean, oversized sweater and wool hat. I feel like this is the kind of look that every woman can pull off effortlessly, too. Wear this to a sports event. Wear this out to dinner. Wear this on the weekend. This look is chic and classic and fabulous for any woman!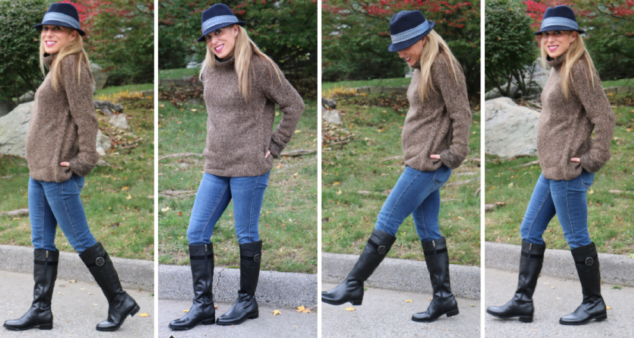 Next style up – Bjorndal Indigo!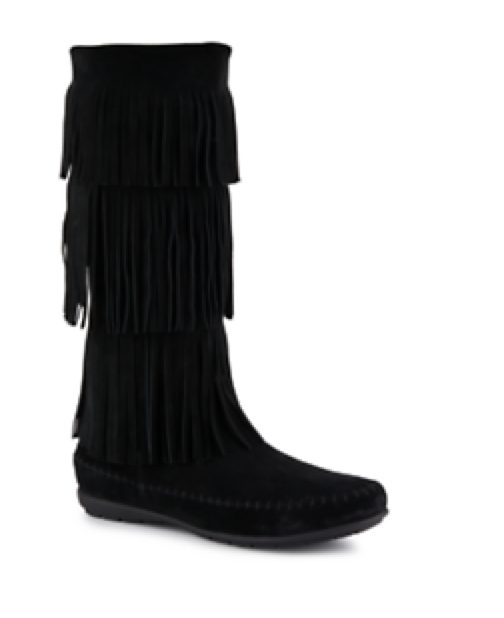 Oh, yes – it's ALL ABOUT THE FRINGE!! This is one of the most popular trends this season and it's FABULOUS! Here's the thing with fringe, it's NOT going away! It's here to stay, so embrace it and have some fun with it!! You get this gorgeous fringed detail, lending a little Western style to the Indigo women's boot by Bjorndal. It's crafted using supple suede and perfect for pairing with some of your fave fall styles! I wanted to see about looking chic and looking a little relaxed with it. Since I'm always on the go with my 5 kids, I love to be comfy – but I also love to be fashionable!
I love my distressed jeans for the weekends! I think they're just super cute and super chic… but here's the thing, I always pair them with a total classic piece on top. I opted for a cableknit sweater for this look, but I wanted to continue the chicness and fun on the bottom, too – so COME ON FRINGE BOOTS!! I think this look is SO MUCH FUN!! Boots are GREAT to wear over skinny jeans!!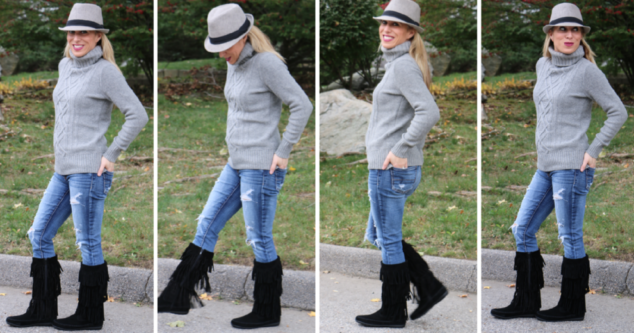 OK, weekends are all about the kids. BUT! Fashion can still be front and center, too! I am obsessed with sweater toppers right now and there's nothing like a fabulous legging on the weekends, too. I took my fave sweater, my fave leggings and I paired with my fringe boot! I completely amped this look up by adding the boot!! LOVE LOVE LOVE!!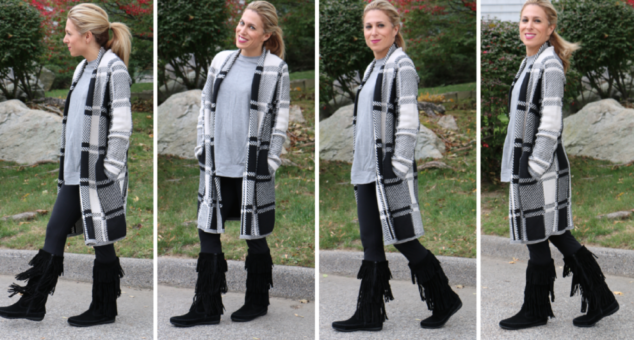 Next style to dish about – Rock & Candy Delanie.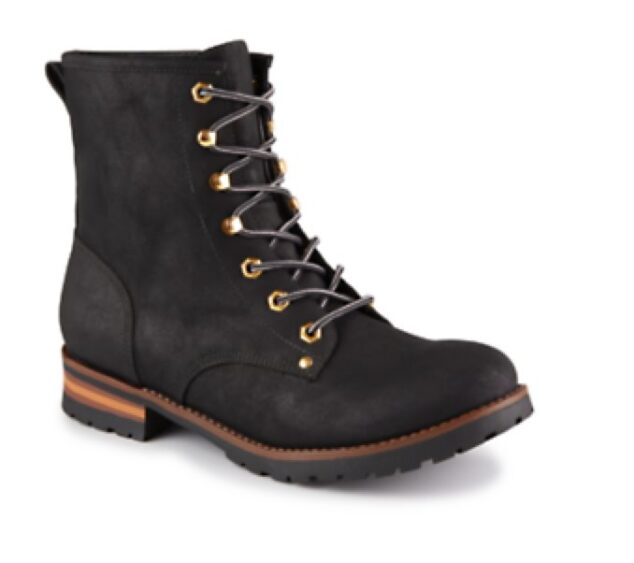 I'm being completely honest here, I usually don't go for lace-up booties as an wear-all-the-time-kinda-boot, but I went out of my fashion comfort zone on these and I fell in love!!! The Delanie is amazing and it's really a fab and trendy boot to have in your closet this season. You're getting an ultra-cool combat-inspired look with this boot. I'm telling you, I'm having a ton of fun with the Delanie! Question is — how to style, right?? I went with 2 COMPLETELY different looks with these boots, too. I wanted one that was super simple and one that was a little more on the dressy side!
Denim is always a safe bet, so I pulled out my skinny jeans and my fave denim blouse. Since I didn't want the full look to be denim and boots, I thought the touch of leather would be a chic add-on to complete the look. I am obsessed with leather jackets this fall, so any chance I get to wear one – I will!! I absolutely love how this look came together for me!!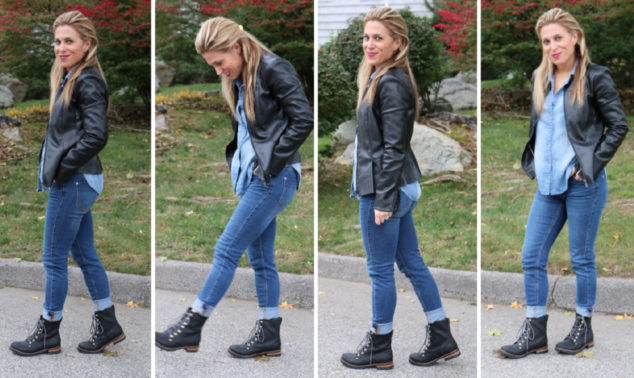 And then it was all about trying to dress these boots up!! Since DENIM is always safe, like it was above for me… I grabbed a denim shirtdress and added a gorgeous faux fur vest!! Since I wanted the boots to standout, I grabbed a pair of knit socks to make them really grab attention. This look is fun and simple and a great look to wear out with the girls this fall or to a fun vineyard with your bestie!!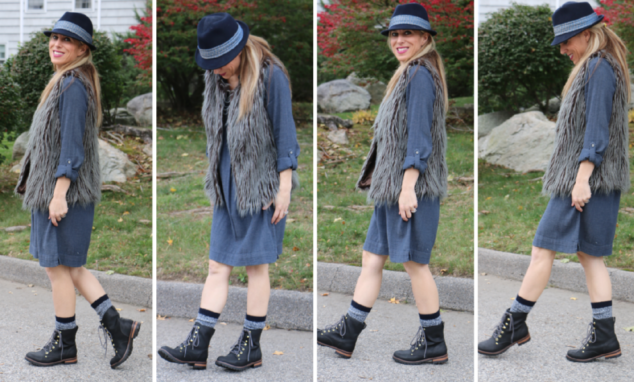 And last up – Xappeal Diaz!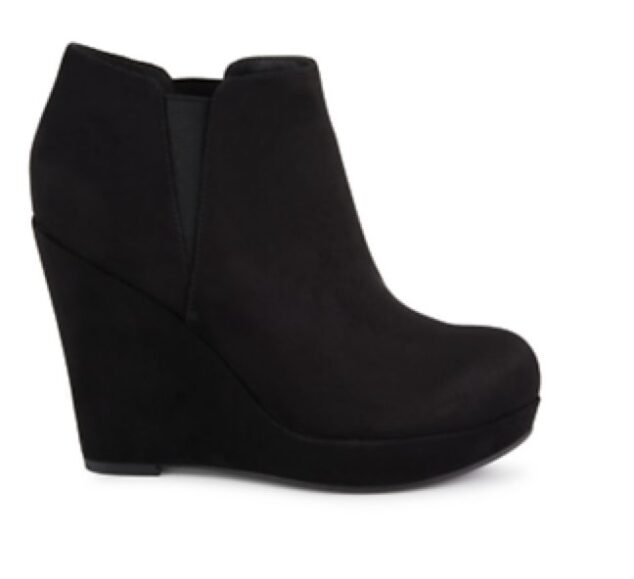 Let me just say off the bat, I'm OBSESSED with wedge booties! There's something about a wedge boot that I love. I could wear them all day. They are SO comfortable for me. The Xappeal Diaz from Rack Room Shoes are smart and chic with a covered wedge heel and a soft faux suede construction. They are – in a word – FABULOUS. These wedges just seem so chic to me, so I wanted my style to reflect that feeling! For me – these are the best booties to dress up and play with for work!!
I wanted to grab a skirt with one of my boots and the Diaz seemed like the perfect boot. A pencil skirt is a skirt I wear all the time. I have them in tons of colors, too! I wanted to go with my basic black one here and pair with a fun, ruffle blouse. I'm obsessed with mixing black and blue together this fall!! I love how this look turned out!! The wedge bootie is a fabulous pairing with this look!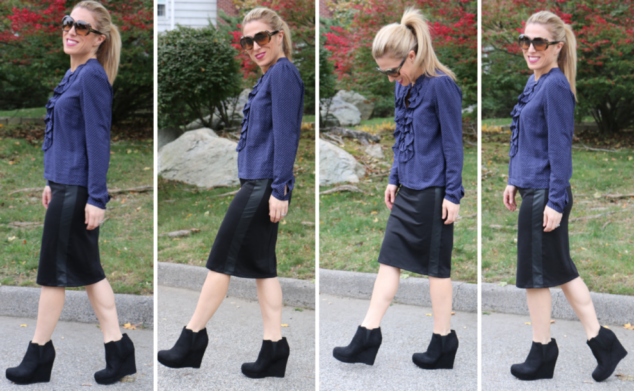 And – of course – monochromatic!! It's the easiest look for women! One color from head to toe… and this look is one I have worn 2x now! I tossed on my skinny cords, a gorgeous lace top and a black tank… and paired with the booties!! I'm telling you, grab a skinny or straight leg pant with the wedge booties, it will work every time!!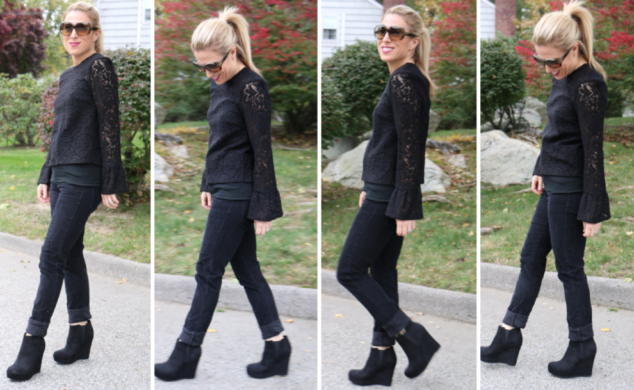 And… for all of you, a recap video!!
Rack Room Shoes is known for it's everyday "Buy One Get One 50% Off" promotion on all styles. The Rack Room Rewards® program allows customers simple, instant savings on shoes for the family. Some of the member's only perks include exclusive discounts, coupons, and $15 in rewards for every $200 spent on the retailer's extensive offering!!
Check out How to Style Overalls
Disclosure: This is a sponsored posting with Rack Room Shoes. All opinions are 100% my own.