Hey everyone, Happy Friday! I'm all about the RUFFLES today. Oh yes, I'm ruffing it up with my new ZARA blouse that just arrived yesterday in the mail! I bought this top on a whim. I saw it on the website and fell in love. BUT! As you all know, what you see is not always what you get – especially on the fashion front! A ruffle blouse is one of the most fabulous items to add to your closet.
Ruffle Blouse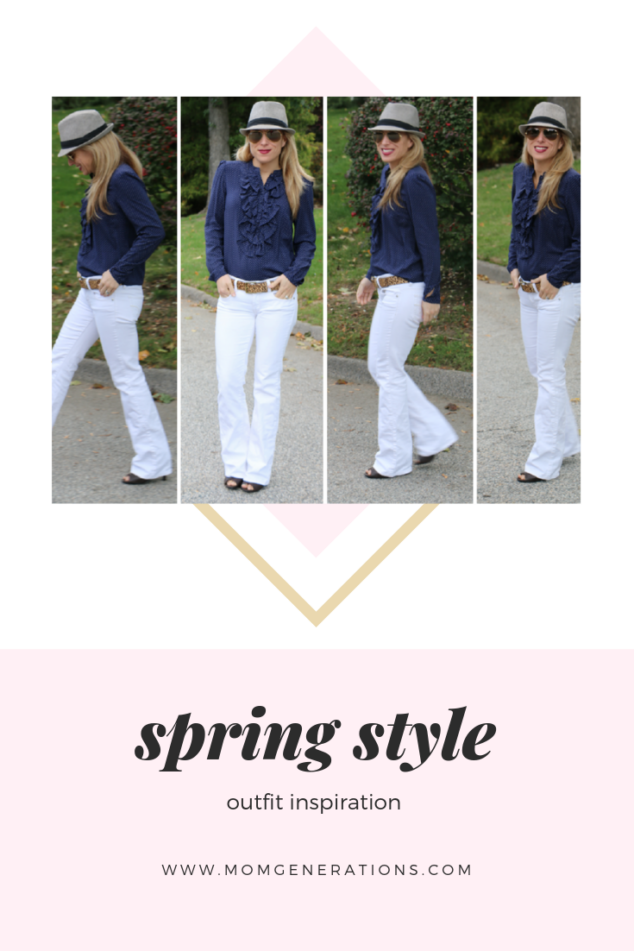 Fortunately – this ruffle blouse was a total score. What I saw it, I knew it needed to go home with me! I LOVE, LOVE, LOVE! I'm obsessed with anything navy blue, too – so the navy blue with the small white dots were just fantastic! Pairing with a pair of white jeans just made the jeans pop even more! I love this easy spring style. It's a style that anyone can wear and I love that so much.
Ruffle Blouse – for the amazing win girls!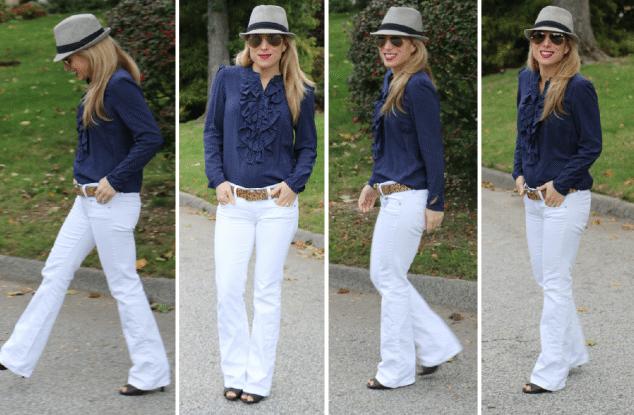 And white jeans?  YES! They can be worn after Labor Day. They are a must have for everyone out there! White jeans look amazing on everyone! Don't forget that! You just need to make sure you wear nude undies with white jeans! This way you can't see an underwear line. I know that many people think that you should wear white undies, but that's not the case! Nude undies are the way to go – believe me!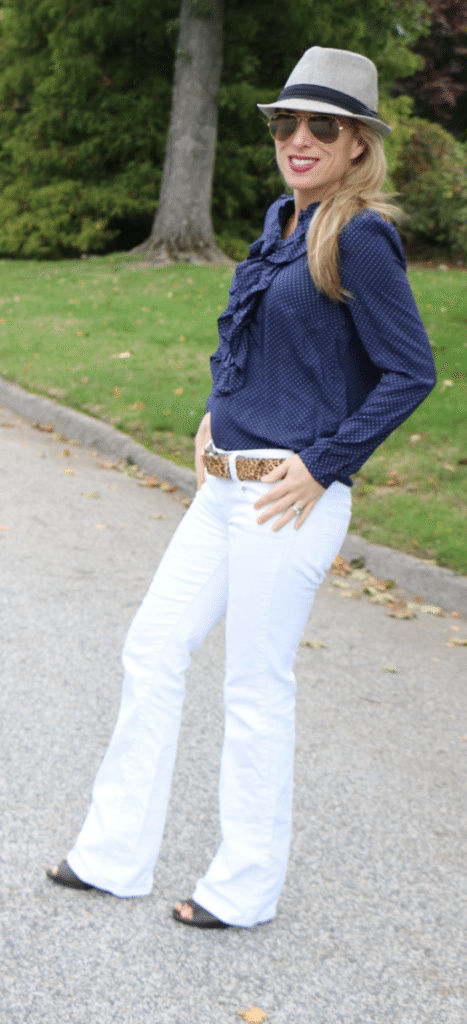 That's right… here's what I've got for you ladies. Here is the full breakdown!
And Fedora?
Sunglasses?
Leopard Belt?
Open-toe Booties?
Check. Check. Check.
Just for some fun – I wanted to bring you through my outfit from head to toe!! And you're going to get a sneak peek at some of my fashion secrets!! I share how you can get away with this look even on a bad hair day and a day you don't have time to grab some eye makeup, too!! You can still look chic and fab and ready to rock the world!!
Where to buy these fabulous items:
Outfit Breakdown:
ZARA Blouse
Old Navy White Jeans
Metrostyle Booties
Leopard belt from cabi
Check out my post on How to Wear a Chicwish top!