Groups gifts.
They are the easiest thing to do, but the toughest thing to complete… especially since I'm usually the one who is put in charge of collecting the money and getting everyone set-up and updated on the gift status.
With the holidays right around the corner, I can already tell you the amount of group gifting that will be happening:
1. Gifts for my mom and dad from all the kids
2. Gift for my son William's teacher
3. Gift for my son Alex's teacher
4. Gift for my son Ben's teacher
5. Gift for my son Henry's teacher
6. Swim coach gifts
7. CCD Director
8. Gifts for my in-laws from all the kids
It's enough to make your head spin, right!!??
Well……… let me share with you something that's going to make ALL OF YOUR GROUP GIFTING SIMPLE AND EASY (yes, it's true!).
Say hello to — The Gifting Bunch.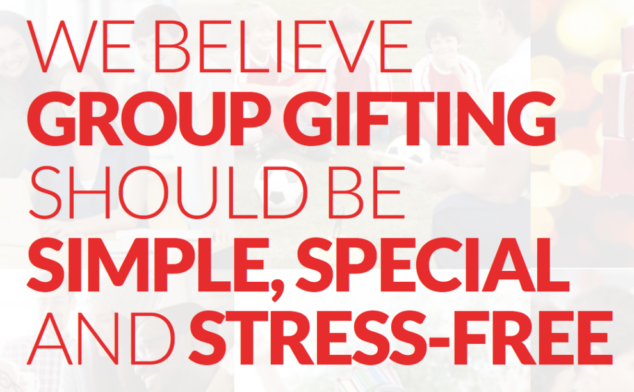 The Gifting Bunch is simply changing the face of group gifting and it's absolutely incredible. Using the easy-to-navigate website with special tools and tricks to manage it all, The Gifting Bunch allows users to create a group gift, collect private donations and personal messages from those who contribute and offers access to more than 500 e-gift cards for the recipient (such as Target, Amazon, Starbucks, Visa, movie theaters, restaurants and more).

I mean, it's almost too good to be true – but it is TRUE!!
I'm telling you — I feel like I can hear every co-worker, every family member, every friend I know all sighing a HUGE (GIGANTIC) sigh of relief right now!!
Finally!!
The Gifting Bunch was created by Janet Footlik, a busy working mom who knew there had to be a more efficient—and more thoughtful— way to give gifts as a group. "Anyone who has ever been tasked with rallying a group, collecting money and choosing a gift, knows that the effort can be challenging and frustrating, to say the least," Footlik said. "The Gifting Bunch takes all the hassle away and allows all the givers to share personal messages and give the gift of choice. We are making group-gifting simple, special and stress-free."
The Gifting Bunch, Group Gifts Made Simple from janet on Vimeo.
The Gifting Bunch offers several ways to give a group gift. Users can customize the specific gift for one recipient (i.e. teacher of friend) or collect funds to be divided up among multiple recipients (i.e. multiple team coaches or all non-teaching staff at school). The Gifting Bunch is also a great tool for showers, birthdays, anniversaries, charitable donations and even potluck dinners. The Gifting Bunch allows recipients to choose from more than 500 e-gift cards available through a partnership with Gift Card Mall, the largest online distributor of gift cards. Gift cards can be used online or in-store.
It really is a group gift giving game-changer.
And I have (2) TREATS FOR YOU!!!!
(1) I have free promo codes for the first five visitors who come from MomGenerations.com where you can get a $5 Target gift card. Just enter the referral code ​MOMGENERATIONS.
(2) $50 GIFT CARD!! Let me know what group gift this would help you out on!!! Leave in the comments below!!
To learn more about The Gifting Bunch or to see how the platform can work for you, visit www.TheGiftingBunch.com.
Disclosure: This is a sponsored posting. All opinions are 100% my own.