This post is sponsored by WorldKitchen LLC to celebrate the 100th anniversary of Pyrex. All cooking and opinions are my own.
Creating memories in the kitchen has always been something that is important to me. I'm the first one to admit that I'm not the best cool in the world or the best baker, but I have a passion for creating yummy meals for my family and making memories. I know that I don't need to create something from a 5-star restaurant to create a beautiful memory for my children… it can be as simple as baking cupcakes and letting them decorate. That is what makes me happy and that is what makes them happy, too!
I had the pleasure to partner with Pyrex®, the World Kitchen brand this past spring to have some fun in the kitchen with my family, while using my favorite Pyrex products. It's a special year for Pyrex because they're celebrating their 100th Anniversary!
To celebrate this momentus 100th Anniversary occasion, Pyrex brand, World Kitchen released a limited edition collection of products! The Anniversary assortment contains 13 new items, across all Pyrex lines of business: Bakeware, Storage and Prepware. My favorite — which I used while baking my cupcakes – is the Turquoise Pyrex 2 Cup Anniversary Measuring Cup!
As you can tell, I definitely had some fun with my kids, especially my daughter!
The best part about being part of this Pyrex celebration, was celebrating with many of my blogging friends, too! Everyone created such delicious and yummy masterpieces with their Pyrex products, it was so much fun going through everyone's recipes and seeing what they made.
I'm excited to share with you my top 10 favorite recipes and Pyrex favorites from some of my favorite bloggers!
Ready!?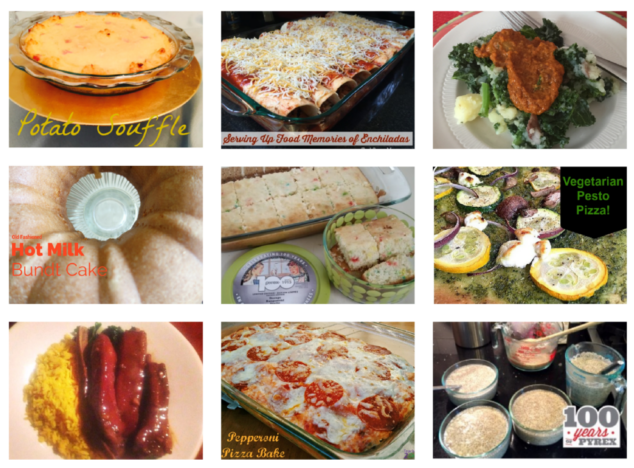 1. Potato Soufflé Recipe: Claudia of Trendy Latina shared her mother's famous Potato Souffle! The story behind this special dish is beautiful… it's a dish her mom used to make every Easter holiday and Claudia is keeping up with this beautiful Brazilian tradition for her family. Made me tear up reading about how special this is to her.
2. Chicken Enchilada Casserole: My friend Leticia of Tech Savvy Mama shared this incredible recipe for Chicken Enchiladas. The best part for me was reading about why enchiladas are so important to Leticia. It is true… there's a story behind every recipe with beautiful memories. This one will make you smile.
3. Kale and Mash Potato Recipe: My friend Linda over at NYC Single Mom shared a healthy recipe, which is something I can't wait to try! I love kale, I just never know what to do with it. I loved seeing this easy recipe to make for my family using 2 things I love – kale and potatoes! Yummy!
4. Old Fashioned Hot Milk Cake: Diane from philZENdia shared a insanely deliciously looking recipe for Hot Milk Cake. I'll tell you, baking is one of my favorite things to do for my family and with my family. I can't wait to try this recipe out that Diane shared, it looks so good!
5. Funfetti Cake Recipe: Onica from Mommy Factor shared a fun recipe that she made with her son for his school birthday celebration! What I loved about Onica's recipe was that she was making memories with her son and that's exactly what I love to do with my kids! It made me smile to see all of her photos and then the finished product – it looked so GOOD!
6. Vegetarian Pesto Pizza: My friend Niri from Mommy Niri created a recipe that is something we're trying this weekend! Pizza is a big deal in our house, too – so I always love finding new twists and ways to make new ones for us. The boys will love this, too!
7. Ana's Super-Easy Teriyaki Ribs: Kimberly over at Mom in the City shared a recipe that my husband is going to LOVE! He's a big rib fan, so as soon as I saw that Kimberly was sharing this one – I bookmarked it!
8. Pepperoni Pizza Bake: My friend Leanette over at FUNtastic Life shared a recipe that my kids are going to love! We're BIG fans of pepperoni and (as I mentioned above) pizza, so this is the perfect recipe. I love, love, love how Leanette brought her kids into the creating fun, too! What a wonderful way to create memories with the family. Love it!
9. Chia Seed Pudding: My good friend Suzanne from Mom Confessionals shared a recipe that I absolutely want to try with my family. We're BIG into chia seeds, too – but never heard of making a pudding with the seeds. I love, love, love this delicious looking snack and treat for my family!
10. Easy Summer Quiche: My friend Maria from The New York Mom shared a quiche recipe that I am drooling over! I have loved quiche forever, but I've never tried to create one myself! I loved seeing her share an easy and doable recipe that I can try out! I just can't stress enough how GOOD her quiche recipe looks!! I love it!!!
Disclosure: I have happily partnered with World Kitchen LLC to share the wonderful Pyrex® 100th Anniversary product line. All opinions are my own.