'Tis the season! I'm always on the hunt for fabulous recipes! I'm also a big lover of Italian recipes, too! I'm not Italian, but I love an amazing Sausage and Peppers Recipe. My Nana used to make this for me all the time when I was a kid! I thought I'd recreate this Sausage and Peppers recipe with my husband for the holidays!
Sausage and Peppers Recipe
Nothing warms my heart more than hosting my family and friends for the holidays. I look forward to our annual "McClelland Holiday Get Together" every year and truly love to make it special for everyone. The one thing I love to do every year is make (with my husband) a delicious, yummy and memorable meal for everyone celebrating with us. I always think back to the holidays with my Nana and how special she made each and every get together because she planned out the perfect main dish for all of us to enjoy. My Nana delighted in expressing her love for her family through her food and I have inherited that same passion. Her Sausage and Peppers Recipe being one of them!
I love seeing people enjoy the meal that I've made. I love seeing people ask for seconds (and thirds!). I love when people ask me for my "secret recipe." For me… that's what the holidays are all about, making people happy and showing them how much you love them. I cherish the fact that I can do this through cooking a delicious meal for them to enjoy and find joy from while at my house! I want to make the holidays from good to great for my family and friends and I know it starts with the meal. The meal is the foundation of our get together and it's something that everyone looks forward to and comes to my house ready to enjoy.
Sausage and Peppers Recipe
I have partnered with Walmart this holiday season to create a fabulous holiday meal using key ingredients. I love the fact that Walmart is there to help me create the most fabulous holiday meal of all for my loved ones. This season with Walmart the main ingredient that I will be creating my masterpiece with is Jimmy Dean® Fresh Sausage. I pass by Jimmy Dean Fresh Sausage all the time in the refrigerated section, so I was excited to be able to find it so easily. Since I love bringing in pasta to all of my holiday meals, I thought it would be fun to make Sausage & Pepper Pasta. There's nothing I love more than a little sweet and a little kick to my meals, so I know this will be a big hit with my family and friends for the holiday! What I love most about this recipe is that it's easy and simple, but when you see it plated – it looks like it took you hours in the kitchen to prepare it!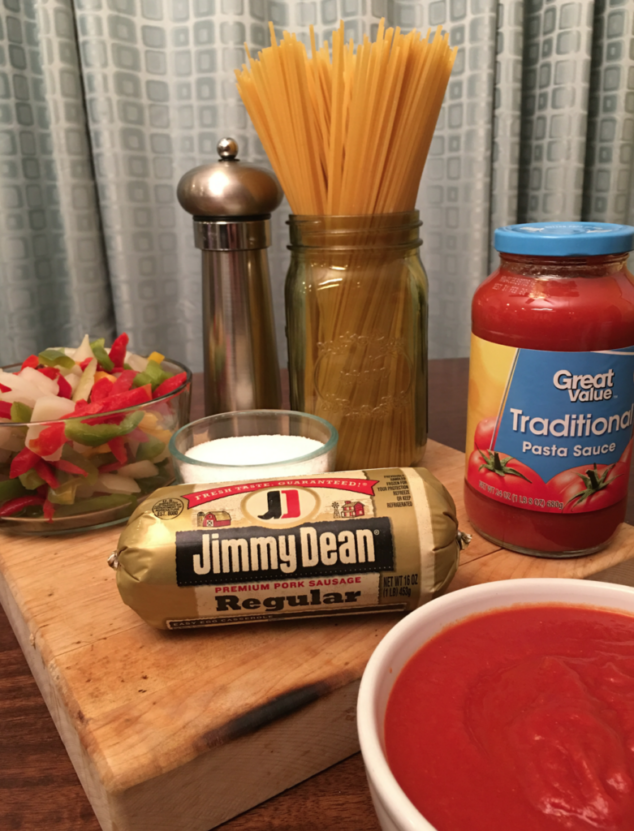 Ingredients from Walmart for Sausage and Peppers Recipe:
– Jimmy Dean Fresh Sausage
– Great Value Linguine
– Birds Eye Frozen Tri-Color Peppers and Onions
– Great Value Traditional Pasta Sauce – 45 ounce
– Salt
– Pepper
McClelland Sausage & Pepper Pasta:
In a non-stick frying pan, crumble the Jimmy Dean Sausage into chunks.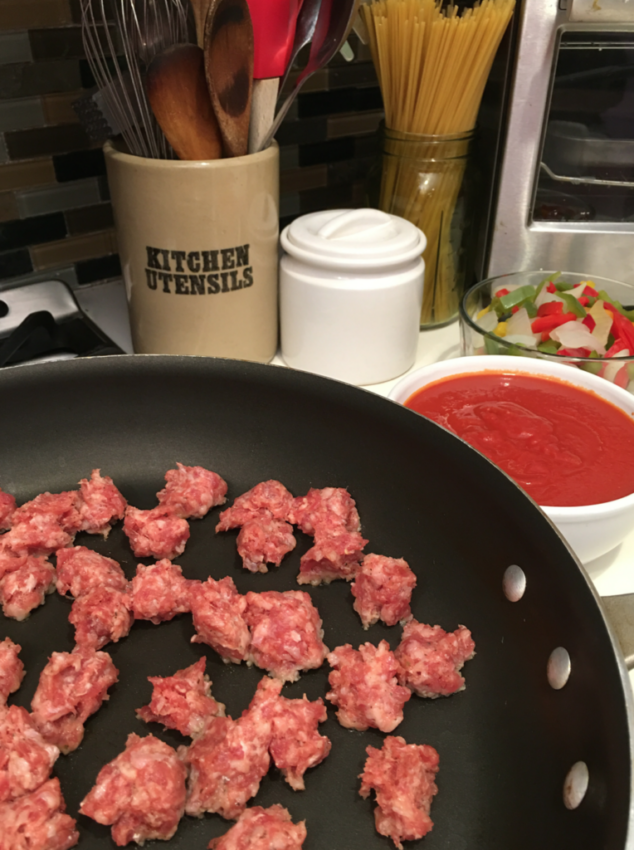 Step by Step for the Sausage and Peppers Recipe
Brown the sausage over medium/high heat and then add the Birds Eye Tri-color Peppers and Onions. Cook several minutes until the veggies are completely thawed, stirring occasionally.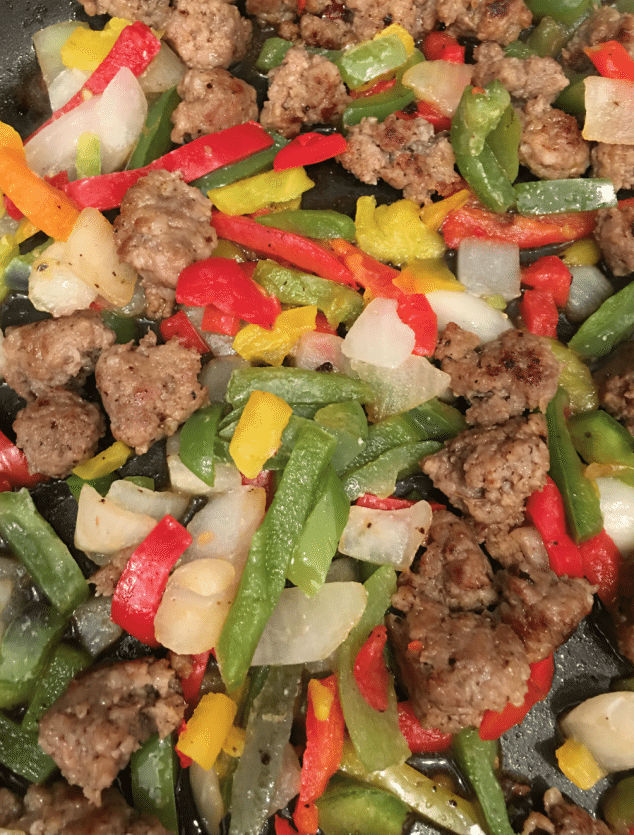 After the veggies have been thawed, add the jar of Great Value Traditional Pasta Sauce and stir everything together.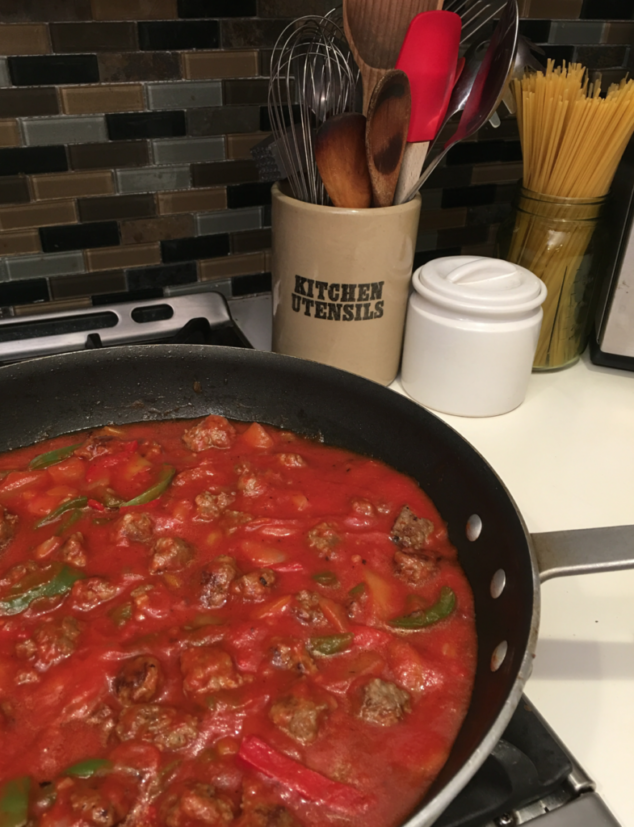 Simmer for 20-30 minutes until sausage is cooked through and sauce thickens. Take a moment to test the pork to make sure it's completely cooked through; the temp should be at 170'F. Add salt and pepper to taste (we like it a little on the spicy side!).
Serve over al dente pasta; we love linguine (you can choose any pasta to your likening).
Serve this yummy dish with extra holiday love and joy! There's nothing better than seeing all of your hard work enjoyed to the fullest, especially during the special time during the holidays.
I know one thing, my Nana would be proud of me.
Happy holidays everyone! May you bring joy to all your loved ones!
I hope you enjoy this easy Sausage and Peppers Recipe!!
Looking for a dessert? Try this NEW recipe on the blog! S'mores Crostini!
This is a sponsored post written by me on behalf of The Hillshire Brands Company. All opinions are entirely my own