Elijah's Angel – A Story of Chanukah and Christmas – is a beautiful read-aloud book…
Reading books with kids around the holidays is always a special way to settle in and settle down our busy days. Both younger and older kids love this special time and the memories created. Elijah's Angel is a magnificent story to share with your kids and grandkids.

Elijah's Angel ~ A Story for Chanukah and Christmas –
by Michael J. Rosen and illustrated by Aminah Brenda Lynn Robinson
Elijah's Angel ~ A Story for Chanukah and Christmas is based on the very real friendship of author Michael J. Rosen and Elijah Pierce, a renowned woodcarver, lay minister, barber, and personal friend to many of his visitors. The story is about Michael and Elijah, who strike up an unlikely friendship when Michael is 9 years old, a Jewish boy… and Elijah is in his 80's, a Christian and son of a Mississippi slave.  The two meet when when Michael's 4th grade class visits Elijah's barber shop, a shop crowded with Elijah's woodcarvings. Each carving has a story, but it's the special angel carving that Elijah gifts to Michael that becomes the fruit of their friendship, their story, THIS book. The angel becomes a symbol of understanding two different worlds, two different religions, as one – A Story for Chanukah and Christmas.

The illustrations in this marvelous book are yet another layer in the miracle of relationships, as the illustrator Aminah Brenda Lynn Robinson grew up in Elijah's neighborhood and spent lots of time in his shop, while Elijah carved and Aminah modeled clay and quilted. Their friendship, too, is woven into the pages of this very elegant book about both Chanukah and Christmas.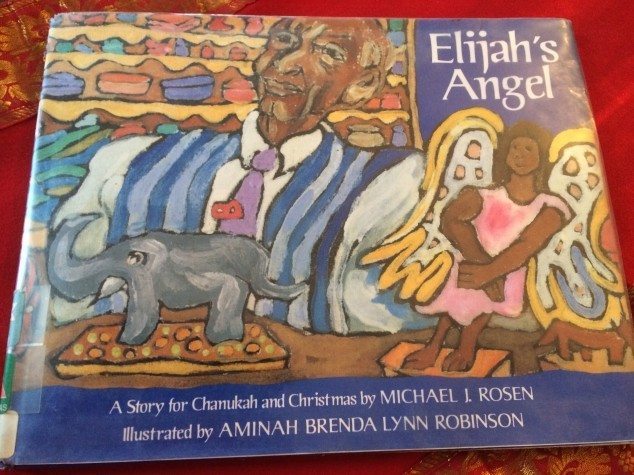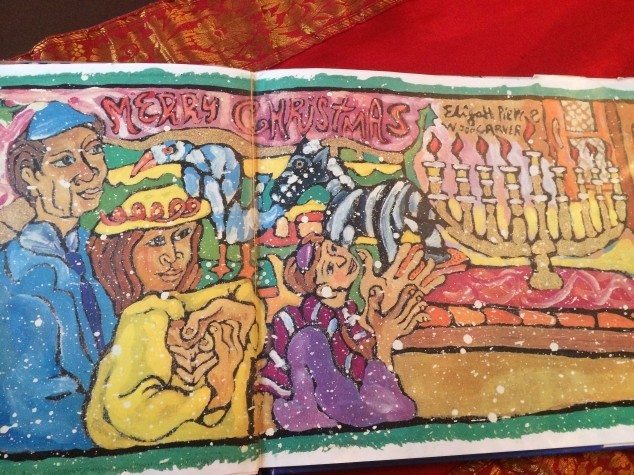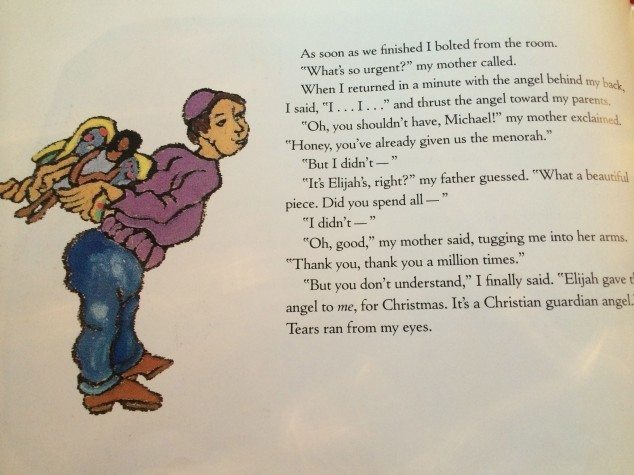 My own grandkids love the story of Michael and Elijah and ask to read it aloud again and again.