Black Pants Women – let's face it! We all need them and we all have to have them in our closet!! It's all about Office Chic today! I'm taking Black Pants and I'm kicking them up a notch today! I'm going all in with some fabulous styles and I want you to see how Black Pants Women and for Girls – Should be styled!!!!
Black Pants Women – How to Style
Dressing every single day for work isn't always easy.  Well… I take that back, if you had the closet of Rachel Zoe, Sarah Jessica Parker or Kim Kardashian, it would be a piece of cake. I don't, so the next best thing is to create looks from staple pieces that I have on hand.
When it comes to office attire, I always rely on 2 pieces:
Black Pants
Black Heels
You can create some pretty fun looks if you have these 2 items in your closet. I'm excited to show you 3 different ways I styled the same black pants and black heels (and even handbag!) today on the blog. Now… I know that not everyone can wear hats to the office, but have some fashion fun with me today! I wanted to show office chic – comfort and trendy mixed together for a day at the office!
Black Pants Women – How to Style
1st look: Chambray or Denim Shirt, Fedora and Bold Necklace, Black Pants
I'm obsessed with this top from J.Jill because it's professional, classic and hip all at the same time. I love that it doesn't have a collar and I can just wear it loose and open. A denim or chambray is never out of style and can be work season after season.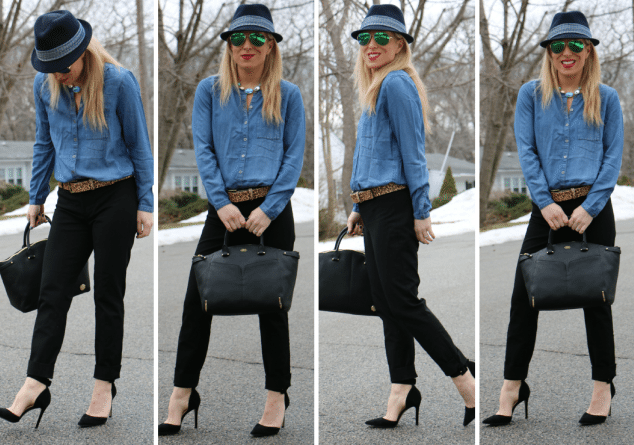 2nd Look: Plaid Top, Felt Hat, Black Pants
You know I think plaid is everything this season! My best friend loves to joke with me that it's ALL I ever wear, but I just love it. Grab a plaid shirt and mix it with a fun belt. I'm in love with my cabi belt from this past fall's collection. I think it's so much fun to pair with a fun print… or in my case, plaid.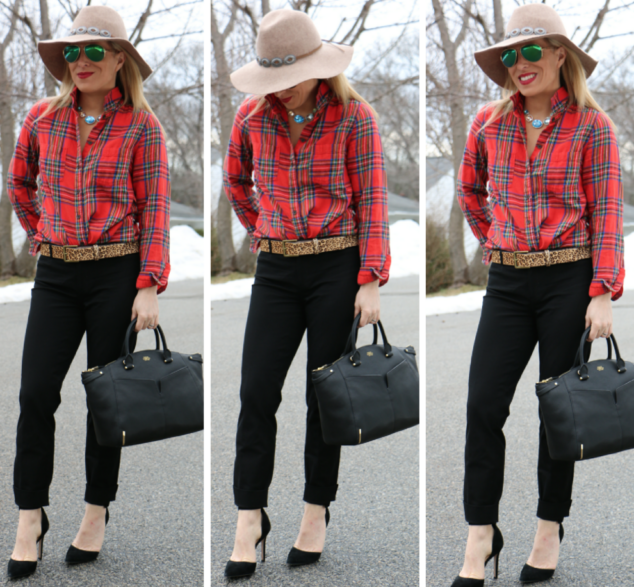 3rd Look: Blazer and Graphic Tee, Black Pants
I definitely wanted to show a blazer look with the black pants. My favorite look is to take a graphic tee and wear under the blazer. It's a chic look and it's the type of look you can really have some fun with – I chose my friend Ellen's tee today!!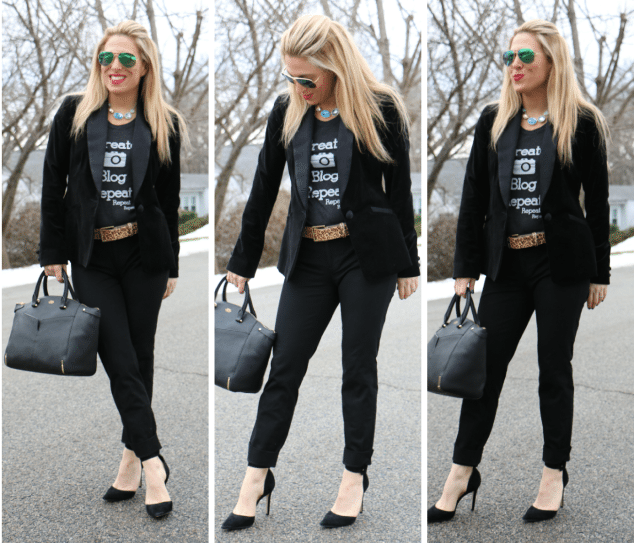 For some added fun, here's a video of me putting everything together today.
Also, I partnered up with some of my fashion blogging friends to show off some of our favorite ways to take a pair of black pants and style them for the office. Check them out, too!!!!! Check out my other friends who are rocking BLACK PANTS and see how they STYLED THEM, too!!!!
Bon Bon RoseGirls * Thirty Something Fashion * The Mummy Chronicles * The Mother Chic * Momma in Flip Flops * That Chic Mom * Style In Harmony * The Simple Moms *