"Go PLAY!" Thanks for these wise words, Mom & Dad!
Six summers ago, at age 57, I stood before a pounding sea as the morning sun made its appearance. I pulled up a skin-tight wet suit, put on a purple swim cap and set out on a journey that was part of my life re-living itself, right before my eyes…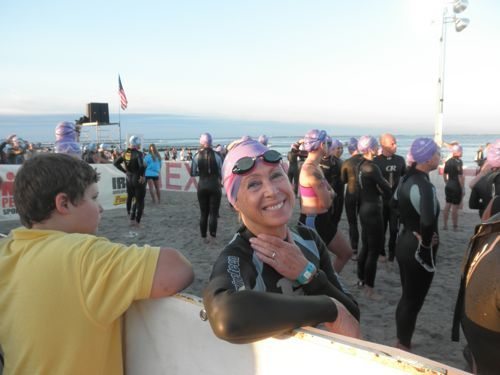 I thought my mind would be blank with fear as I had imagined this moment during my months of training for this Half Ironman, but all I really kept hearing over the loudspeaker and my heart beating were the words of Walt Whitman, from a poem I had taught many times over during my 30-year teaching career…
Long have you timidly waded holding a plank by the shore,
Now I will you to be a bold swimmer,
To jump off in the midst of the sea, rise again, nod to me, shout,
and laughingly dash with your hair.
I stepped into the water, dove headlong into the first big wave and began to re-live my life – boldly, toward that 1.2-mile ocean swim.
My journey to that moment in my life didn't begin with years and years of swimming, cycling and running. Heck, I hadn't done, or played, at any of these things since I'd been a kid.
But I had played. My Mom and Dad had told me to. "GO PLAY!" still rings in my head.
That swim moment was, rather, inspired by my very, very active and independent Mom, whom in early 2007 (at age 82), had become sidelined, blindsided really, by a debilitating physical problem that resulted in multiple hospitalizations, experimenting with pain medications, loss of independence, and ultimately a move to an assisted living facility; a life-changing situation for my Mom that changed everything for me, as well.
My life went from retired-teacher Grandma of 6 to Caregiver to my Mom. My days and nights became consumed with my Mom's physical therapy and physician appointments, trying to balance medications, keeping my Mom positive-thinking and eating properly; and a profound sense of loss for both my Mom and me.
I remember the day everything changed. It had snowed the night before and the morning sun was making the snow and ice glisten like millions of tiny gems. I just wanted to go outside, to soak in the beauty; like when I was a kid living in New Hampshire. I wanted to feel the cold, slide on the ice, make snowballs — PLAY with no cares in the world. I put on some old boots and the first coat, hat and gloves I could reach and headed outside. I felt instantly alive; childlike, almost. I remembered from somewhere in my head the words Be Inspired by the Art of Living. That is exactly what I did. I began re-living that day.
My boots took me for a walk; downtown, then to the harbor and back up the hill to the playground and basketball courts in my town. Kids were already out there, shoveling snow from the blacktop to find patches of ice for ice-skating. I remembered doing that as a child. Playing. I remembered a lady in an old farmhouse in New Hampshire who flooded one of her fields each winter for us kids to skate on. I remembered being a kid and I wanted that feeling back, that feeling of grabbing ice skates for spontaneous play.
I thought of my grandmother and her farm in Michigan and how I loved her acres of strawberries and her apple orchards and wondered if she ever flooded her fields for kids in the winter. She had died when I was young, but I thought of her that day and I wrote a story in my head about my grandmother flooding her fields for kids' ice skating. I surprised myself with the story that grew in head. I had spent my childhood and college years and even when my own 4 kids were young, writing little children's stories and poems, but hadn't done that in a very long time. I smiled on both the inside and the outside at the freedoms of that morning– the walking and kids playing and the story writing itself in my head.
I returned home that morning changed. Re-living changed. I decided to make time for a walk each day after that; PLAY, if you will. I decided to find some of my old story manuscripts and share them with my grandchildren. Later that day, I shared my little morning adventure with my Mom and she smiled; thankful that she was not "taking my time," as she called it. That sunny winter gem of a morning and my Mom's reaction was a great epiphany. She wanted to me to live while taking care of her, not live to take care of her. Brilliant. And simple.
I haven't stopped my Art of Playing since. My daily walk became running (something I had never imagined doing). My story ideas became words and then pages and pages and pages, reworking very old manuscripts and writing new ones for my grandkids. In 2008, my daughters Audrey and Jane and I launched our our website, MomGenerations.com, and I became the "grandmother voice" and fitness Grandma with my own blog, a diarist format that allowed me to capture in writing beautiful, funny, heartwarming and sometimes heartbreaking moments of my life with my family, my grandkids, my Mom and memories of my late Dad. Writing each day was something I had only dreamed of until then; and to have companies come knocking with sponsorships, campaigns and partnerships with Mom Generations was a tribute to the hard work, determination and re-imagined dreams of Audrey and Jane, too. Following a 30-year teaching career, I had a brand new career, this time around with my daughters.
Over the next year, my Mom's condition improved significantly and I moved her to an independent senior facility that allowed her to regain some independence, albeit with me checking on her daily, cooking most of her meals and providing lots of visits from the great-grandkids.
But I couldn't shake the PLAY feeling of that winter morning in 2007; so a bit over 6 years ago, on my 57th birthday, I decided to step up this Playing thing a notch or two… or 57. I made a list of 57 things that I wanted to accomplish in 52 weeks. The first thing on my list was Skydiving on my 57th birthday. My Mom's reaction? "Can I do it, too?" My husband and I took my Mom along for the adventure, and I even asked if my Mom could do it. When the instructors assessed her physical condition, the answer was a resounding NO, to which she answered, "But President Bush was allowed to do it and I'll bet I'm in better condition!" That's my Mom!
Caregiving my Mom has given me insight into my own life, my health, my family, my mortality, my dreams. Caregiving my Mom has given me a great opportunity to IMAGINE and then live possibilities that enhance my life and that bring play/enjoyment/fun/interesting conversations to those close to me, including my beautiful grandchildren… like Skydiving, Pole Dancing Lessons, Winter Surfing, training for and completing a Half Ironman, posing topless (Grandma, what?! – for the Estee Lauder Breast Cancer Awareness Campaign & why), entering a baking contest (who, me?!), zip-lining and a whole bunch more. Challenging, outside-the-box, frightening, exhilarating, daring, over-the-top, under-the-radar PLAY, revealing each layer to find yet another layer of imaginings beneath each… each adding to the definition and imaginings of a life never too old to imagine one more layer of play.
Mostly because I knew how to play. I had been told to play, to romp, to run, to climb trees (and maybe even carve initials!), to roller skate, ice skate, sled, blow bubbles, make snow angels, shoot hoops, gather kids for a baseball game, play jacks and marbles and board games and build things from scraps of stuff and an imagination. I had been told to "play fair" and "use your imagination" and "make sure you include everyone" and never, ever use the word "bored." I was encouraged to try new things, try and try again, pick myself up if I fell (this is how I learned to Pogo Stick and go on to teach each of my 7 oldest grandkids, too) – to just PLAY. I was as comfortable with Lincoln Logs as with a baby stroller, a baseball bat or a toy spatula, monopolizing Monopoly or styling my Barbie. No-one even implied differently.
PLAY meant to go get the world. All of it.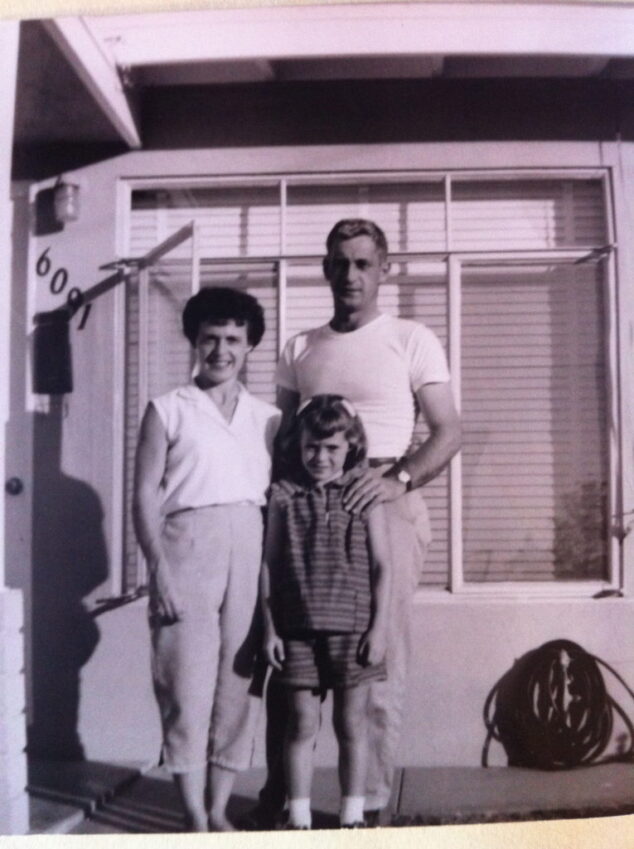 What I re-learned in my year of 57 in 52 is that many wonderful things we do in life must be organized to the last detail, and that many wonderful things happen quite spontaneously. I learned that we must be readying and ready all at the same time. I learned that people all around us are supportive, happy and wildly encouraging… even when a challenge seems almost impossible. I learned that the happiest moments in life are sometimes the loudest, and sometimes the quietest. I've learned that people are passionate about the things they teach and that their joy is multiplied in sharing. If you have something to teach — teach it, multiply it, offer it to the universe. I learned that my body follows my mind and spirit, and that my mind and spirit follow my body. I learned to celebrate each challenge, because with the greatest challenges come the greatest insight and the greatest rewards.
How to play again became my greatest reward.
I learned that my layers would go on to include something I thought unimaginable- 2 marathons, Cox Providence at age 58 and 2012 Marine Corps Marathon at age 60… and sailing lessons with my husband (where I have the dubious distinction of being the only student who ever crashed into a moored sailboat). And I've learned that reporting to my Mom after each adventure or race and showing her all the photos brings joy to her as if she had done them herself; like partners on this great journey.
I have since moved my Mom again, closer to my home, and my littlest grandson Brian (the grandkids total has grown to 11, going on 12!) and I go for long walks with Grandma Rita, inside during the winter and outside in nicer weather. Those long walks turned into my Mom's first 5k at age 90 last September, surrounded with family, and she's raring to go at it again…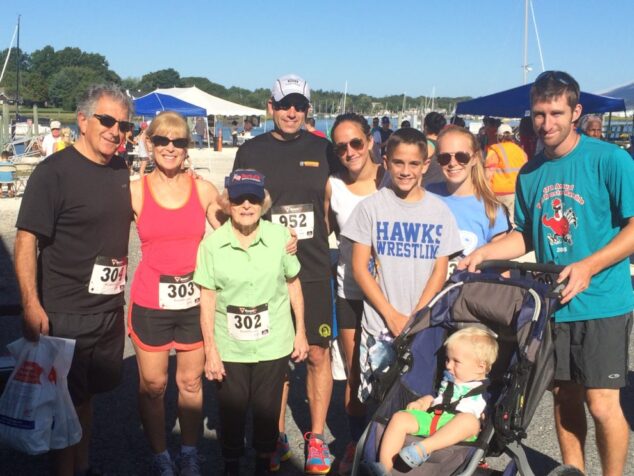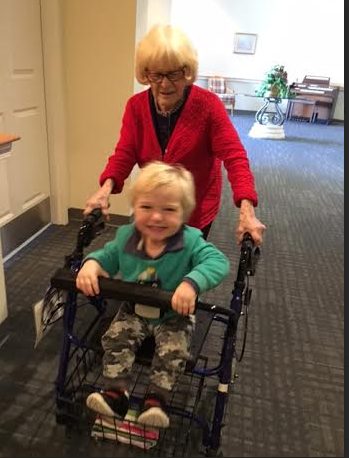 How would your life look if you began to re-live its possibilities, even when faced with age and dramatic life changes?
How about through play!
I'm all in. And if anyone needs me, I'm not the one timidly waded, holding a plank by the shore. Rather, I'm the Grandma playing, doing headstands with my grandkids in the back yard –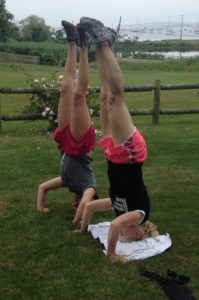 … Running 3-legged races with my husband, Barry –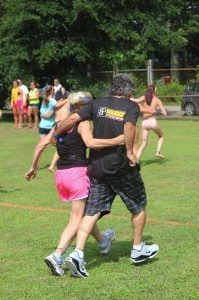 … Jumping off bridges with my grandkids at Martha's Vineyard –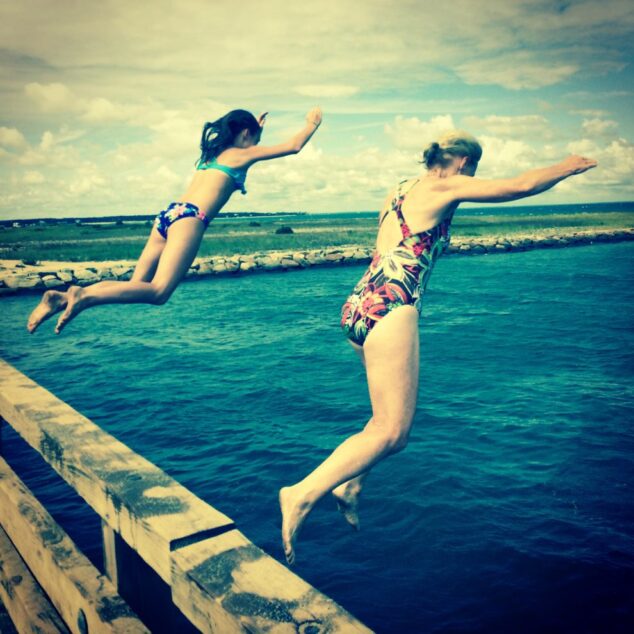 … Pogo-sticking –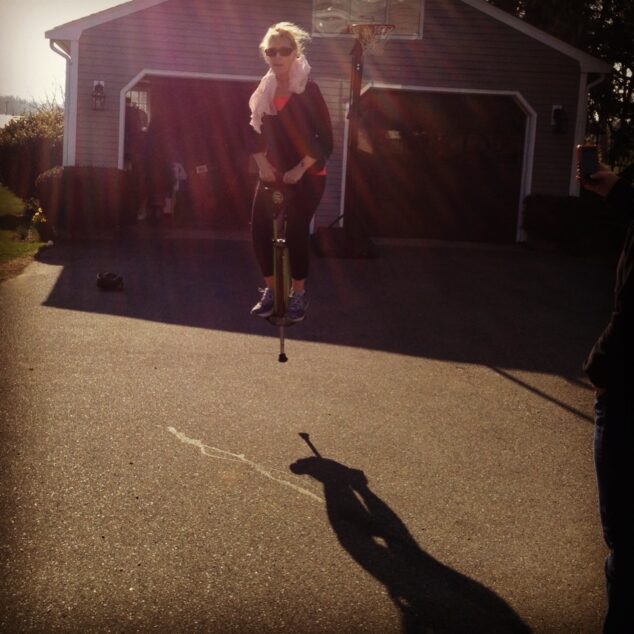 … Running races with my daughters-in-law and granddaughters –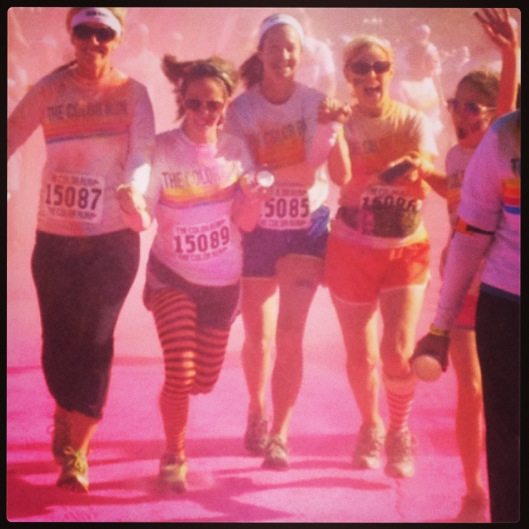 … Biking with Pop-up, my partner at play – and yes, racing!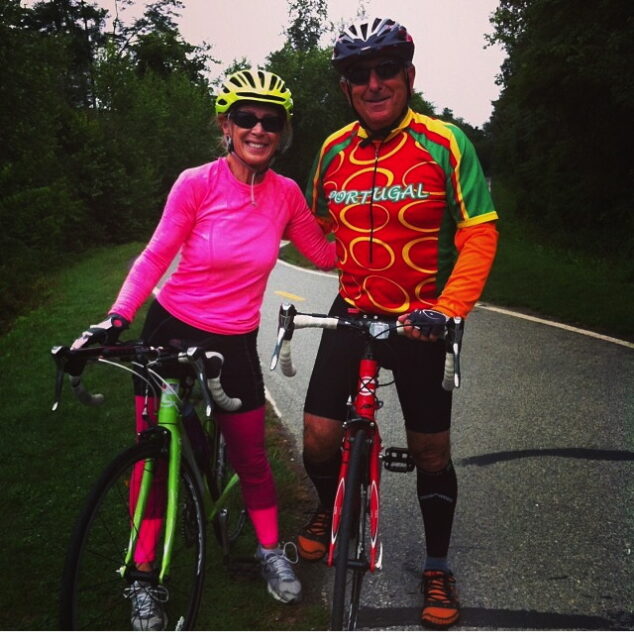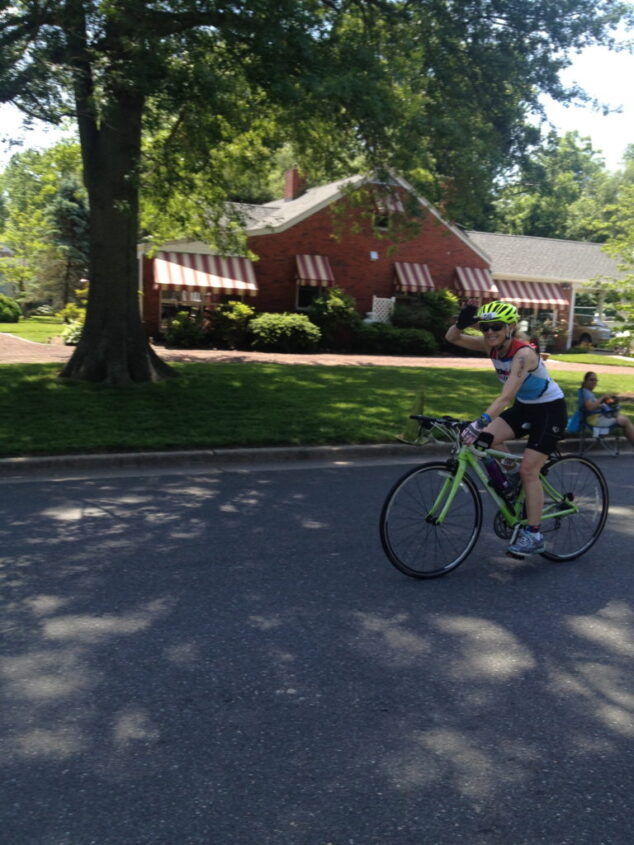 … Sliding –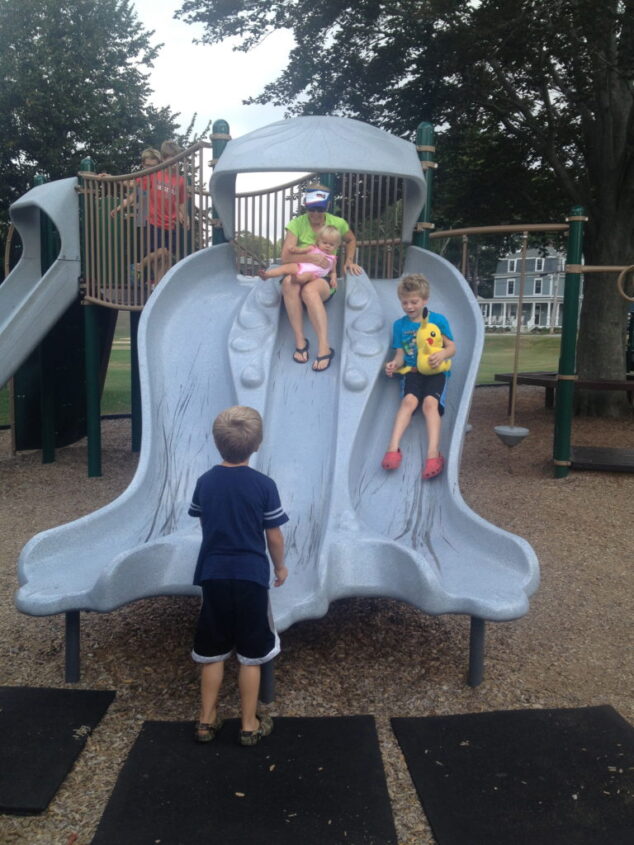 … Crawling through mud at races with my grandsons –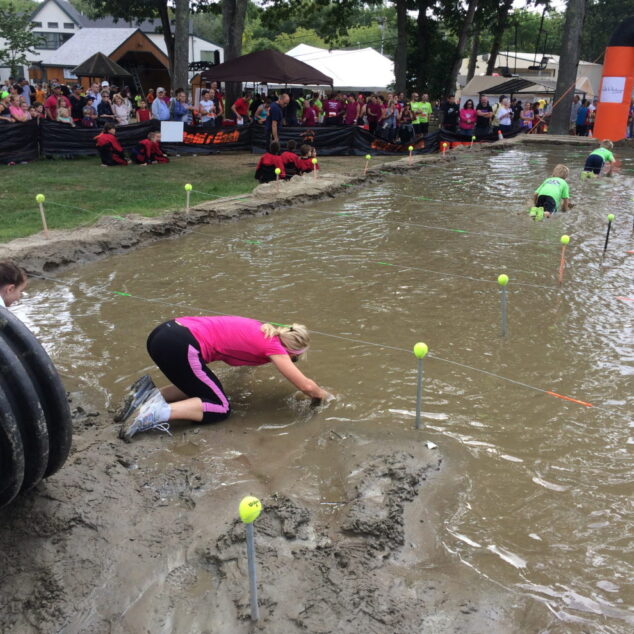 … Pop-up always at-the-ready to PLAY —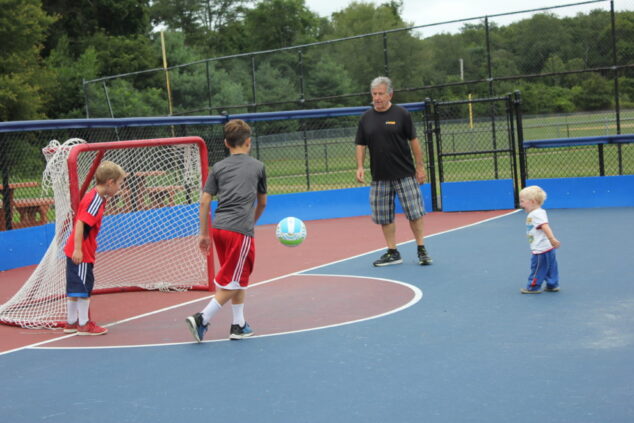 … Polar Plunging —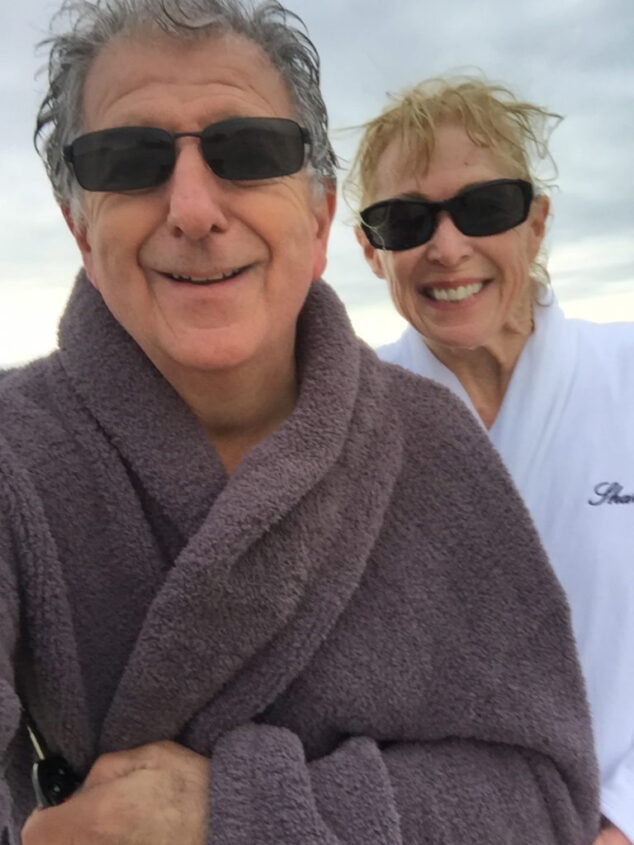 … Sometimes before school –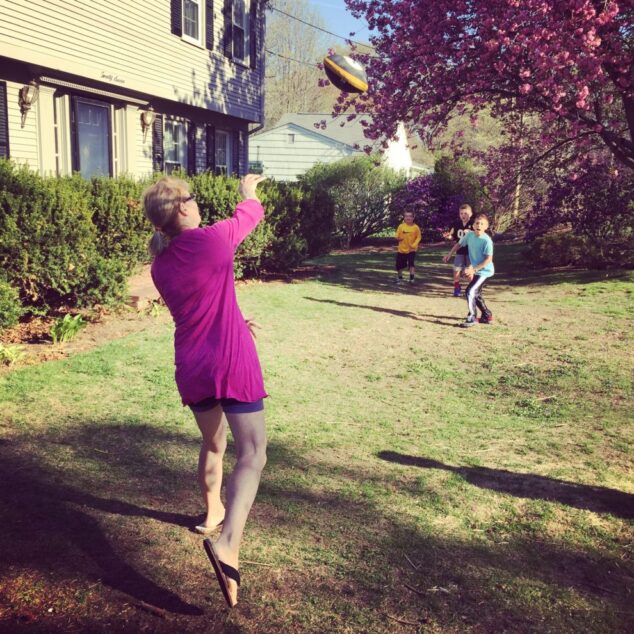 Each day and each moment that we can…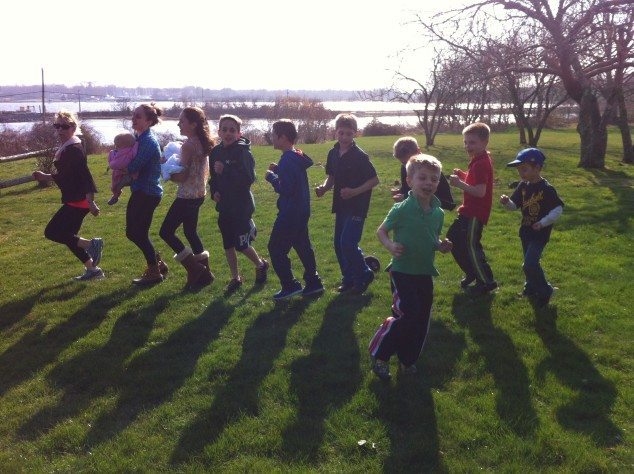 Playing.
A life defined through play, discovering new paths to new possibilities each day; knowing that the art of playing and the art of living make me a much better, much healthier, much more joyful wife, Mom, Grandma, writer and Caregiver, too.
SO, get your kids and grandkids and out there to PLAY.
And you, too!
I cannot imagine my life without those two words – GO PLAY!
Thanks, Mom & Dad!