One moment that put the Care in Caregiving…
A couple of years ago, I was writing for AARP's Blogger Kitchen Cabinet on #caregiving, #caresupport, #carekc issues.
This experience and opportunity gave me important moments and time to see Caregiving as much more than simply caring for an elderly person. This time was filled with reflection and thoughtful observation of my role in caring for my elderly Mom, of my family's role in helping care for Great-Grandma Rita and the role of the community at large in appreciating the brilliant lights of people who may walk more slowly, forget some things, repeat stories, need special care and perhaps even feel forlorn and forgotten and yes, ornery.
This experience had me engaging my family even more in caring for my Mom, Rita, because it IS often overwhelming and difficult to go it alone. Caregiving can become almost an alienation of the Caregiver from his or her own life because there is so much to do in caring for an elderly person whom often has no one else to turn to.
I kind of morphed into leading by example of what so many other cultures across time and space have done to honor their elderly — I brought in the great-grandkids, the young'ins, the "questioners" with the fun, funny, brilliant and often inappropriate questions, the little ones often impatient with the pace of life but not with the elderly. I brought in this role of 4 generations, each co-existing with eras more different than anyone could possibly imagine.
My 11 grandkids LOVE Great-Grandma Rita and they all pay very special attention to her with hugs, hand-holding, celebrations and measuring who's taller — her or them (mostly them, now!) — and the questions, the wonderful questions about everything, from fashion long-ago to hearing aids, from American history to dating, you name it…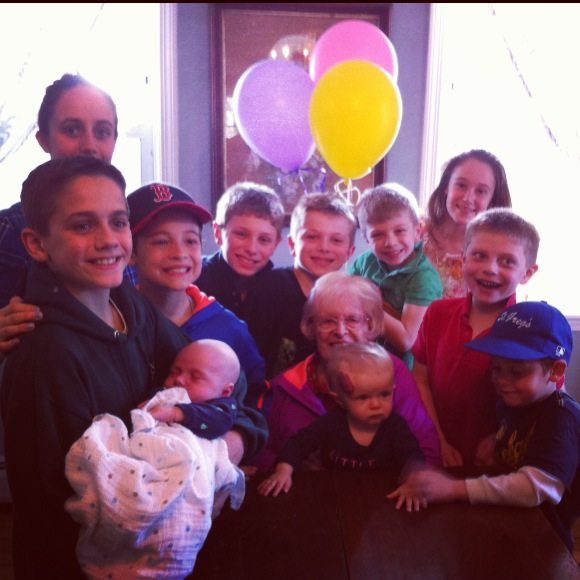 The entire family was there last September to cheer Rita on at her first 5k — at age 90!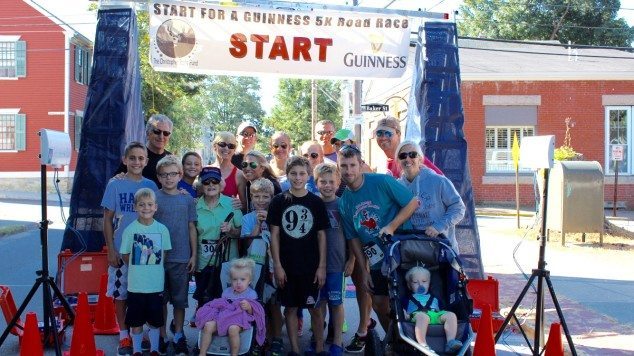 AND RITA MEDALED, 3rd in her age group Women's 70+! (I'm hoping this year for a 90+ age group because Rita is raring to do that 5k again!)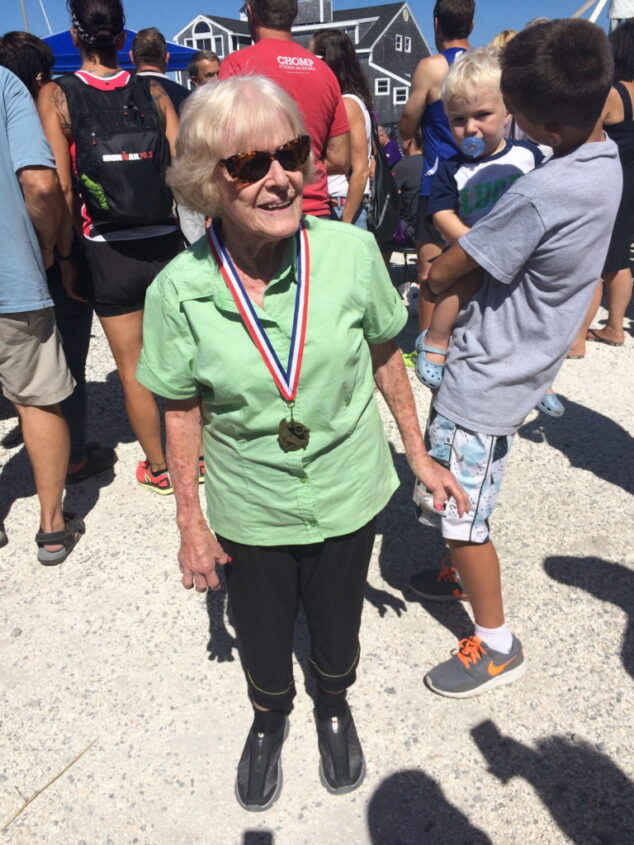 All of the grandkids and great-grandkids there to cheer Rita on. It's as simple as caring. 
And all of this has not gone without notice to the littlest ones.
Brian, turning 2 next month,  loves to sit next to Grandma Rita when they come to my home to watch "her" Patriots…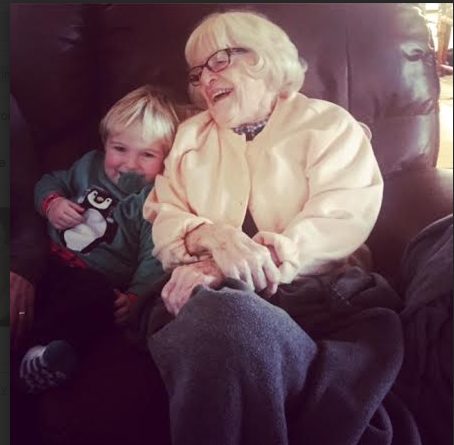 Of course, Brian doesn't understand the game of football, but he understands the flow of the game through the cheers or the "NOOOOOOooooooooos" or the loud applause from the family room couch.
But yesterday, Brian took things to yet another level of understanding, of knowing, of seeing, of learning, of absorbing, of LOVING, of LIFE when he took Rita's hand to guide her to the dinner table.
All by himself…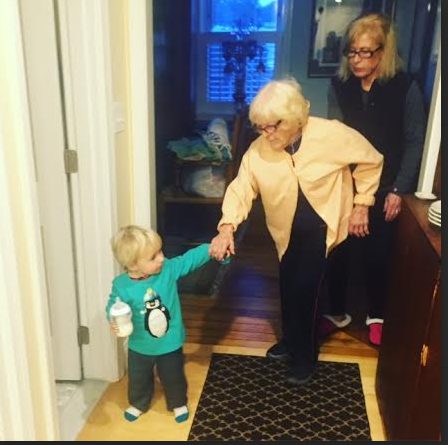 … he took her hand in loving guidance. Even at his young age, he put the Care in Caregiving. He understands the Care in Caregiving.
If you look at my face in the background, trying to be invisible in this grand moment… well, you may see tears of joy welling up in my eyes.
A Moment of Caregiving.
It means the world.