Famous Footwear ~ and a famously wonderful "shoe-in" experience with my Mom and the kind, patient, knowledgeable, fun, helpful store manager, Ken Hamburger…
My Mom, Rita, has been a fashionista her entire life. I know this from lovely B&W photos from her youth, stories from her sisters, my life as her daughter… and now, as my entrusted role as Caregiver.
I know and understand and love my Mom's love of fashion, particularly fabulous shoes fashion, but I also know a thing or two about aging, risks, injuries and even further, potential injuries. I dislike even thinking about potential injuries while heading to a shoe store to buy new shoes for my Mom, but the reality is that I know I'm going to be in for it, as those ubiquitous THEY say, when my Mom selects something wildly fabulous with thoughts of yesteryear and I'm going for something fashionably sensible. Ah, mother-daughter stuff — reversed…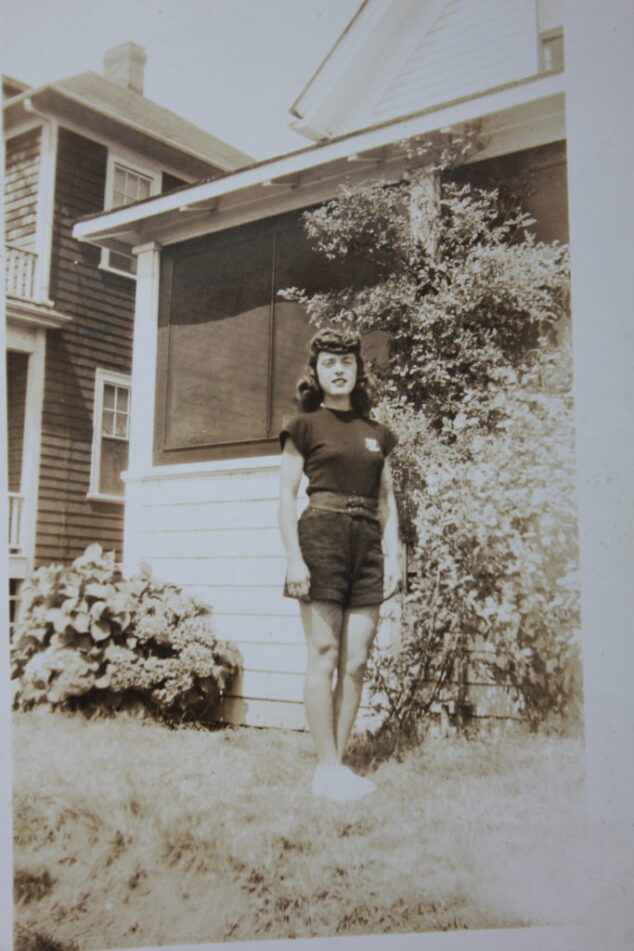 ~1945, and wowza!~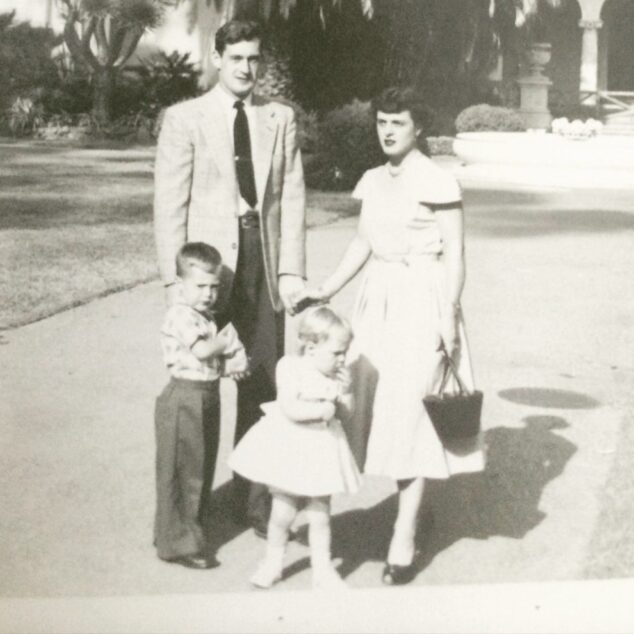 ~1953~ Oh, those peep-toes! And that's little me in the pretty dress~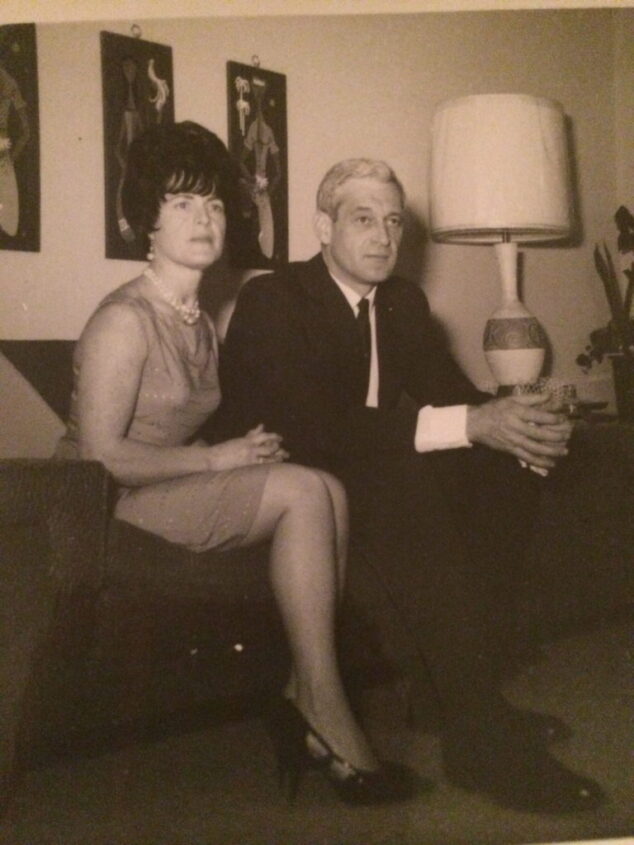 ~1966, there's my Dad and Mom, always impeccably dressed, and THE SHOES!~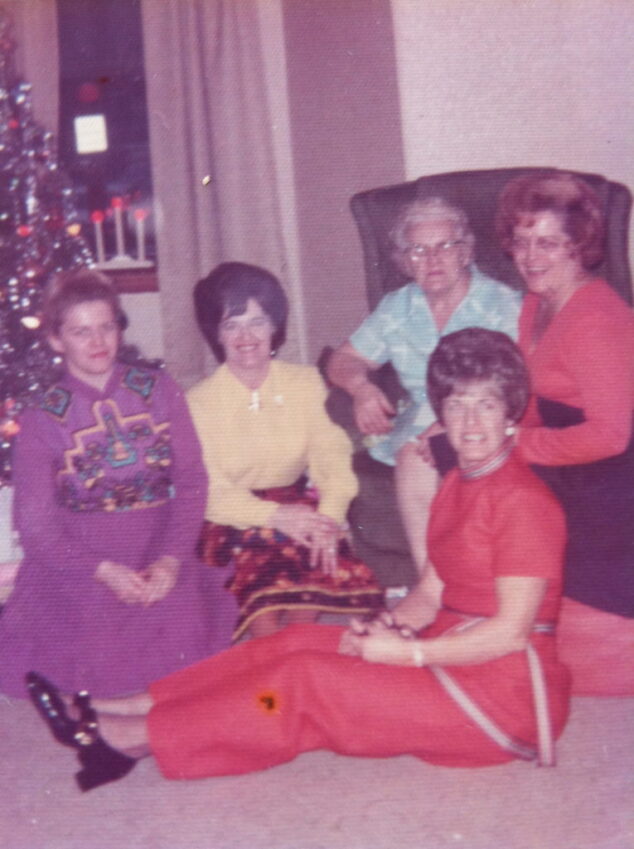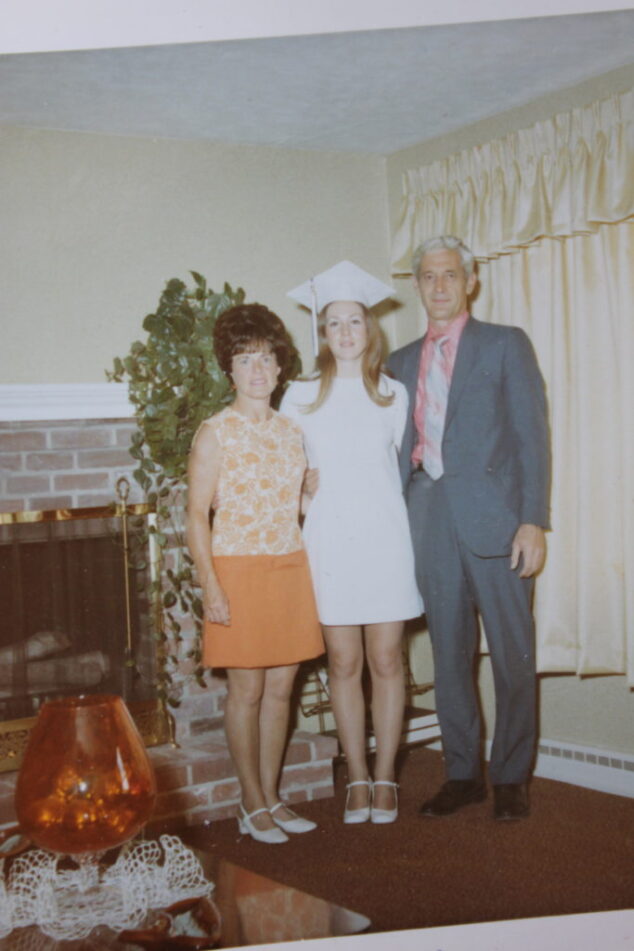 ~1970, my high school graduation with Mom and Dad~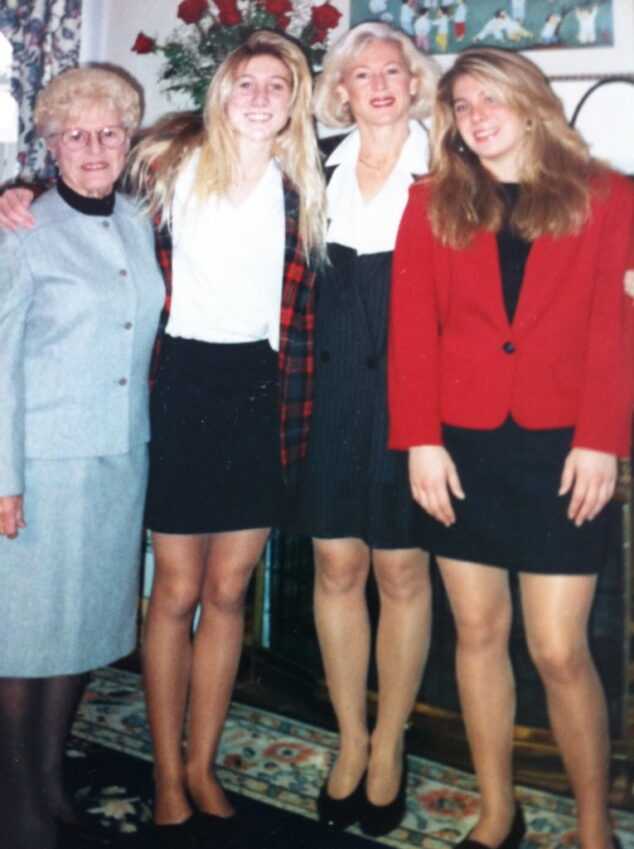 ~1994, my Mom with my two daughters and me~
And so on and so on, through decades and decades of beauty and fashion and my Mom's love of a lovely pair of SHOES!
My Mom will be 91 years old in April, but she still has the fashion mind of a young woman of her era ~ classic, and if I can use the word yet again, lovely…
~Here she is, 2014, still dressed to the nines, blue strappy-sandal SHOES and all!~
My Mom moved to an assisted living facility last spring, and had to hone down her shoe collection, but she still longed for those fancy shoes. Whenever we shoe-shopped, I had to talk her down from those heels…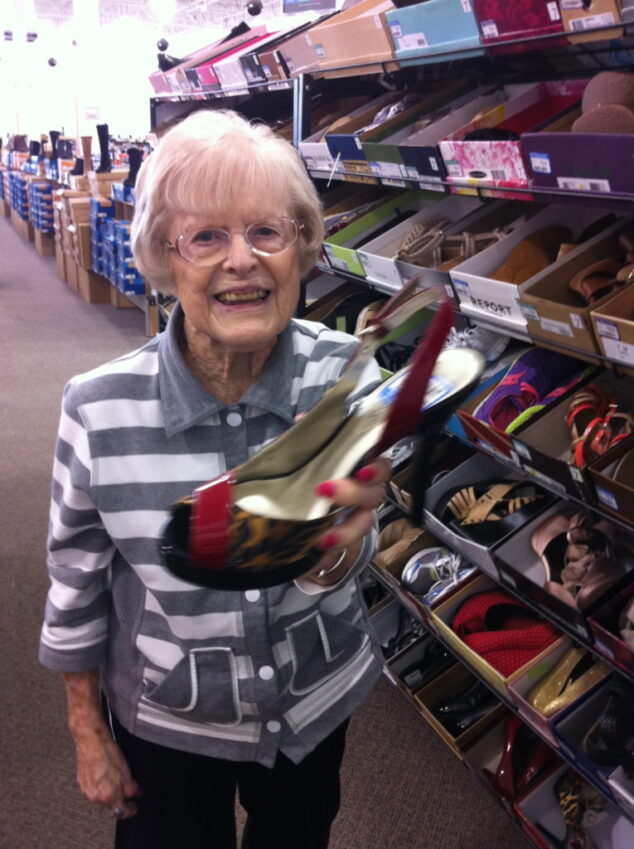 But what did happen within that assisted living facility with its encouragement from staff members and the l-o-n-g halls to travel was nothing short of a little miracle.
My Mom has always been way ahead of her time in the exercise department, but limited motion had quelled her enthusiasm to walk regularly. But here, she began to walk again, many times accompanied by me AND my grandson Brian on that hot set of wheels…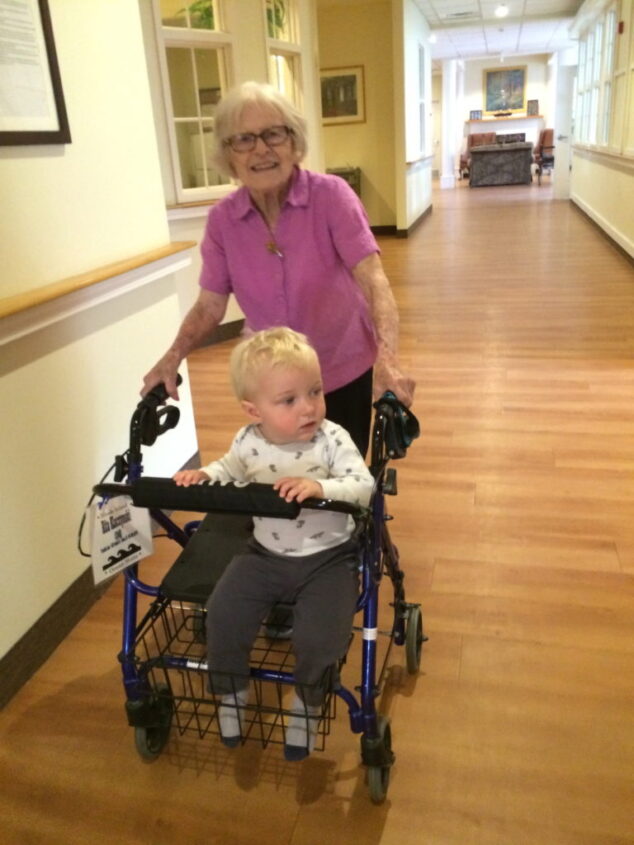 When the warmer weather arrived, we moved the party outside, and soon my Mom was walking (in her sensible shoes!) 1, 2, 2.5 miles…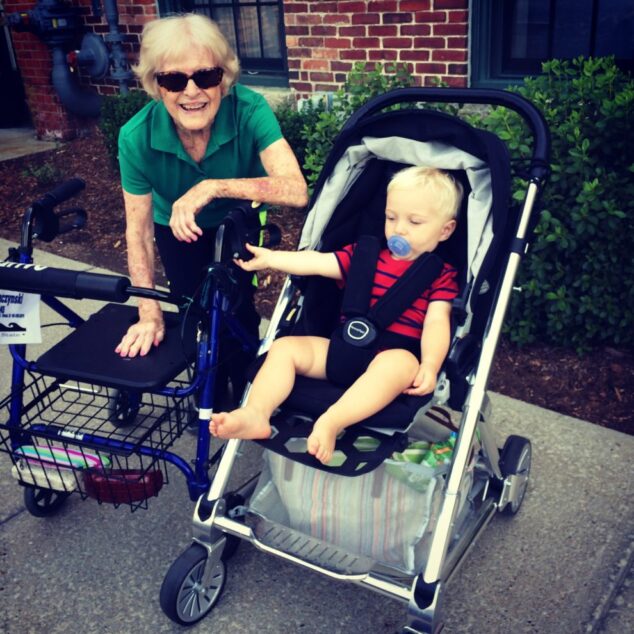 I told my Mom that if she kept this up, she'd be ready for a 5k.
She answered, "When?"
That WHEN happened in September 2015. My entire family turned out to accompany Grandma Rita, at 90 years old, at her first 5k…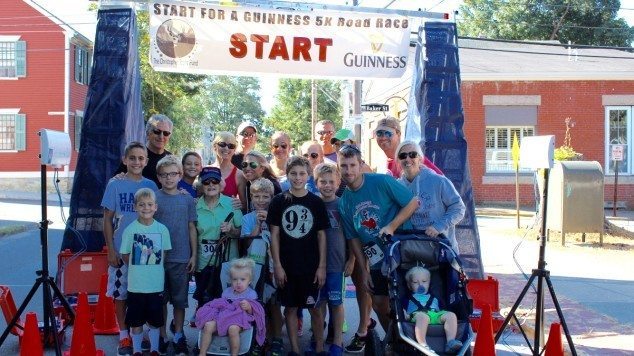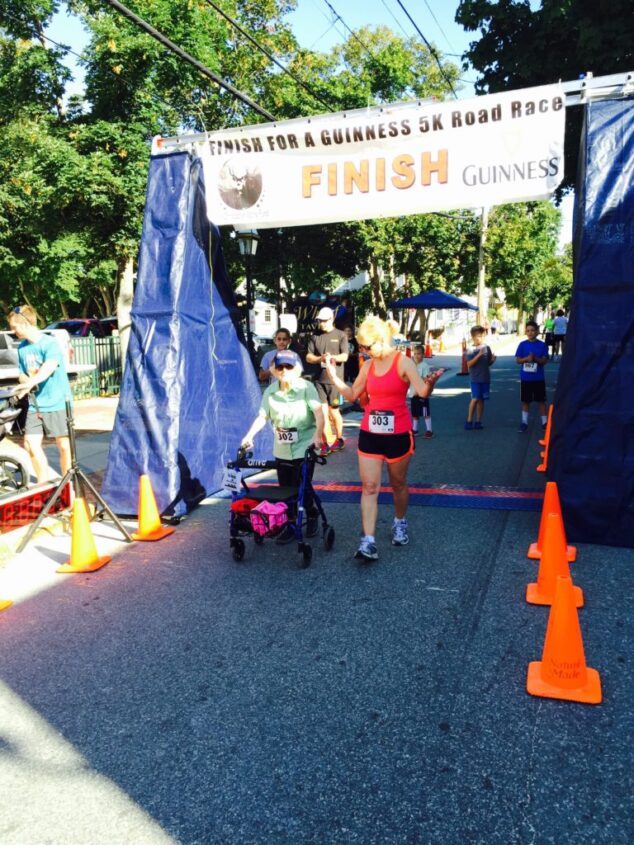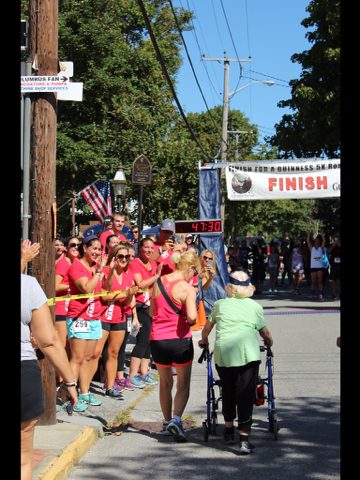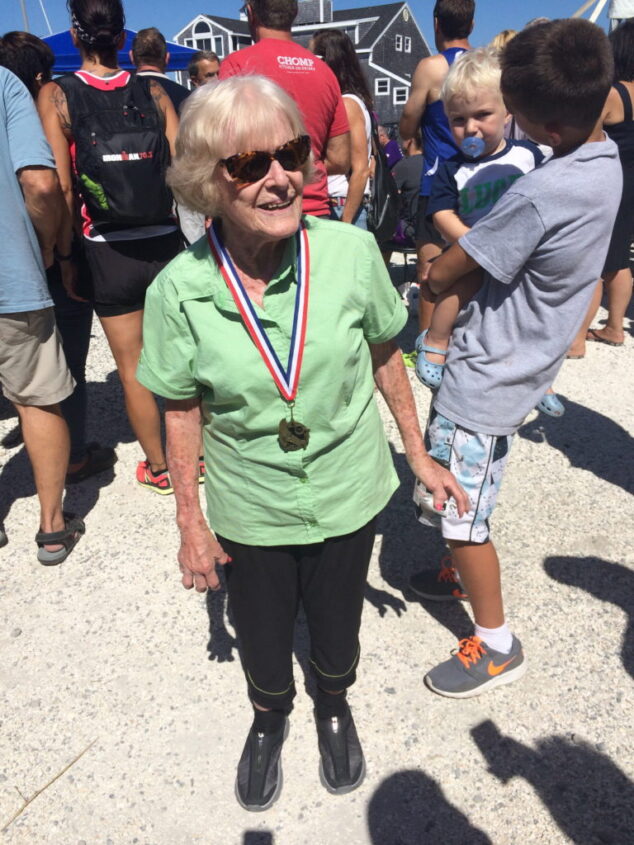 Those sensible shoes took her through her training and her 5k to 3rd place in her Age Group Female 70+. This year she's looking for that Age Group to be 90+ for a 1st Place!
Gotta love Rita.
My Mom has recently been asking for a shoe store trip for a new pair of walking shoes ~ something a little more fun than her old ones.
We'd been to a few places with no luck when I remembered Famous Footwear, conveniently located in a shopping plaza in Seekonk, MA. Off we went on this adventure of me kind of steppin' off on someone else's shoes (or something like that!). We entered my Mom's Nirvana of leather and lace and all the other stuff that shoes are made of, but before my Mom could take off to patent leather and heels, I wrangled her to walking shoes.

In just a few moments, we were joined by a gentleman who asked how he could help. I explained (I will not go into the sole-searching trivia of my quest; well, maybe I will) what would be a good start to find what my Mom needed:
Walking Shoes
Lightweight
No laces
Good cushioning
Round toe
Flexibility for on/off
This personable and knowledgeable man was Ken Hamburger, Store Manager.
Ken brought us to what I'd call the wall of walking shoes. Dozens and dozens to choose from. Neat. Organized. Well stocked. He suggested a few pairs following my description.
I could see my Mom's eyes wandering toward the fancy styles of slingbacks, peep-toes, heels, shiny patent leather and silvery Cinderella.
I had to talk her down from the Coach.
My Mom tried on 6 pairs of walking shoes. And mimicking the Cinderella story, they were too wide, too tight, too difficult to slip on, too cushiony, not cushiony enough, etc.
Ken came back to check on us, listened intently, smiling often, and suggested heading down the entire aisle, past all the tie shoes and into the realm of leather, casual and comfortable for walking. Again, all was orderly and neat and the shoes on display were very easy to find in the boxes underneath. My Mom spotted a couple of pairs that almost fit the bill, but fell short in the easy on/off department.
Ken returned yet again from assisting other customers, listened to my Mom, and then scanned the shelves and samples with the keen eye of a cobber. In one blink of an eyelet, Ken discovered what we had missed…
A B-O-C shoe:
Lightweight
No laces, but rather a velcro opening for easy on/off
Good cushioning
Round toe
AND gorgeous leather
It was the perfect fit for both a casual shoe and a shoe that my Mom could walk in.
SOLD.
Thanks, Ken, for the special attention and win.
But that's not all.
Ken suggested that we peruse the Clearance Racks, too, where we might find some walking shoes with a little more athleticism. This is where things really heated up for my Mom's competitive nature and her next 5k. Jeep…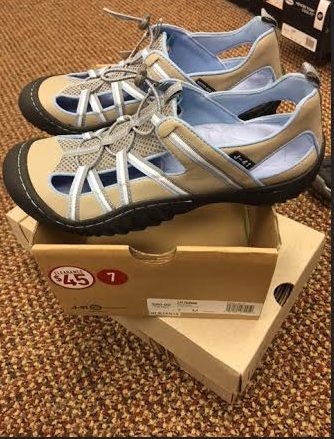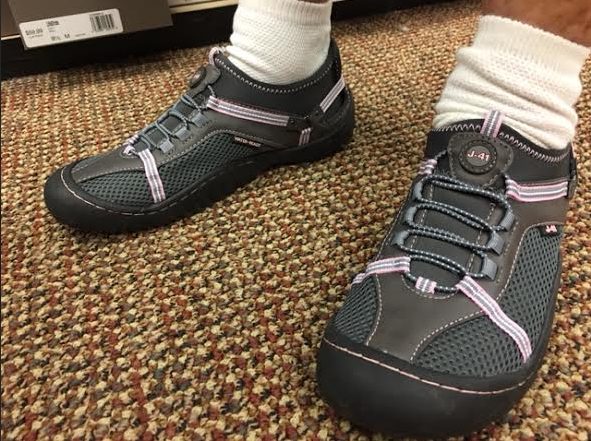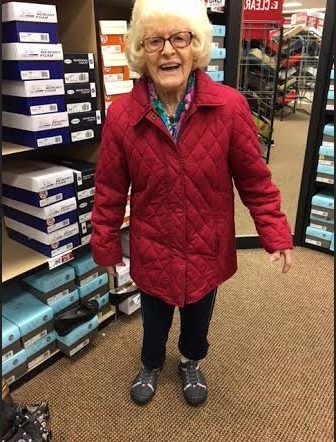 Clearance. Perfection. SOLD.
So, was this all's well that ends well? A perfect fit of a shoe-outing?
Not when my Mom made a bee line to the fancy shoes with heels and straps while channeling both Cinderella and Carrie Bradshaw. This is when Ken did not excalceate, as I was inclined to do because of all the potential injuries. Instead, he asked my Mom what special occasions she had coming up and told her of new Spring collection shoes coming in, shoes that would fit lots of our criterion for safety… but with a fancier fashion flair.
Ken cared that my Mom loves shoes. He cared that some of her fashion dreams were related to fancy slippers and pumps. He cared that the heart and soul of her fashion past was all about the sole.
I even think his eyes may have twinkled, just a bit, at the twinkle in my Mom's eyes. All of a sudden those potential injuries were a bit more subdued in this daughter's mind.
Until that next Famous Footwear shoe-shopping extravaganza, my Mom has already set in motion toward her next 5K…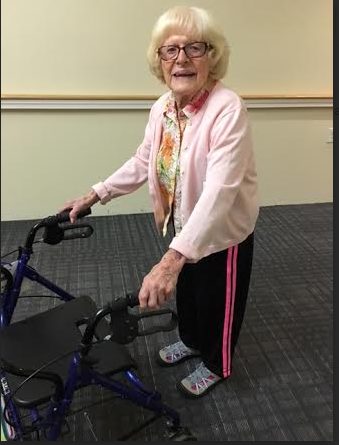 And a great shout-out to Ken for making shoe-shopping such a sole-ful experience!