Adult Pogo Stick is something I never thought I would say, but times have changed and I'm not a grandma – so ADULT POGO STICK IT IS!  One Christmas, maybe in 1960 or so, there was a Pogo Stick for Kids under our Christmas tree. For me. I never gave this thing, this toy, this new new adventure a second thought about… When the Pogo Stick was invented. Who invented it. And all that.
I just wanted to take my brand new toy outside and do it.
Well, it wasn't easy. And then fast forward all of these years later! Pogo Sticks are STILL a thing (thank GOD)!
Adult Pogo Stick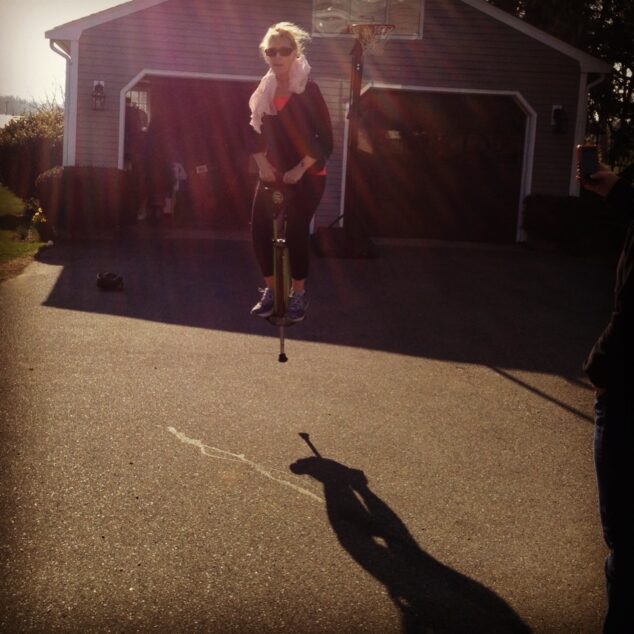 Even as a kid it was challenging and difficult and frustrating at times. I fell. I got up. Repeat. Many, many time. But I loved it. All of it. All the newness. The figuring it out. The failures. And finally, mastery. I've never lost my love of the Pogo Stick, probably because it brings back such a happy-go-lucky time in my life ~ childhood, where PLAY was such a joy.
Why You Need an Adult Pogo Stick
Well, I still love the Pogo Stick. I've taught my 6 oldest grandkids to Pogo Stick and rarin' to teach the next 5 (and the little girl on the way, too!)… But now that I'm a curious, grown-up Grandma, I'm always interested and excited to learn where things come from, how they came to be, and to share this information with my grandkids.
This way, the words, "GO PLAY!" also come with some learning.
So, let's let the ADULT POGO STICK tell its story ~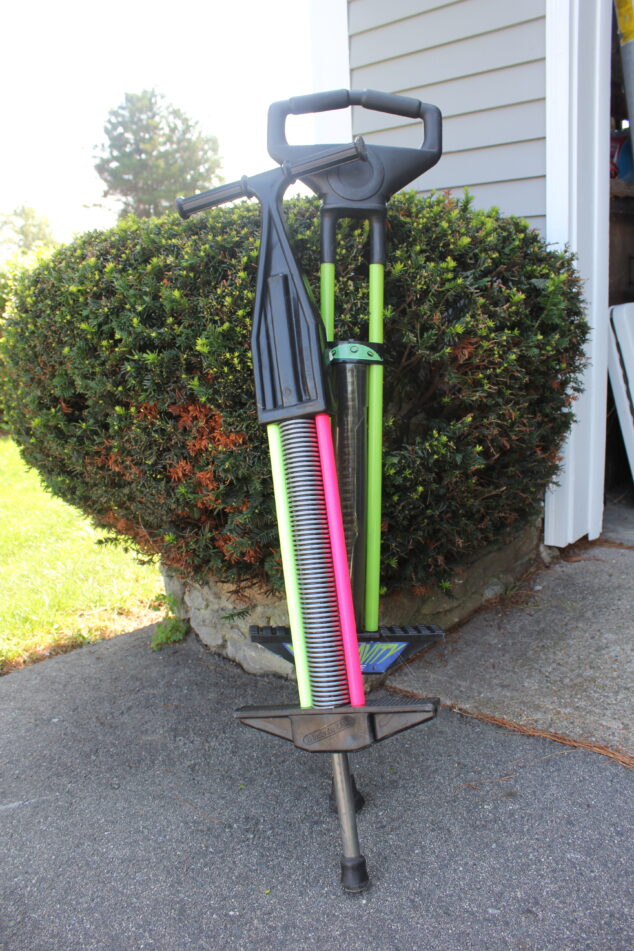 WHO invented the Pogo Stick: The first American-made Pogo Stick was designed and patented by George Hansburg, a toy maker from Illinois.
WHAT makes a Pogo Stick work: The Pogo Stick has a long, rigid body attached to handle-bars in the shape of a T. The bottom of the Pogo Stick has foot pegs and a plunger mechanism consisting of a tube within a tube. Either steel springs or elastic bands create the bouncing action. The steel springs or elastic bands are compressed and released as the Pogo Sticker bounces. Gravity plays a big part in the compressions and releases.
WHEN was the Pogo Stick invented: Ah, a couple of answers here:
1. George Hansburg patented the Pogo Stick in 1919
2. But there is a wonderful story/legend/truth perhaps that a German traveler passing through Burma happened upon a little girl named Pogo who didn't have shoes to wear on her long, rocky, muddy walk to her temple to pray. Pogo's father had designed a jumping stick that enabled her to leap over the rocks and mud on the path, and all was well with Pogo. When the German traveler returned home, he designed a jumping stick with a spring for bouncing action and called it the Pogo Stick. Believe it or don't!
WHERE is the Pogo Stick used: This answer is easy – everywhere! There's even Pogopalooza, which is the annual extreme Pogo Athlete Exposition. These Pogo Stickers compete in categories such as Big Air, High Jump, Street Tech and Best Trick.
HOW do you learn to Pogo Stick: Protective gear recommended. Hard, flat surface. Plenty of room. You're heavy enough to compress the plunger mechanism and balance yourself during the bounce. A how-to book or video. Practice. Practice. Practice. Remember – Balance, Bounce, Big air.
The Pogo Stick has a wonderfully interesting STORY, doesn't it? Share the story with your kids. And never be afraid to be get out there as an ADULT POGO STICK!! It's YOUR TIME TO SHINE!
Now, GO PLAY! and show the kids in your life your Stick Skillz!