My sweetheart granddoggie Rydie-girl turns 14 today…
Today is an extraordinarily special day.  Today, 14 years ago, my sweetheart grandpup Ryder was born.
It would take 8 weeks or so before we would meet Ryder and hold her and hug her, but today is the day she was born, and she would romp into our hearts at first glance a few weeks later.
Rydie is a perfect little Lady.  She always has been.  She was a tiny Black Labrador puppy who turned into a sleek, shiny, active little girl. Now she is whom I lovingly call "my little old Lady" with the greatest, greatest love a human could have for special pup.
Ryder was our daughter Jane's dog until she married Brian, and now Rydie is their daughter. She is also a sibling to two rescues, 7-year old Tansy (who came for the ride with Brian), and  4-year old Jethro, whom Janie and Brian adopted together. Now there is a human toddler sibling, Brian, Jr. and another human girl sibling, Eve, on the way, due to arrive in May…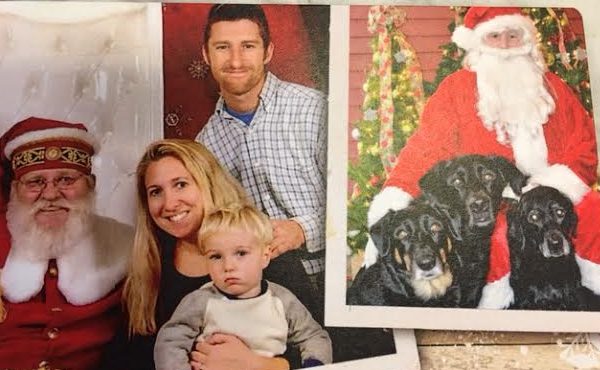 Ryder has seen a lot of changes in her life. New homes. New people. New dogs. Human babes. But she has never changed in her calm, perfect, beautiful demeanor. She really is an Angel, the sweetest Angel!
I remember the moment Janie asked if she could have a puppy and bring "it" (she didn't know anything else but that a Mama dog was giving birth to a litter of Labs and they'd be free) to our home for awhile before she got her own apartment and finished up her senior year at Brown University. It was a phone conversation because Jane knew how I felt about bringing a dog into our home. I think Janie was afraid to ask in person.
Janie knew that I would be very hesitant to welcome a puppy.  I love dogs.  I love dogs.  I love dogs.  But we had just had the devastating pain of losing our second dog within one year.  Cracker and Carmel.  They were my little boys.  They were brothers.  We had rescued them and raised them.  Cracker had died the year before at age 12.  Carmel had just died.  My heart was so raw and pained and broken that I couldn't breathe, never mind let a puppy into that emptiness. But Janie begged. She persisted on that phone conversation.
Barry and I relented.
On March 23, 2002, Ryder came to live with us. Janie placed her on our front porch. I fell in love. I felt in that instant that both Cracker and Carmel and my childhood doggie Chippy had sent this tiny little beauty with the shiny black coat right onto our front porch — straight from heaven. I was looking at an Angel.
I melted.
I still melt each time Rydie comes walking into our home.  She used to romp. Now she needs my help climbing the stairs. She waits for me, knowing that I will help her, knowing that I would go to the end the earth and then some, for her. She is my little old Lady.  My little buddy.  She can't hear as well anymore, but she knows her Grandma is around. She has all of her little resting places in our home.  She always finds a spot under my feet, keeping me company and me keeping her company. Two peas-in-a-pod — warm and cozy. I make sure she has soft little rugs and pillows in each of her spots, too.  She loves Pop-up and me so much and we love her back to the moon and beyond.
Our little Rydie! Our little birthday girl!  14 years old!
Happy Birthday, our lovely little beauty.
Thank you for coming into our lives through your beautiful Mommy, our Janie. Thank you for knowing how much we needed you and for letting our hearts feel again.  You are joy and happiness and fun and delight and LOVE — every, every moment of every, every day for all of these 14 years!
I LOVE YOU, my perfect little Sweetheart!