I'm halfway through January, which means I'm halfway through my month of mindfulness.
What is Mindfulness?
Mindfulness is a way to be aware of yourself and what's going on around you.
Practicing mindfulness consistently is something that I've never done before to help reduce stress in my life and boost my overall well-being. Thanks to Aetna, I have committed to making my 2016 better for me and my stress levels through mindfulness.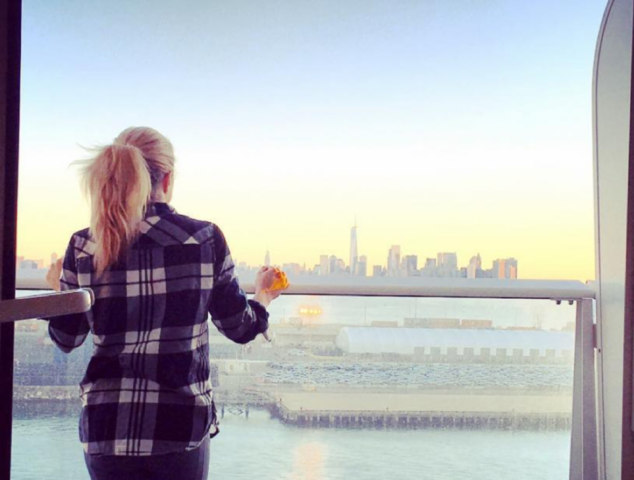 As Cheryl Jones — one of Aetna's wellness program strategy leads, who is trained in mindfulness and completed the Teacher Development Intensive in Mindfulness-Based-Stress Reduction (MBSR) says – Mindfulness is paying attention or noting whatever is happening in the moment with a gentle and open mind. It involves being present in the moment, the one you're in right now.
The words that have really spoken to me throughout my Month of Mindfulness have been: being present.
I'm so used to being on auto-drive throughout my day to get everything done within 24 hours with my family, my home, my work and myself – that I often, often, often forget to just be present. Being present in the here and now is something that I have become fully aware of within the last 2 weeks… it's amazing what can truly happen when you stop and just listen and give yourself the time to just be, even if just for 1 minute. Mindfulness has become such a wonderful and inviting fresh solution for me to deal with stress. The best part of all is that mindfulness can easily be incorporated into your everyday life.

Aetna has developed a month-long mindfulness challenge to help people experience how mindfulness can easily be part of healthy living. I have absolutely just LOVED being part of this Month of Mindfulness and I have seen now first-hand the amazing ways it has helped my life. Each morning there is a Mindfulness Tip ready for you to implement and try out on your own. One thing to keep in mind that is very important, everyone's journey is different, I've truly embraced mindfulness and feel very open and comfortable sharing my journey with you.
I'm happy to share with you today the importance to go back to the present.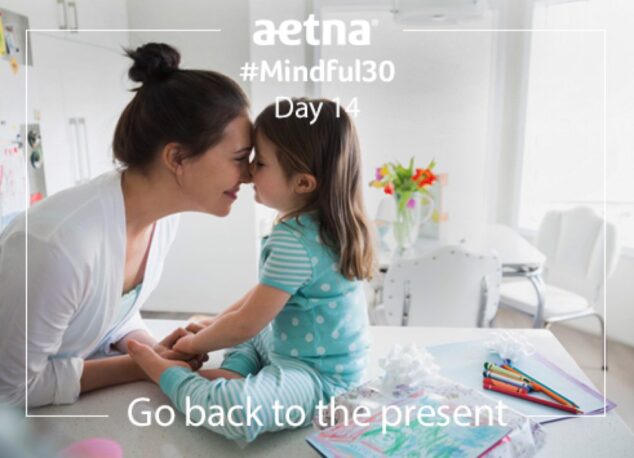 Aetna shared that…
Studies have shown the average person spends 47 percent of their waking hours thinking about everything but the present — and this is making people very, very unhappy.
I spend much of my time thinking of tomorrow, next week, next month and next year. I'm definitely someone who is always thinking about what's to come… what do I have tomorrow… what's on the agenda for next week… when are those appointments booked… the never ending schedules and calendars and appointments for work and for my family.
It can be – in a word – overwhelming.
Thinking about tomorrow and beyond is a natural thing to do, but it allows my mind to veer away from today, the present. I made it my mission throughout the day to keep my mind focused on the present. I wasn't worried about deadlines for tomorrow. I wasn't thinking about daycare for next week for the kids. I wasn't focused on the laundry that needs to get done and the rooms that still need to be painted. Whenever my mind went there, I veered it right back to the present.
How did I do this?
Easy.
I spent the day with my family.  I was with my sons at their swim meet. I played with my daughter and helped her build creatures out of Play-doh. I chatted with friends on the pool deck and even got to hang out with my mom, dad, sister, nephew and brother in law.
I didn't think about anything today, but today.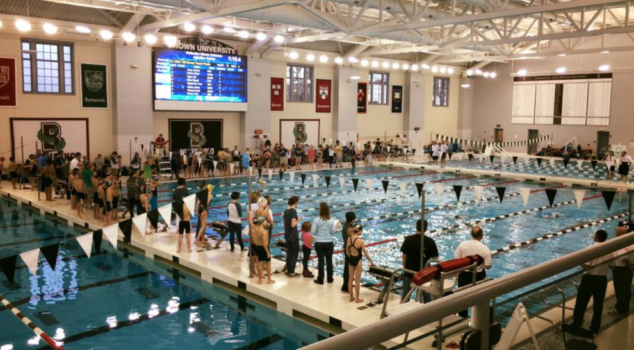 It felt freeing.
I felt like Scarlet O'Hara, "I'll worry about that tomorrow." I joke when I write that, but truly… there was some power in that… especially knowing that there was nothing else that I could do today, but be with my children and my family and my friends. I got work done that needed to get done. I tuned into today. I didn't let my mind clutter with all the things that I need to do and stuff that I need to get done… it will all get done when it needs to. I don't have to worry about that all today.
For me, it was easy to turn my mind back to the present because I just had to look at my children. Kids ONLY live in the present. They embrace it. They love it. They welcome it. They ONLY know it. There's an innocence and a freedom and a power in that for them… it made me aware of that wonderful way to be.
It felt amazing today to just be focused on the present. It really just felt amazing. I didn't need anything to get me there, just my mind. Just wonderful thoughts and great people around me to keep me there. The present is the present and not enjoying every single second of being alive and well, it's not the way to live. It also really amplified the blessings in my life that I have and it made me much more appreciative.
Go back to the present.
Aetna believes mindfulness can improve all areas of wellness: physical, intellectual, emotional, spiritual, social, environmental, professional, and financial. Join me as I've committed to doing something every day throughout the Month of Mindfulness. You can start at anytime! There's a wonderful and simple tip for how to practice mindfulness every single day throughout the month… and there are also additional tips/advice/facts about mindfulness, too that are very helpful.
Disclosure:
This post was sponsored by Aetna, who believes health is about the body and the mind. Stress can affect emotional and physical health, and reducing stress can boost wellbeing. As part of their #Mindful30 challenge, the views and opinions expressed in my posts on the topic of mindfulness are my own, not Aetna's. To learn more about mindfulness, visit aetnamindfulness.com.