Etsy has the cutest graphic tees in the world! There is something for everyone on etsy and that's the true beauty of the platform. I love spending hours scouring around looking for fun things to buy for me and my kids! Etsy Graphic Tees are just fabulous because you can support entrepreneurs! This is what I love most about shopping and buying etsy graphic tees – I know it's another entrepreneur doing their thing and hustling hard! So today I want to feature one of those entrepreneurs!
etsy Graphic Tees
The shirt I'm obsessed with at the moment? Say hello to what to wear – Earn the Weekend. Sunday fashion is my day to shop around and have some fun! We spend all week working hard, the weekends are our downtime. It's time to get ourselves inspired and motivated. I saw this tee on etsy and I fell in love with it. I know it's more geared as a workout tee, but for me – I saw it as work hard all week and earn that fabulous weekend with the family!
etsy Graphic Tees – Be Inspired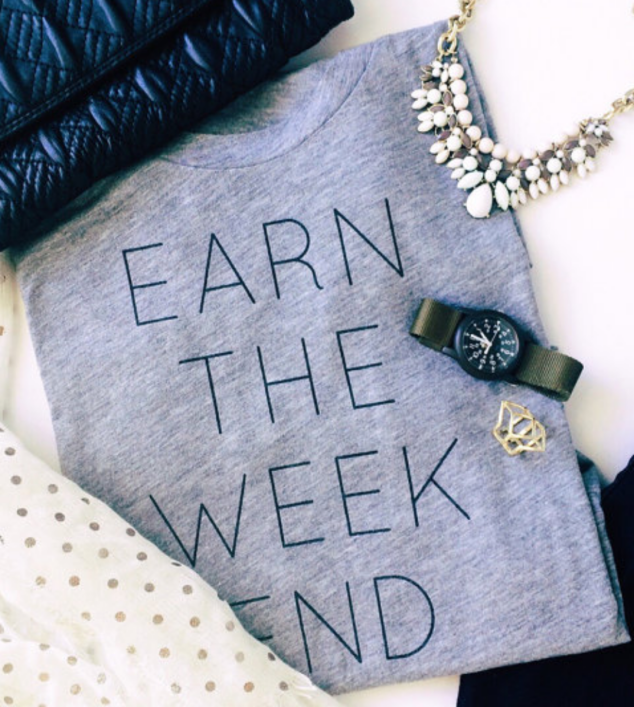 How super cute would this look with a pair of skinny jeans and a leather jacket? I can see this with so many different other options, too! I'm thinking etsy graphic tees are the cutest ever! Imagine this with sweatpants, joggers, yoga pants. You could even rock this with a pencil skirt and a blazer. I just love me a graphic tee. Not to mention – you can find just about any other kind of tee on there, too!
I'm just obsessed with this tee! It's the cutest ever! And it's also super lightweight! I also love that it's a cute top!! Really nice shorts and capris and jeans – graphic tees are such a easy fashion add-on.
Check out more from GrayThistleStudio on etsy.