The Art of Mending ~ it's like a hug or snuggle…
Yesterday, I was at a swim meet in the morning for 4 of my grandsons and then headed a few minutes away to a wrestling match for another grandson.
I had intended to return to the swim meet, but the wrestling match went longer than I had thought.
All's good, though, because my grandkids know that Pop-up and I do whatever we can to see them participate in their activities and events and share time.
The only problem was that Henry, age 7, had forgotten to give me the mitten he needed me to mend. You see, I'm a Mending Grandma. I mend things. I learned to mend under the tutorial of my Mom and then mastered it a bit more through Home Economics classes in both 8th and 9th grade. Home Economics was required back then. I don't know if Home Economics is even offered in high schools anymore.
I have two button tins that belonged to both my Mom and my late Mom-in-law, each still filled to the brim with buttons of all colors, shapes and sizes. I cherish these tins, as do my grandkids…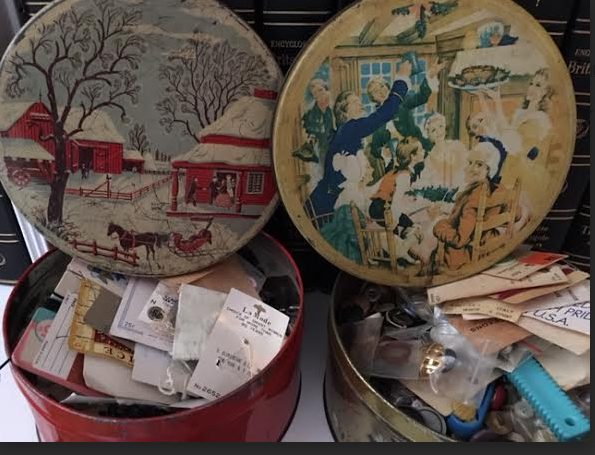 Anyone need a button, come see me!
I have a sewing basket that belonged to Pop-up's grandmother. I have needles and spools of thread in every shade imaginable, measuring tape, old thimbles (yes, thimbles!), scissors and stuff all stored in that sewing basket for quick little mending of buttons, hems and the like. I even have one of those sock darning eggs, a little thing that belonged to my Mom-in-law, a thing I treasure because I can still see her mending socks with it…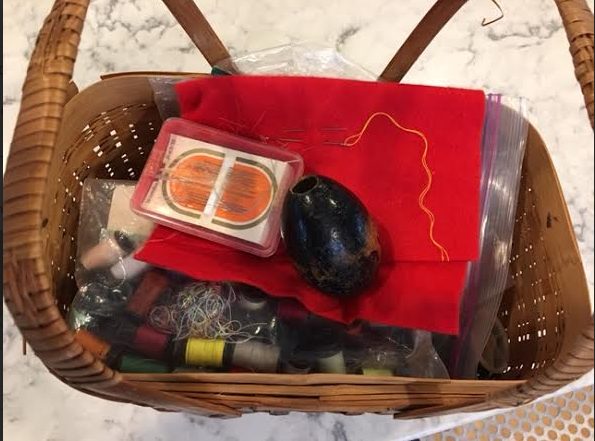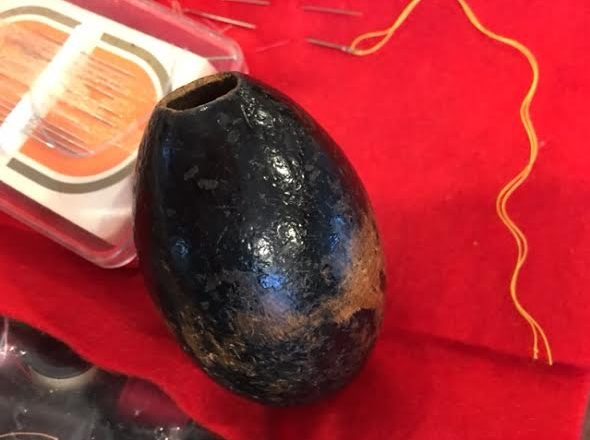 Those were the days of non-dispensable socks and mittens and gloves and hats and things, days of waste-not-want-not.
I wonder, is mending a lost art?
My grandkids love this mending magic. I think it's some sort of comfort for them… like a hug or a snuggle.
SO, that mitten that Henry needed me to mend? My daughter tucked his mittens inside a bag that I had left at the swim meet and retrieved when I went back for the afternoon session of yet another swimmer, my granddaughter Taylor.
When I got home last night, I immediately went about my mending. The mitten is one of those glove/mitten ones. The mitten fold-over part was dangling by a thread and its little button was missing. For this Steelers fan grandson, I found a little yellow button to sew onto the dark black knit of the mitten. I used that sock darning egg to help me repair the glove part of the mitten.
It was like hugging my Henry.
Mending is an art.
It is an art of hands and often of heart, to repair, retouch, renew.
It's often simple enough to complete in no time at all and sometimes complex enough to require lots of thought and lots of thread and lots of time.
When Henry's mitten was mended, I washed the set of mittens in warm, soapy water, squeezed them out and placed them on our old-fashioned heating unit, the one Pop-up and I decided to keep when we renovated our bathroom this past summer…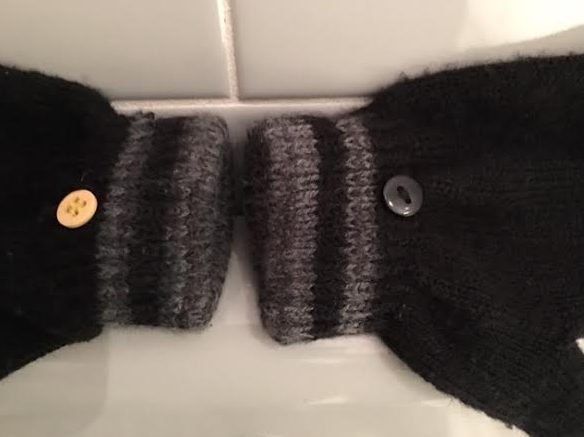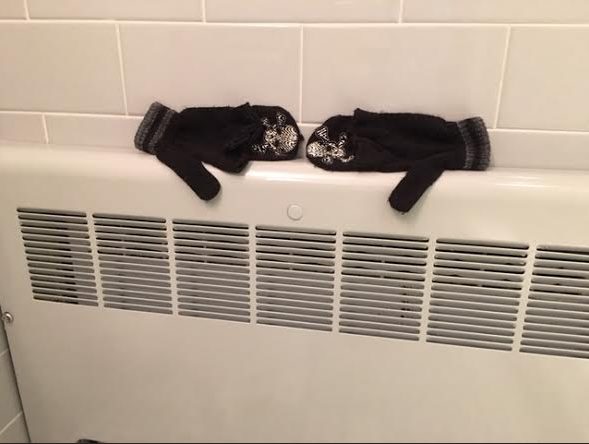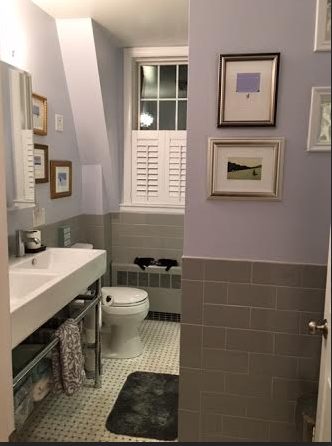 I don't think I could have been happier than to see that mended mitten and its partner drying like when I was a kid.
Mending is an art. Mending is a hug or a snuggle. 
I can't wait for Henry to see his little mitten all mended…