I have committed to making 2016 better for me and my stress levels through mindfulness. I have never used mindfulness to help with my stress levels before, but I will say this – I've been fully committed for almost 2 weeks now and it's truly been life-changing for me.
For so many of us, our days are filled with endless to-do lists, places to be and schedules/appointments to get through for work and home. There's not much time to just "be" and give ourselves time to breath and take anything in for a moment.
For me – with 5 kids and working full-time from home – my day is always crazy and always busy. I love the craziness of it all because it keeps me motivated and moving… but it can also get stressful and overwhelming at times. An average day for me looks a little something like this:
5:30/6AM – Wake up with Victoria, bring her downstairs and try to get as much work as I can get done before boys wake up
7AM – Wake the boys up (and husband!) – make breakfast/make lunches/pack backpacks
8:15AM – Get boys to the bus stop
8:30-3PM – WORK, WORK, WORK!
3:15PM – Bus arrives home from school // snack-time // homework routine // unpack backpacks
5-7PM – Swim team for the boys
7:15PM – Dinnertime and get kids ready for bed
8:30PM – All the kids are in bed – time to work again!!
As you can see, there's not usually much time for me.
Well – that was then and this is now.
Thanks to Aetna, through their month-long mindfulness challenge to help people experience how mindfulness can easily be part of healthy living and reduce stress, I feel like a new woman. I never knew that mindfulness could so easily be incorporated into my everyday life and I have embraced this fresh solution to my core. Each morning – I wake up – and see what Mindfulness Tip is ready for me to implement that day and try out on my own. As I've said before, everyone's journey throughout the month will be different, but I'm finding such peace and happiness and I love being able to share it with you.
Today I want to share with you about Making Mindful Habits in your life.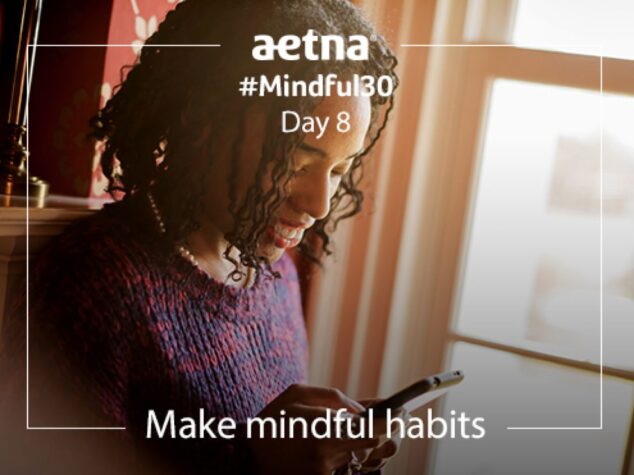 10 seconds. Just 10 seconds.
One. Two. Three. Four. Five. Six. Seven. Eight. Nine. Ten.
These 10 seconds can hold a lot of power in them.
I have to admit, I'm that person who gets swept up in my day and just doesn't stop. When I finally stop, it's when I'm heading to bed (but truth be told, I usually have 100 things going through my mind, too!).
I started to give myself 10 seconds – every single day – to just live in the moment. For me, it's been in the morning when I'm making coffee and then in the afternoon when I'm making myself lunch. It's the perfect opportunity for me in my day to tune into my thoughts and feelings. I try to filter out everything but just living in the moment. I love this simple reminder to live in the moment. I've found myself over the last couple of days smiling about things as I'm giving myself this time… the best part, 10 seconds easily turns into more time. I'm not worrying out deadlines. I'm not worrying about texts/calls. I'm not worrying about cleaning or organizing my house. I'm not worried about the laundry. I'm not worried about anything in those moments. I'm just giving myself the time to breath in and out and think about me… my kids, my husband. The happiness in my life. Just this morning when I was giving myself the time, I caught a drawing that my son Henry made for me.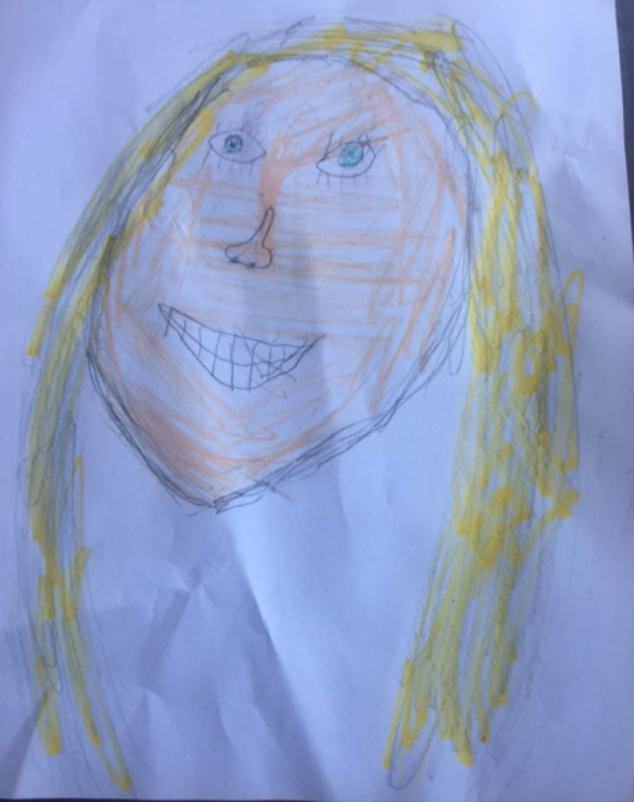 He gave it to me yesterday and he was so proud. I saw it this morning and just smiled from ear to ear. It brought me peace, it brought my happiness. It was a beautiful way to kick off the day.
Give yourself time to Make Mindful Habits. My Mindful Habits are easier for me in my kitchen… when all is quiet in the world… and I'm just prepping and working with my hands. But know – it can be anywhere for you. Just breath and allow yourself to tune out the worry and the stress of anything else. It's not always easy, but it can be done. Just give yourself the permission to do it… you deserve that.
Aetna believes mindfulness can improve all areas of wellness: physical, intellectual, emotional, spiritual, social, environmental, professional, and financial. Join me as I've committed to doing something every day throughout the Month of Mindfulness and I'd love for you to join me.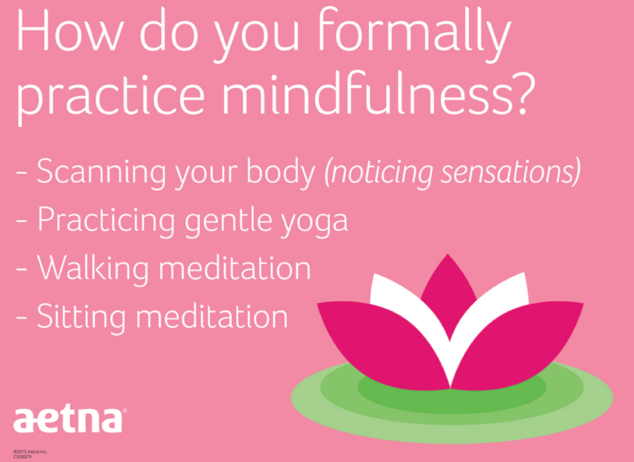 There will be a simple tip for how to practice mindfulness every single day throughout the month… and there are also additional tips/advice/facts about mindfulness, too that are very helpful.
What a great way to kick off 2016!
Disclosure:
This post was sponsored by Aetna, who believes health is about the body and the mind. Stress can affect emotional and physical health, and reducing stress can boost wellbeing. The views and opinions expressed on this blog are purely my own and do not necessarily represent the views of Aetna. To learn more about stress reduction, visit aetnamindfulness.com