What to wear to work?
It's a question I used to ask myself every single morning when I lived in NYC and had to be dressed nice for work every single day. I love fashion, so for me – it was always fun to be able to come up with different looks and styles to put together. I had it on the easy side, though – I worked for Donna Karan, one of the most stylish people on the planet – so we all had true creative fashion freedom to really have some fun in the office. I know it's not like that for everyone, so I wanted to share today an easy and chic work attire look.
I'm all about finding fashion pieces that are versatile.
What are some key pieces – 1) Black Trousers 2) Black Heels 3) Fitted Blazers 4) Solid Blouses 5) Little Black Dress
Today I took 3 of my key pieces – Black Trousers, Black Heels and a Fitted Blazer  – and styled this look for work…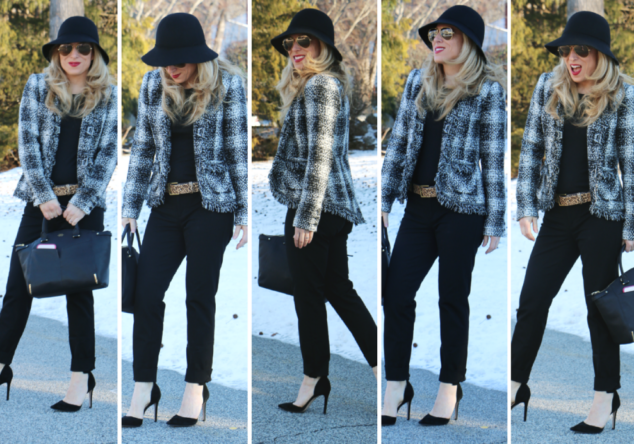 I love this look because it's the kind of look that you can wear to any job. It's classic. It's stylish. It's professional. And it's chic.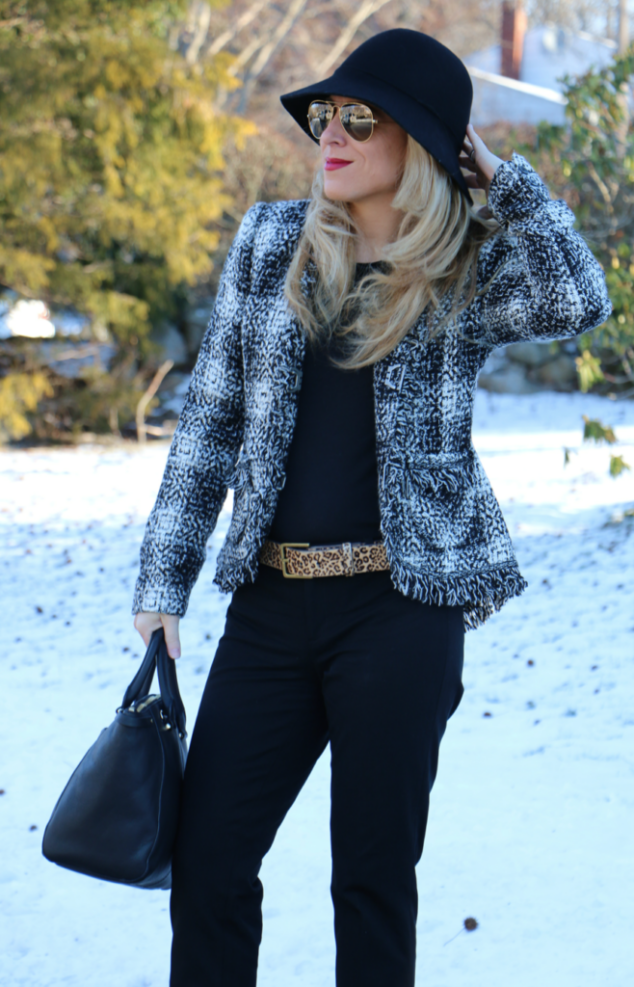 Not to mention, anyone can find the pieces to create a look like this, just make sure you always have on hand key pieces. I'm a fashion-sucker for a fabulous blazer, so I'm always on the lookout for fun prints and different cuts. I love being able to pair some cool and stylish blazers with black pants and heels.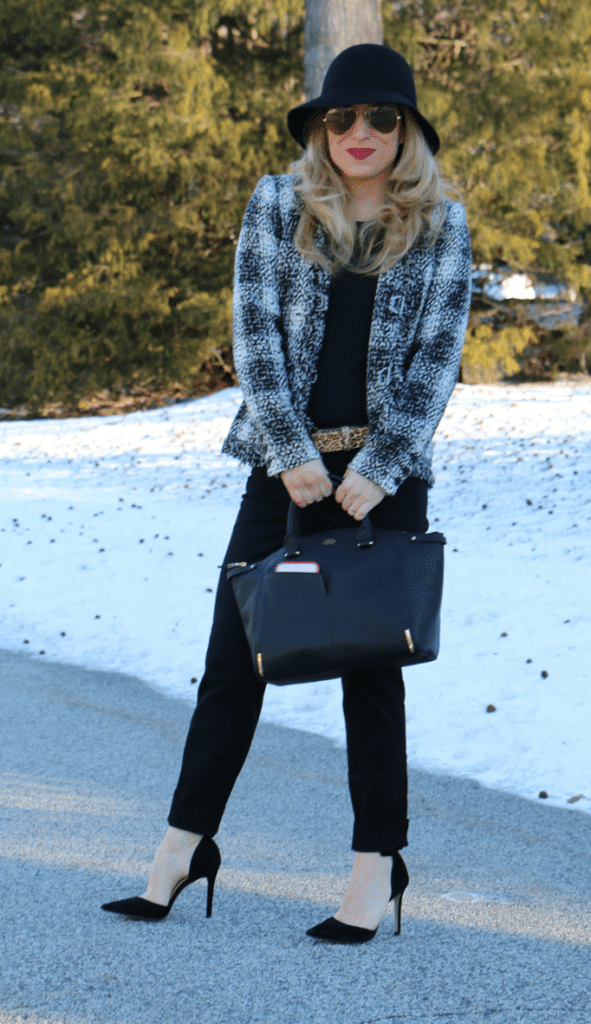 Let me break down my look for the day!
My blazer is cabi. It is one of the most comfy blazers I own! I'm stopped ALL the time when I wear this from women asking me where I got it. It's just a dream! If you're invited to a cabi style party anytime soon, scoop up their blazers! They are PERFECTION!
My belt is also cabi, too! If you see all my other posts, you know this is my all-time favorite belt. It's really all I wear.
My trousers are Banana Republic. I'm obsessed with the cut! I'm only 5 feet, so it's tough for me to find form fitting pants that fit well, but these are just my go-to faves! Banana always has super sales, so be on the hunt for them right now!
My hat is J.Jill! You guys know I love a good hat in the winter! It's classic and professional, but also adds a fun touch to the look.
My heels are from Jessica Simpson! I had been hunting for a strappy pair and found these at Macy's.
My handbag is Vince Camuto and it's the perfect professional handbag.
Happy work attire!!