#FlashbackFriday ~ An Extraordinary Ordinary Moment…
My most treasured quote from all of the literature that I have either read, or taught in my 30-years of teaching, is by Mrs. Gibbs in the play Our Town, by Thornton Wilder ~
Mrs. Gibbs is speaking from the grave to her newly deceased daughter-in-law, Emily. This may seem macabre, but it is not so. Emily is uneasy while watching her grieving family members, neighbors and friends, questioning if she could perhaps return to the living for just one day. One day. Mrs. Gibbs and the other deceased in the cemetery try to dissuade Emily, telling her that the living don't see or appreciate the world, the people, the joy, the details around them. But Emily needs to feel the living and life one last time.
We learn that if Emily chooses to do so, she will not only live the past, but see herself living it as well.
Mrs. Gibbs warns (and thus, my favorite quote of all time from all literature):
Choose an unimportant day. Choose the least important day of your life. It will be important enough.
Emily chooses a most happy day, though — her 12th birthday.
The theme, the meaning, the point, the beauty, the revelation, the brilliance and the simplicity of Our Town and of life, to me, is summarized in these few words spoken by Mrs. Gibbs.
********************************
This is how I live my life. I can say this unequivocally. The least important is always important to me. Of course, I love and look forward to the big things and big events and big celebrations ~~ but I have always found the most cherished moments in the most ordinary of moments, the most ordinary of days, the most unimportant times, you might say, because these days and these hours and these moments are life as it is unfolding.
This is why I so love photography.
And old photographs.
Of extraordinary ordinary moments.
Messy. Funny. Lovely.
A smile. A hug. A costume when it's not Halloween.
A Daddy and his girls…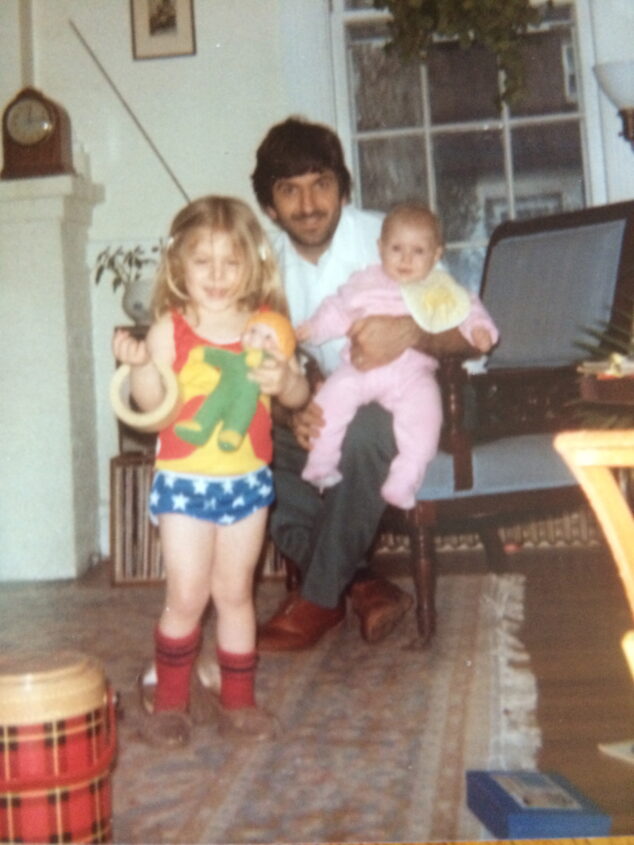 A random moment in time. Of time.
A bib askew. A pink sleepy suit. A baby doll. Red tube socks, most probably one of her brothers'.
Mama's high heels. Yellow barrettes. A "roll of masking tape" bracelet.
Sisters.
Wonder Woman Underoos.
A red plaid cooler.
The ticking clock on the mantle.
Daddy's smile.
Daddy's LOVE.
Barry's wedding band.
This may well have been the least important moment in any of our lives, but each of these people and each of of the things of this moment has its own story.
I captured it. I captured that moment.
I treasure these extraordinary ordinary moments.
******************************
And back to Emily living her 12th birthday, living it and seeing herself living it?
She discovered that Mrs. Gibbs was right. Emily returns to her grave and says:
We don't have time to look at one another. I didn't realize. So all that was going on and we never noticed. Take me back — up the hill — to my grave. But first: Wait! One more look. Good-bye , Good-bye world. Good-bye, Grover's Corners…. Mama and Papa. Good-bye to clocks ticking…. and Mama's sunflowers. And food and coffee. And new ironed dresses and hot baths…. and sleeping and waking up. Oh, earth, you are too wonderful for anybody to realize you. Do any human beings ever realize life while they live it–every, every minute?
There is such JOY in moments.
There is such JOY and LIFE in days.
Most especially, I really believe, in Ordinary Moments and in Ordinary Days.
If there is anything I can teach to my beautiful gifts of grandchildren, I want it to be this.